* CORRECTS award amounts to four groups in the local area. Sponsor match dollars were erroneously added to the totals. 
Educational programs that aim to get children outside across the state have recently been awarded over $4.5 million by No Child Left Inside, a grant program created by the state Legislature and managed by the state Recreation and Conservation Office.
On Fidalgo Island alone, four organizations were awarded the reimbursement grant, which is awarded every two years: the Salish Sea School, the Fidalgo Nature School and two educational programs of the Swinomish Indian Tribal Community.
The Fidalgo Nature School has been awarded up to $75,000 for an outdoor preschool expansion.
'We're so excited, we can't stand it," said founding member and chair Anastasia Brencick.
The outdoor preschool, which began at Washington Park and moved last year to the Bowman Bay campground at Deception Pass State Park, has grown in its four years, Brencick said.
The school in 2022-23 year can be licensed and offer full-time service and hot meals, thanks to a first-of-its-kind bill in support of outdoor preschools signed by Gov. Jay Inslee this year, Brencick said.
The grant will help the preschool transition to full-time, offer meals and provide outdoor gear such as boots and raincoats to those who need them. It also will create a paid internship for prospective early childhood outdoor educators.
The preschool has incorporated the Samish Nation's Since Time Immemorable curriculum, which teaches the history and culture of the Samish people.
Since the Samish Longhouse Head Start program doesn't operate on Wednesdays, the grant will help the Fidalgo Nature School offer a day of outdoor activities for those kids, with a tuition-free goal, Brencick said.
The outdoor approach "give kids opportunity to take risk and learn to navigate their bodies, without having too great a risk," Brencick said. Some lessons get children thinking about "what if I climb that rock or tree?" and activities are guided by the children's interests.
The preschool serves children ages 3-6 on Fidalgo and Whidbey islands.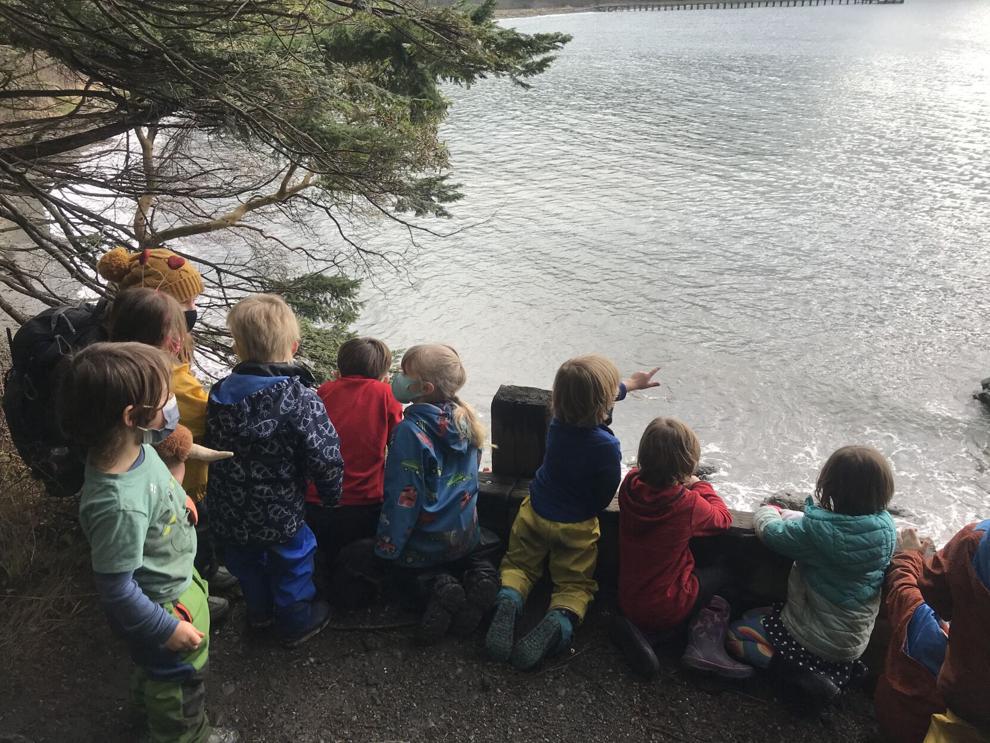 Another awardee was The Salish Sea School, which aims to create student leaders in marine conservation. It can receive up to $75,000 split over two years.
It would be hard for student to know if they are interested in marine science if they don't get the chance to go on the water, Executive Director Amy Eberling said. The group's aim to get those with less opportunities to get involved.
With the Salish Sea School, kindergarten through high school students get to get to participate in a variety of ways, like taking part in surveys of marine mammals and advocacy, including writing representatives about conservation issues.
"Without the grant, we wouldn't be able to provide as many scholarships," Eberling said.
In 2022, the organization will create a year-long research internship called Student Training as Research Scientists (STaRS).
The Swinomish Indian Tribal Community will be able to expand the 13 Moons curiculum with a grant of up to $35,802.
The curriculum teaches Swinomish and other Native youth from preschool through high school plant identification, traditional stories, the harvest and use of native plants and more.
Another program, Between Two Worlds, was awarded up to $150,000. The program takes Swinomish high school students on field activities which teach science and traditional culture.
Two other groups in Skagit County also received grants, the North Cascades Institute and the Mount Vernon Parks Foundation.
The North Cascades Institute will take kids from Skagit and Whatcom counties on backpacking and canoeing adventures to develop leadership skills and do trail work.