Food banks and home health care providers are considered essential and are not restricted from doing their jobs by Gov. Jay Inslee's COVID-19 precautionary orders.
But the virus is presenting challenges and changes in how they carry out those tasks.
At Chandler's Square Retirement Community, where one resident was confirmed with the virus this past weekend and another was awaiting test results, staff members are assigned to specific, not multiple, work areas and some routine tasks are stopped.
"We are reducing our staff work zones to keep our residents as free from possible spread (of the virus)," Executive Director Blake Olin wrote in an email to family members of residents. "This means that certain services will stop temporarily, including routine apartment cleaning in many of the independent apartments. We will instead be assigning our staff to zones of the building to provide essential services to maintain health and safety for our residents in a controlled and monitored way."
Right At Home, one of several providers of in-home health care services, is taking the same course of action, according to care services Administrator Rob Kraus. Care teams are assigned to specific, not multiple, clients. The organization continues to monitor and follow updated recommendations from the Centers for Disease Control and the Home Care Association of Washington.
"It's ever-changing, day by day," Kraus said. "We're working hard to stay in front of the information."
Regarding supplies of protective gear, he said, "We're doing fine at this time."
A Simple Gesture supplies food to the Salvation Army Food Bank and pantries at the Anacortes Public Library, the Anacortes Police Department and the Anacortes Fire Department. But the library and the police station lobby are now closed to the public, cutting two links from the supply chain.
A Simple Gesture director Sue Monaghan said Monday the Anacortes Family Center has stepped forward to fill the void. The family center is located at 2702 Commercial Ave. People needing emergency food boxes should email samantha@anacortesfamily.org.
One challenge solved, but another remains. A Simple Gesture has 70 volunteer drivers who pick up and deliver food and 100 warehouse volunteers. But with restrictions on people gathering, Monaghan is working out how to get food picked up, processed and delivered while staying within the restrictions imposed by the state.
"I'm open to suggestions," she said. Meanwhile, she said, "Keep filling those red bags." The next Simple Gesture pickup is scheduled for April 11.
Inslee said hunger relief and nutritional support services are "essential services that will remain open and operational through this crisis; this order does not ban people getting access to food."
He added, "You can still go to a food pantry to pick up groceries, but check the hours before you go. Hours of operation may vary and many hunger relief organizations are moving to new ways to distribute food, such as home delivery and drop-off sites. Food bank volunteers may continue to go to work at food pantries."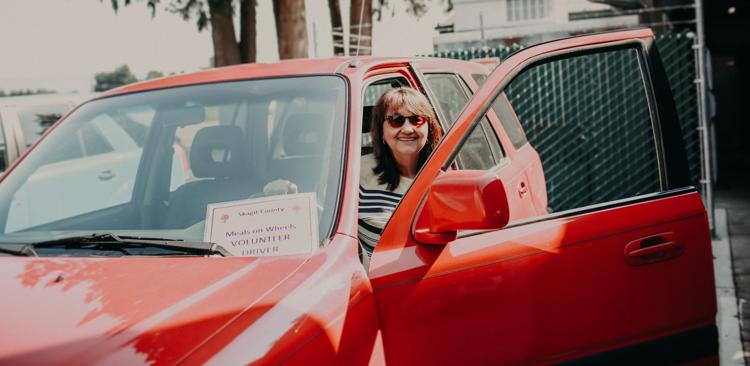 Renee Corcoran, nutrition program coordinator of the Meals on Wheels program, said her program took a big financial hit when it had to cancel its March fundraiser, which usually raises $60,000 to $70,000. Donations can be sent to Meals on Wheels, 700 S. Second St., Mount Vernon, WA. 98273.
The program "is still going strong," Corcoran said, albeit with some changes.
The front desk is not staffed. Kitchen volunteers are staying 6 feet from each other and take meals to the drivers' vehicles for home delivery, so drivers don't have to go into the kitchen. Drivers wear gloves and use hand sanitizer. Rather than take meals into the home, meals are dropped off at the client's front door — although, Corcoran added, "We have to see and hear the client."
Meanwhile, more people have been eating in since February. At that time, Meals on Wheels had about 370 clients.
"We're well over 400 now," Corcoran said Tuesday. "It's increasing day by day."