Infections continue to rise, even as the vaccination campaign across Skagit County makes strides.
With 139 cases confirmed between April 19-26, the increase over the past four weeks continues. Monday-to-Monday counts over the past four weeks were: 56, 91, 115 and now 139.
"I think the community should be worried," said Charles Hall, Island Hospital CEO.
It is important to maintain precautions like distancing from others not in your household, wearing a mask in public and getting a vaccine when possible, he said.
With the increase, there is a risk that Skagit County will not meet eligibility requirements, said county spokesperson Laura Han.
"Vaccination is the only way out of the pandemic," she said.
Case rates have been increasing in all ages except for those 70 years and older, according to the state Department of Health. The estimated percentage of active COVID-19 infections doubled between March 1 and April 2.
"Vaccination is working, but immunity isn't high enough yet to combat increasing disease levels," Acting State Health Officer Scott Lindquist said in a news release.
"Keep your social circles small and whenever you plan an activity with others, take it outside."
On Tuesday, the CDC released guidelines that slightly eased mask restrictions for fully vaccinated people. The guidelines now say that fully vaccinated people don't necessarily need to wear masks outdoors except in crowded areas. Masks are still recommended indoors when around unvaccinated people.
Learn more details on the CDC website.
Skagit County now has 41% of its population with one dose and 31% of its population who have had a second dose.
Island Hospital is now offering end-of-day walkup doses. The hospital usually has some doses of vaccine left at day's end, and no doses have gone to waste yet, said spokesperson Laura Moroney.
Those still needing a dose can go to Island Hospital's vaccination clinic at 4 p.m. on Wednesdays, Thursdays and Fridays to leave their name and number before they wait in their car, if doses are available.
More than 10 people waiting likely means none will be, Moroney said.
Cancellations happen, so people should be checking throughout the week for appointments, she said.
The clinic is marked with signs at 1211 24th Street, near the Health Resource Center.
Next week, the hospital will begin first-dose vaccinations again, some of which will be the single-dose Johnson and Johnson vaccine.
The state Department of Health resumed its use after an 11-day recommended pause for during a federal investigation into a potentially serious but very rare blood clot side effect.
"This pause was a sign that the vaccine safety monitoring system is working extremely well," Jennifer Johnson, Skagit County Public Health director said in a release.
Skagit County Commissioner Ron Wesen received the Johnson and Johnson vaccine from Skagit County Public Health shortly after its use was resumed.
"I am happy to get my (Johnson and Johnson) vaccine single dose. It feels good to know that I will now be fully protected from COVID-19, and I don't need to worry about going in for a second dose," he said in a release.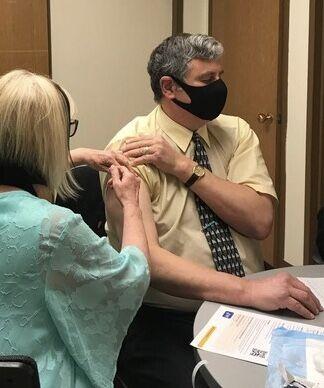 The Skagit County Public Health's vaccination clinic at the Skagit County Fairgrounds now has a child supervision area, for parents who need someone to watch their children while they get the vaccine. Children will be screened for symptoms and masks are required for those 5 and older and recommended for those between 2 and 4. For information, call 360-416-1500.
Skagit Regional Health and Skagit County Public Health have ended their testing sites for people without symptoms. However, people without symptoms can still get tested via appointment at Walgreens in Anacortes and the Rite-Aid in Mount Vernon. At-home rapid antigen tests, authorized by the FDA, are also now coming to local pharmacies.
Island Hospital tests people with symptoms for COVID-19 at their walk-in clinic.
• Skagit County reported, as of Monday, 4,765 confirmed cases and 67 deaths since the pandemic reached the area in March 2020. That is an increase of 139 confirmed cases and no new deaths since Monday, April 19.
• Island Hospital saw one more COVID-19 patients admitted since April 19. Total hospitalizations are 56 since March 2020.
• Island Hospital has not reported a staff infection since April 5. The total is 16 since March 2020.
Washington residents 16 years and older will be eligible for a COVID-19 vaccine, though the Pfizer vaccine is the only one authorized for those 16 years and older. The Johnson & Johnson and Moderna vaccines are authorized for those 18 years and older. Visit vaccinelocator.doh.wa.gov to see a full list of providers.
• Island Hospital has been receiving doses. Self-scheduling is completed at www.islandhospital.org/covidvaccine. A message line for people without internet access is 360-299-1367. Island Hospital is vaccinating any eligible Washington resident.
• Skagit County Public Health has been keeping self-scheduling open throughout the week, but learns about the coming week's supply on Fridays at 9 a.m. Visit prepmod.doh.wa.gov or call 360-416-1500. The county is providing the vaccine at the Skagit County Fairgrounds to anyone eligible, regardless of residence.
• Private pharmacies in Whatcom, Skagit, and Island counties, including at Safeway, Walgreens, Costco and Fred Meyers, are listed as COVID-19 vaccine providers. Information on how to schedule can be found at vaccinelocator.doh.wa.gov.
• The Washington State School for the Blind has set up a hotline for people with visual impairments to gain access to COVID-19 testing and vaccine information. The number is 360-947-3330.