A nearly 25-foot totem pole that is being taken across the United States as a call for the protection of sacred places stopped Monday at the Anacortes ferry landing while en route to San Juan Island as part of its nationwide journey.
The pole was carved by Lummi Nation master carver Jewell James and the House of Tears Carvers. It is carved from a 400-year-old western red cedar, measures 24 feet, 8 inches long, is 3 feet wide, and weighs 4,900 pounds.
After stops at environmental battlegrounds throughout the U.S. — among them Bears Ears, Utah; Grand Canyon, Arizona; and Standing Rock, North Dakota — the totem pole is scheduled to arrive in Washington, D.C. on July 28. According to Doug James of the House of Tears Carvers, the pole will be presented to President Biden and displayed at the Smithsonian Museum of the American Indian.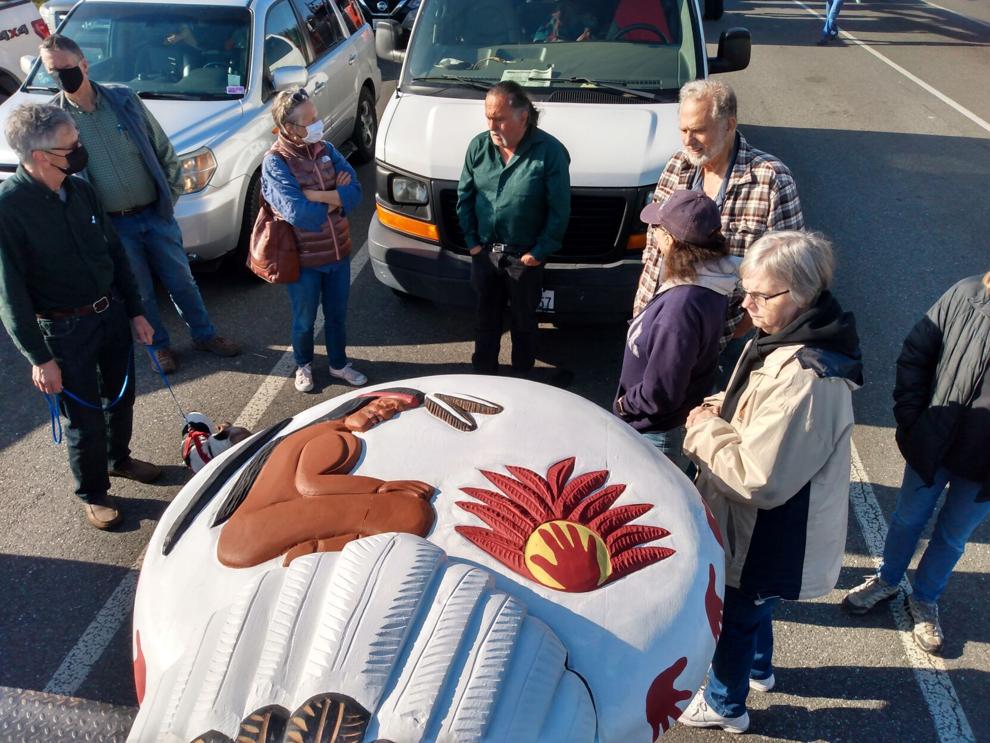 At stops along the way, Native American and non-Indigenous people will be able to offer prayers, to touch the pole, to drum and sing.
At the Anacortes ferry landing, Rosie Cayou, a Samish tribal member who lives on Guemes Island, joined others in offering a blessing song. Her husband, Bill Tsulton Bailey, an Upper Skagit carver, offered a blessing to give James and his entourage strength for the journey ahead. Then, an eagle flew overhead and Kayden Nogueira, 4, stepped forward with his drum and sang an orca whale song.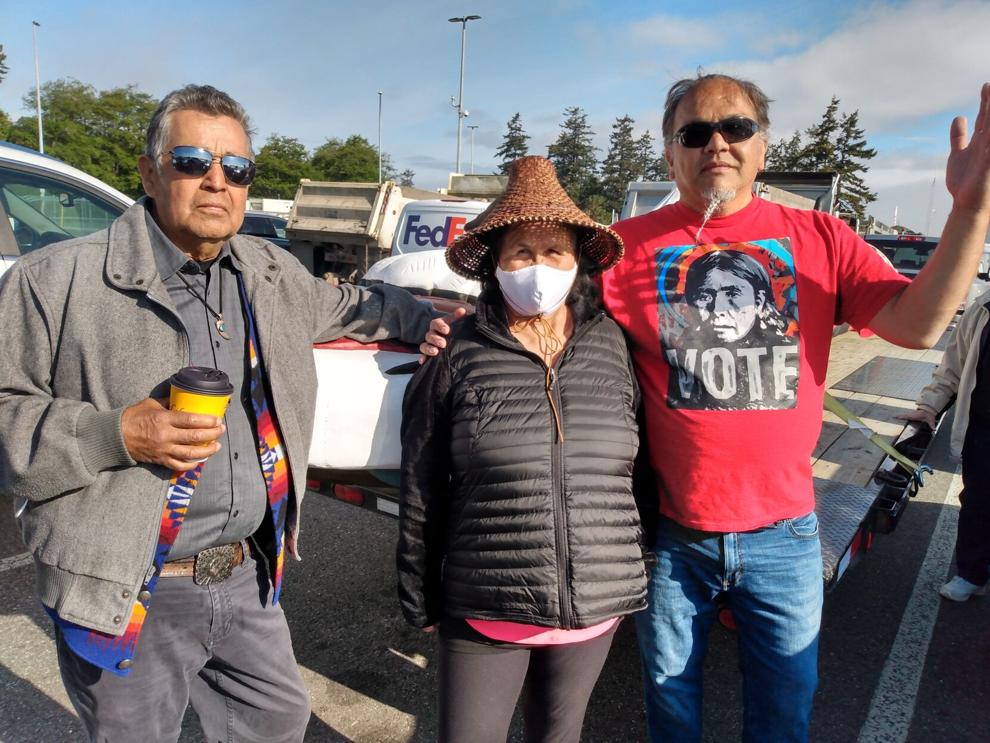 The pole was taken Monday to English Camp, which until 1859 was a Lummi village site. There, it was welcomed by Lisa Nash Lawrence, a Mitchell Bay Band descendant and member of the Swinomish tribe. In the ensuing couple of days, the pole was to visit Lummi village sites on Orcas and Lopez islands.
As the group accompanying the pole waited Monday for the 9:05 a.m. ferry to Friday Harbor, people gathered and took photographs and talked with James.
He explained the meaning behind the images on the pole: the full moon, representing the full circle of life; eagle, representing leadership in protecting the environment that sustains us; two chinook salmon, representing endangered salmon; sea bear and sea wolf, representing the southern and northern orca pods; and rain drops falling into a blue stream, representing flowing waters. The eagle's head and the sea bear and sea wolf fins extend out from the pole.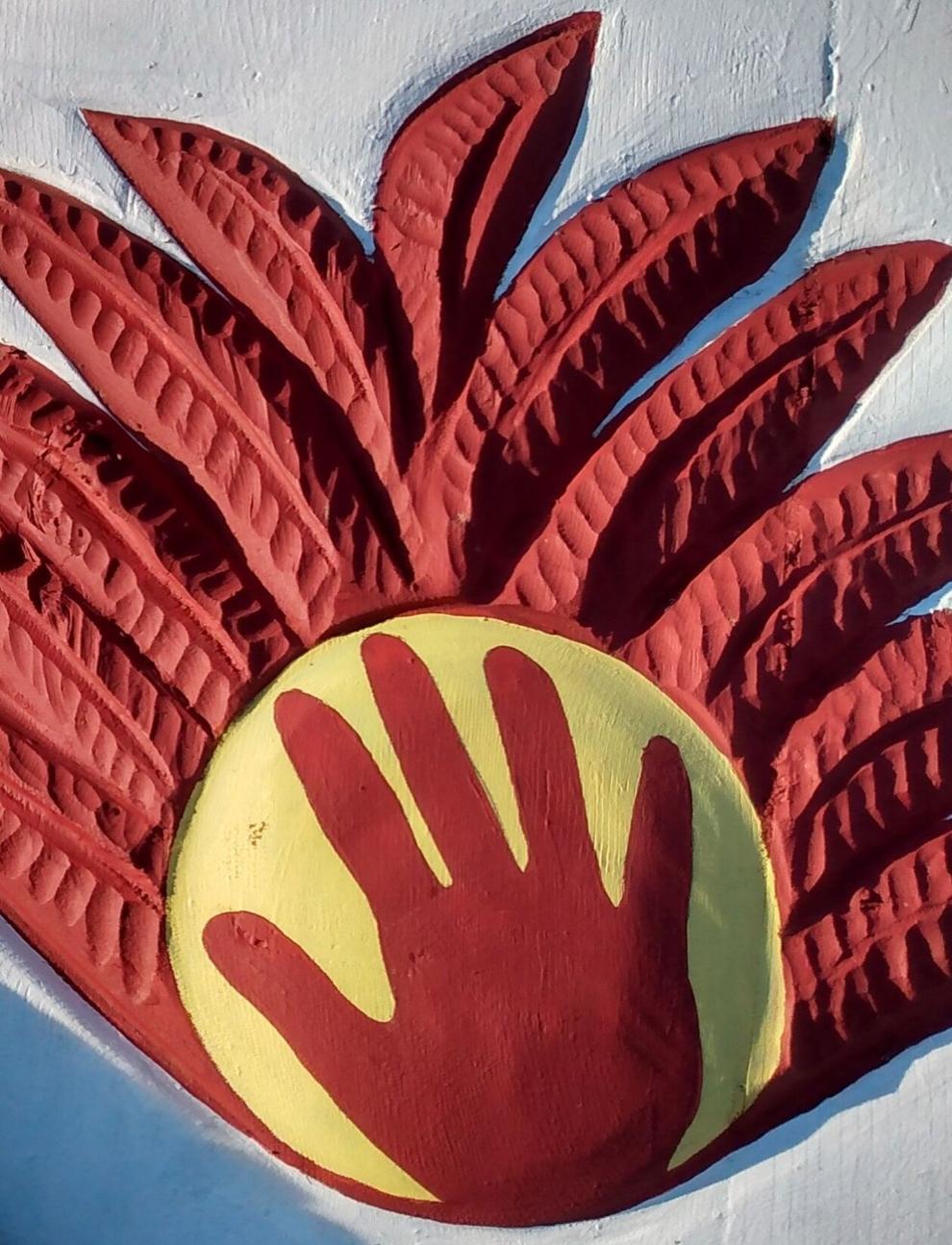 The pole also calls attention to the sacredness of human life. The pole features red hands, a symbol for murdered and missing Indigenous women and girls. Another part of the pole features a carving of a little boy in a cage, representing the children held by the U.S. near the Mexico border. Most Mexican people are Indigenous too, James pointed out, and their ancestors had trade and family connections that extended north to Colorado.
Near the depiction of the little boy, a grandmother with a rattle sings a prayer song.
Doug James, Jewell James' brother and a member of House of Tears Carvers, said the pole intends to remind observers of their responsibility to the earth and those we share it with — and to spur them to action.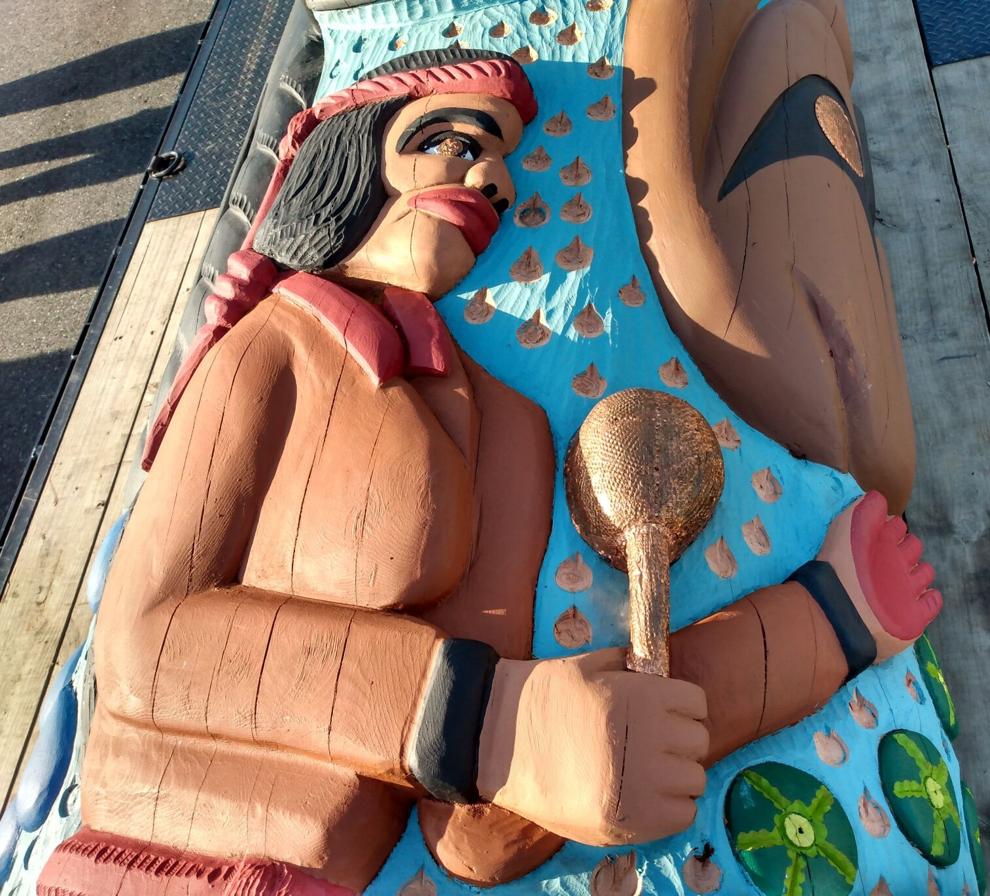 "We're using this pole to bring the awareness more than ever to the plight of the Earth, our mother," he said. "We're saying, 'What are you going to do when we're long gone, when we're dust? What's going to be left behind for these little ones here if you don't stand up and have your voice heard now? How long are you going to wait? Time's running out and the clock is ticking. We're asking you to stand up and speak out.'"
The pole will be a lasting reminder of that responsibility, he said. "This pole is from a log from a 400-year-old cedar tree. It will be standing long after we're gone."
Rep. Debra Lekanoff, D-Bow, spoke during the pole's visit to Orcas Island of the connection between healthy salmon, healthy habitat, healthy economy and healthy people.
"The salmon is the very essence of who we are and where we come from as Native American people," she said May 11 on Orcas Island. "Who we are and what we look like and where our cultures come from — our bloodlines, our Tlingit names, our Coast Salish names — are all intertied into telling our stories.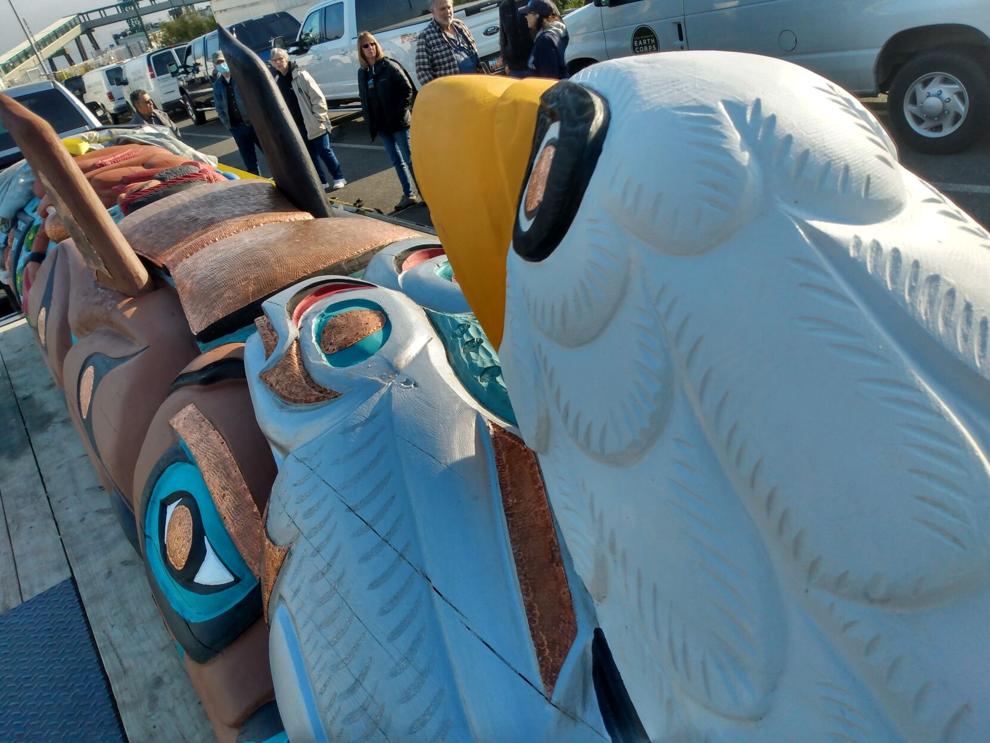 "The work we do here as advocates, as senators, as representatives, as governors, as elders, as my auntie, as my cousin, is important work because when you have a healthy salmon, you have a healthy economy. Your social structure is strong, your body is healthy, you have clean water, you have clean habitat, you have clean air. Mother Earth won't be crying when you have a healthy salmon."  
The House of Tears Carvers has carved and installed healing poles and honor poles throughout the United States. Poles carved to help promote healing after 9/11 were taken across the United States and installed outside New York City; in Shanksville, Pennsylvania; and in the Congressional Cemetery in Washington, D.C., 5 miles east of the Pentagon. Another pole, carved to honor traditional medicine, was taken across the United States and installed at the National Institutes of Health.