Rows of boxes piled high with food stood next to the parking lot at Anacortes High School this past Saturday, awaiting new homes. The boxes, filled with meat and dairy and accompanied by bags of English muffins, produce and treats, were set out by a team of volunteers.
The food giveaway was informally scheduled to start at noon, but by 11:30 a.m., people were lining up in their cars.
A steady stream drove through over the next 40 minutes or so, with people picking up boxes of food.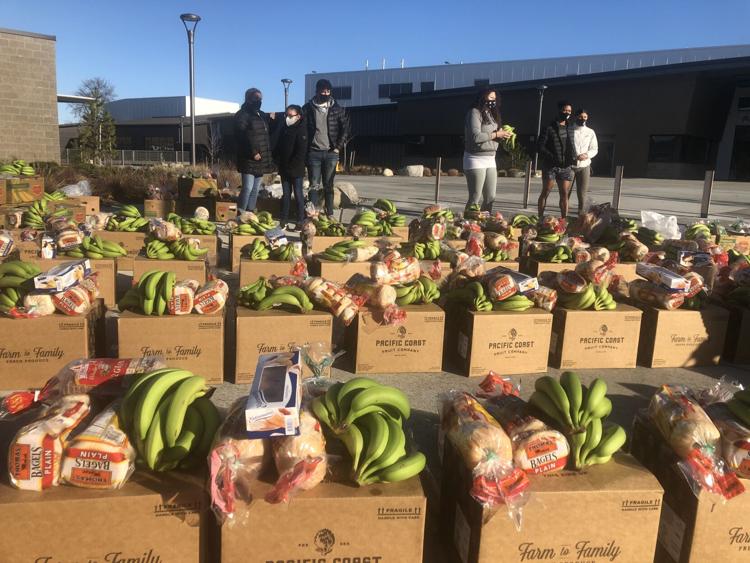 The giveaway, the fourth of its kind, was organized by community member Jason Chambers.
Chambers put the word out on Facebook, and people turned out. The community has been showing up to volunteer time, and there's definitely plenty of people in need of the food, he said.
To help get the word out and to help those in need connect with people who had excess food to share, Chambers created the Facebook group Free Food Anacortes.
He and his team of volunteers will be back at the high school at noon Saturday to give away more food. He said he wants to continue until he can no longer get free food to give away. Volunteers meet at 11 a.m. to organize.
Chambers started giving away food at the bowling alley but moved to AHS once he got permission to do so. The parking lot is ideal for drive-thru pickup, he said.
Much of the food donated comes from the Pacific Coast Fruit Co. as part of the USDA Farmers to Families program. Chambers gets the produce and other donations from the Farmer Frog in Woodinville.
He was connected to the farm earlier this year because of his business, Clearing Your Space. Most of his income comes from dump runs and deliveries, he said.
So when a friend in the Everett area knew of some Seattle businesses that needed free food delivered from the farm, he took the job. The Seattle businesses have since ceased the food delivery, but Chambers already had the connections at the farm, so he asked about getting some of that food for the Anacortes community.
Chambers said he had a rough upbringing and has seen some really tough times in his own life. He's spent time in jail and lived on the streets.
He remembers when he was at his lowest, when a truck would come around with hot chocolate, soup and clean socks. Those socks made all the difference, he said.
"Now, I have a drawer full of them," he said. "I have a great life today, where I don't want or need anything. But I know what it's like to be on the streets."
It's been 10 years since he turned his life around, and he wanted to do something meaningful for his new community.
Driving the food to Anacortes and organizing the volunteers is just a small way to give back, Chambers said.
Standing and looking at the 20 or so volunteers, he talked about how overwhelmed he was by other people who are so willing to give.
"This is our community," he said.