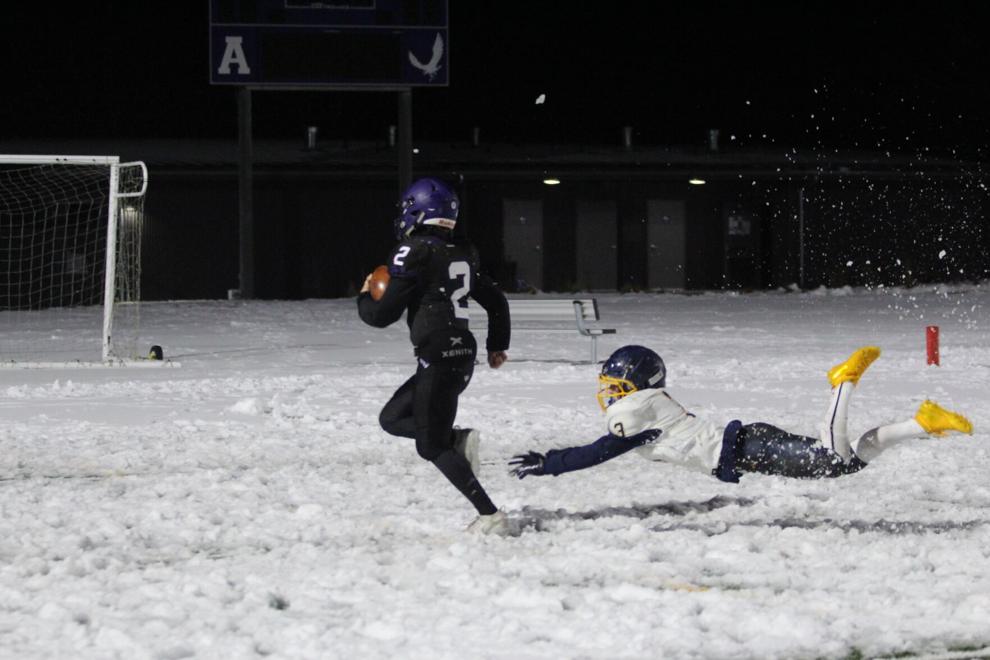 Anacortes High School's football game against Burlington-Edison on Monday was just a scrimmage, without an effect on the season, but the energy on the field was real.
As the young athletes played on the snowy field, the teams cheered their players on, with a call of "Welcome back to football!" from the coach.
When a player made it to the endzone, loud cheers went up on either side, and cars parked in the parking lot overlooking the field honked their horns. Access to sporting events is limited this year, so viewers are getting creative, like watching from nearby cars.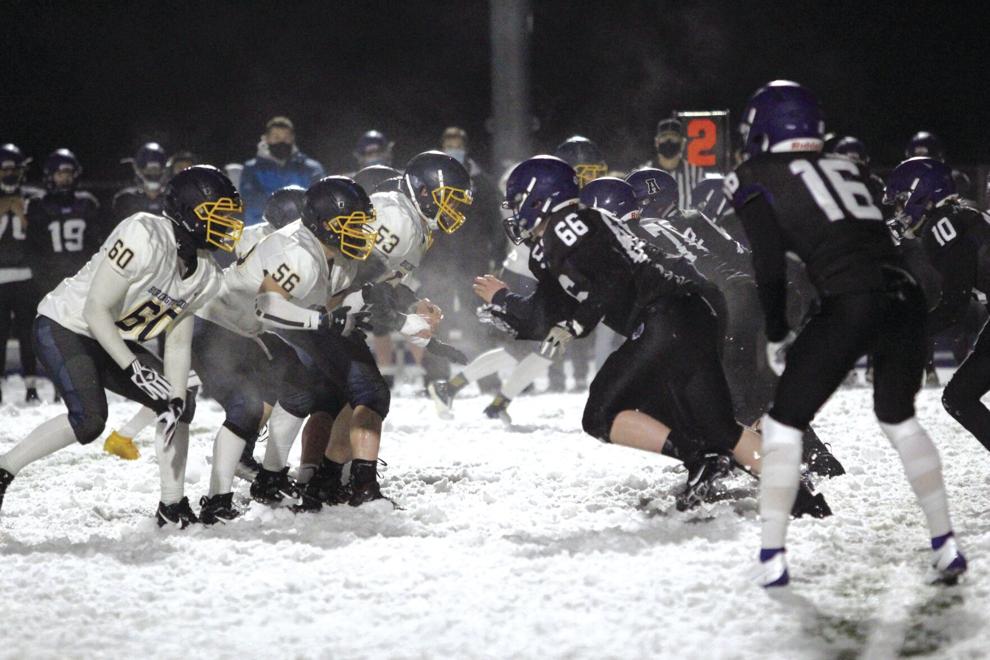 The football team is just one of the sports teams back now as student-athletes are competing this month for the first time in a year.
The cross country team and girls swim started with some pre-season jamborees to kick things off, and the girls soccer team and the volleyball team both took on Meridian High School on Tuesday. Several games are scheduled this week and next as the delayed fall sports season kicks off for the school, Anacortes High School Athletic Director Erik Titus said.
"It's awesome," he said. "You can feel the energy and see it in the looks on the kids' faces. They are prideful to be able to put on an Anacortes uniform and be a part of that culture again."
Right now, spectator attendance is extremely limited and reserved mostly for parents of athletes.
Staff is working out how to broadcast games, but right now, most attention is being put into making sure the athletes can play safely.
"Right now, our priority is to get athletes competing and coaches coaching," Titus said.
Students have been able to practice in very small pods for a few months now, but a couple weeks ago, things opened up a bit more with slightly bigger groups, he said. They are still working in pods, in case the need for contact tracing should arise.
All regulations and safety precautions have been set by the Washington Interscholastic Activities Association.
For girls swim, meets are virtual. Teams are only swimming in their own home pool, recording times and sending them in, instead of teams traveling and competing in person against each other.
A cross country home meet is at 3 p.m. today at the high school, and the girls swim team will compete at 3 p.m. today at the Fidalgo Pool.
The girls varsity soccer team is expected to compete at 4 p.m. Thursday at an away game at a school to be determined, and volleyball will compete against Mount Baker High School at 7 p.m. Thursday.
– Football at 6 p.m. Saturday at Bellingham High School
– Volleyball at 7 p.m. Monday, Feb. 22, at Burlington-Edison High School
– Girls soccer at 7:30 p.m. Tuesday, Feb. 23, at Mount Vernon High School
– Girls swimming at 7:40 p.m. Wednesday, Feb. 24, at Fidalgo Pool
– Girls soccer at 7 p.m. Thursday, Feb. 25, hosting Lynden Christian High School
– Football, 2 p.m. Saturday, Feb. 27, at Kings High School
– Volleyball, 7 p.m. Saturday, Feb. 27, hosting Lynden Christian High School