Onlookers, some clutching small U.S. flags, arrived early Sept. 7 at Anacortes Airport to witness the arrival of about 100 National Guard troops and the two Chinook helicopters that would carry them to Joint Base Lewis McChord for combat training.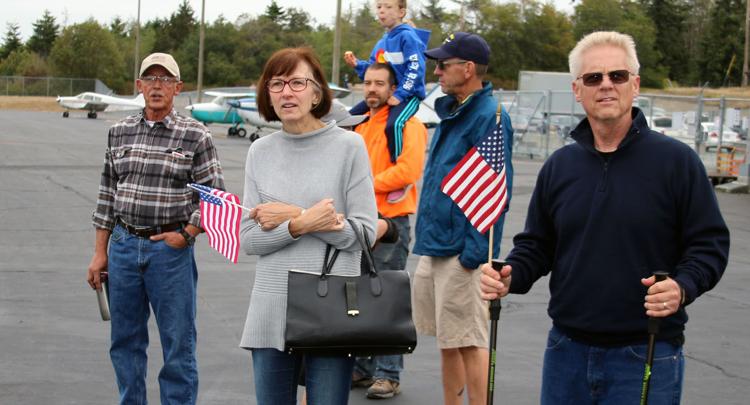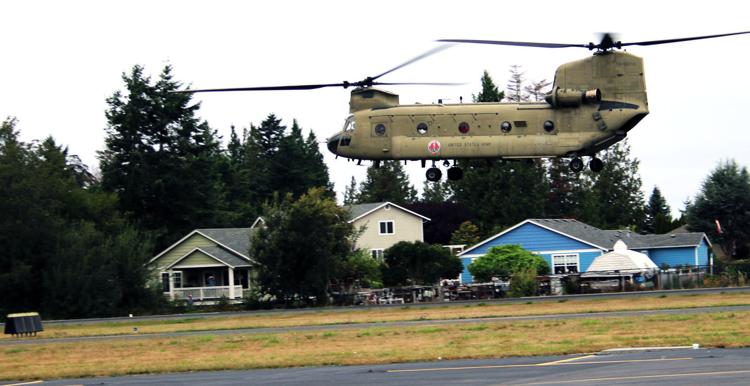 Soldiers from throughout the state had gathered the night before and slept in the National Guard armory on M Avenue. Troops arrived at the airport and, later, the thump-thump-thump in the distant sky signaled the approach of the Chinooks.
Whidbey Island has the naval air station and the Growlers; Anacortes has an armory, an army of citizen soldiers and, for the day, military helicopters that can each carry 52 troops, lift up to 26,000 pounds and fly almost 200 mph.
"It's an honor to serve your country," said Annabelle Fox of Anacortes, who watched the scene with her Navy veteran husband, Brad. "It's important for people that are civilians to realize there are a lot of people every day that put their lives on the line for our country, and we need to honor that."
The gathering gave those in attendance the opportunity to get closer to a military operation than they normally would elsewhere and to meet some of the soldiers. After the helicopters landed, residents could get close and take photographs. They watched troops practice boarding and disembarking the helicopters. They watched troops practice getting into combat-ready positions.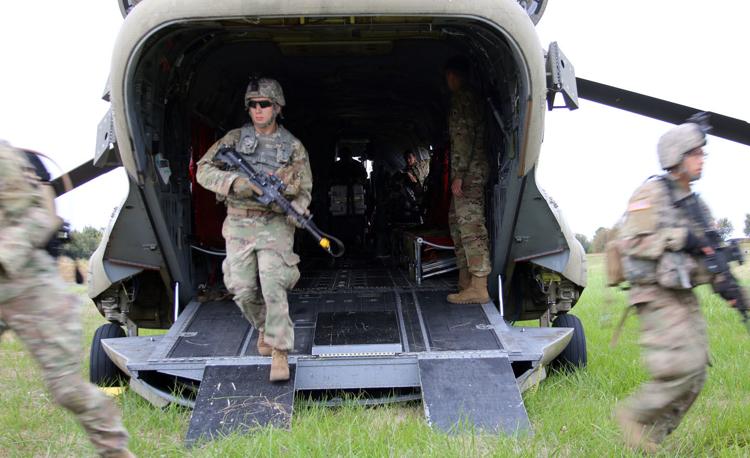 Eric Mithen of Anacortes brought his two young sons, John and Charles, to watch. It was the first time he'd seen Chinooks land in Anacortes.
"I'm an Army brat," he said. "I was raised on Army bases from Fort Ord, California to Frankfurt — West Germany at the time — so I'm no stranger to seeing helicopters go up and down. But it's still fun, even at age 47."
For the curious, it was also an opportunity to learn about the history and complexities of the Army National Guard, which has been described as America's first line of defense. The Guard's citizen soldiers commit to combat-readiness training and, when ordered, serve in combat missions. They also assist in areas hit by natural disasters and enforcing counter-drug efforts.
Only a few have full-time jobs with the Guard. Most have regular civilian jobs and drill with their unit once a month.
Greg Latta, a retired Army National Guard first sergeant and combat engineer, was there to open the airport gates and welcome the troops with fresh doughnuts purchased by his employer, Quantum Construction. Latta served with many of the troops arriving that day.
"They're truly citizen soldiers," he said. "They deploy to state emergencies, fires and floods. They can also be activated by the president of the United States or Department of Defense to actually go on active duty and serve alongside their active- duty counterparts. … They augment the active-duty military."
Latta served during the Vietnam War and was out of the military for 21 years working as a construction supervisor. Then, his oldest son joined the National Guard "and I found out I had a three-month window that I could go back in, so I did," he said.
Latta and his son both saw combat in Iraq in 2004-05. "I had to put him in harm's way a couple of times," he said. "But it was nice at Christmas time and the holidays" because they were together.
However, Latta added, "His mom didn't like it."