The crab pots were ready, stacked six high along A and B docks at Cap Sante Marina on Sunday.
The work was in preparation for the commercial crabbing season, which began Monday. October is a big month for crabbers, said Garrett Sullivan last week, while he cut up a mink carcass to be used as crab bait.
"You work out there 25 days straight, 14 hours a day," said Sullivan, an Anacortes native who is working his second season on a crabbing boat this year.
He says he finds the work difficult, but good weather makes it worth it.
"Our highlight is October — good crabbing and good weather," he said.
For tribal crabbers Mike Wilbur and Donald Clark, both of the Swinomish tribe, the season has been underway for several months. The two were busy hauling Dungeness crabs three buckets at a time — about 365 pounds of crab— onto the dock Sunday.
Others come from farther away to crab around in the area. Brandon Fulton of the Port Gamble S'Klallam Tribe said he travels here to take advantage of the longer crabbing season in the area. Crabbing has always been the way he makes his living, he said.
Even when the weather takes a turn for the worse, he doesn't mind.
By the end of the season, the non-tribal crabbing fleet in Region 1, which includes the waters around Anacortes, the San Juan Islands and north to Canada, is expected to catch 1.6 million pounds of crab, said Don Rothaus, shellfish biologist with state Fish and Wildlife.
At an average price of $3.50 per pound of crab paid to fishermen, that's $5.6 million in revenue from crab landings, he said.
On top of that is revenue from the treaty tribes commercial fishery, and from businesses that buy, handle and ship the crab, he said.
"It's easy to see very quickly (crabbing) is a robust money-maker for these local fisheries," he said.
In Washington, the harvest of crab and other shellfish is split 50/50 between non-tribal and tribal fishermen, whose treaty rights entitle them to half of the harvest, according to the Northwest Indian Fisheries Commission. 
Fishing opportunities for non-tribal fishermen are then split between commercial and recreational crabbers, according to state Fish & Wildlife.
There is demand at home and abroad for crab caught in the Puget Sound. China usually imports a lot of live crab from fishermen, while the domestic market favors cooked crab, Rothaus said.
"Our guys like to sell to the Chinese marketplace because it does tend to go to higher price per pound," he said.
Fisheries managers set the season, which can run through early March, to coincide with prices increases, such as the uptick during the holiday season, he said.
"That's generally why we end up coming off the water in late October and early November so we save some pounds for Thanksgiving, Christmas and New Year's," he said.
Crabbing supports many Anacortes families, said Joe Verdoes, a Port of Anacortes commissioner who has been crabbing commercially for several decades.
With a decline in salmon fishing, crabbing along with other fishing opportunities are filling a gap, he said.
"Crabbing has put a lot of people through school," he said.
He said he enjoys the strategy of figuring out the best crabbing spots.
"Crabbing is like a chess game," he said. "There's a lot of players."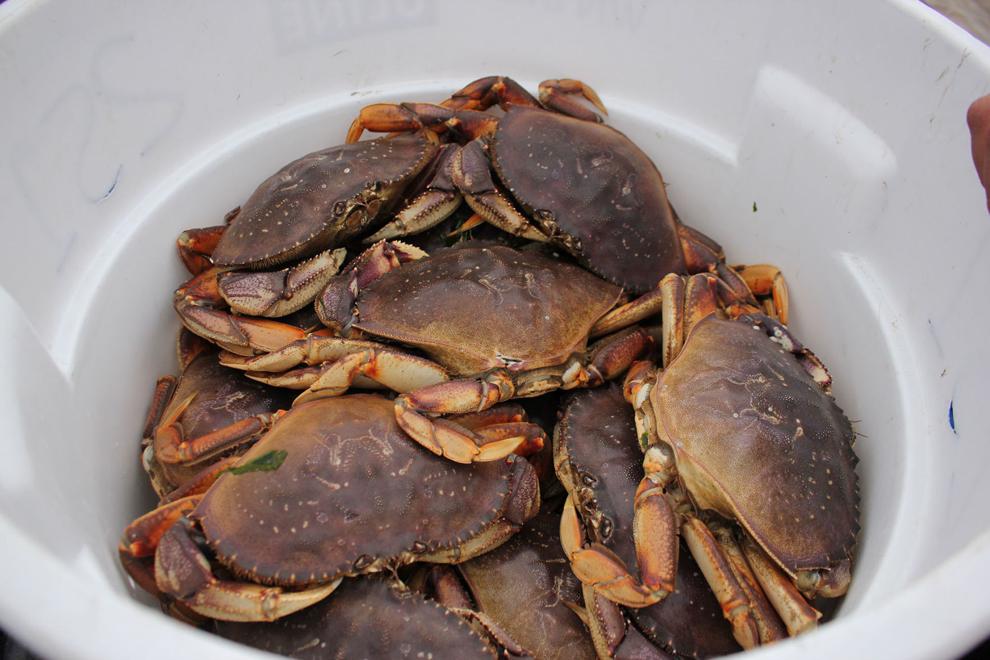 Crabbers deal with uncertainties in both price and abundance each season.
Greg Moe, owner of M&M Fish Co., has bought Dungeness crab from Anacortes fishermen for 27 years.
"There's quite a (crabbing) fleet in Anacortes," he said. "It's grown. It's good for me, helps my business."
The price paid to fishermen per pound of crab settled around $3.50 Tuesday morning, about 25 to 50 cents less than the last couple years, Moe said.
He believes the price drop is partially due to Chinese retaliatory tariffs affecting Puget Sound crab, along with other factors, he said.
"The tariff is one part of the equation that's not helping," he said.
He still feels the price will be fair for fishermen.
"That is a good price, maybe an average," he said. "The market in the last few years has been a little bit higher than that."
Rothaus, with Fish & Wildlife, said Tuesday other crabbers in the region received up to $4.25 per pound, depending on the buyer.
As for abundance, he isn't predicting a "gangbuster year." While some fisheries in the south Puget Sound faced closures last summer potentially due to factors such as ocean temperature changes, he doesn't think that's the case here right now.
"(The crabbing) is going to be slightly under average," Rothaus said. "If we see this trend continue, it will be a cause for concern. But right now I think this is the natural peaks and valleys of Dungeness crab abundance."