An early 1990s study of Guemes Island's three aquifers presented a dire picture of water availability on the 8.2-square-mile island.
Twenty-four wells on the island were found to contain relatively high levels of sodium and chloride, and arsenic was detected in five samples — all indicators of seawater intrusion. High chloride levels in West Beach, North Beach and Indian Village occurred from April through September, when seasonal residents boosted the island's population from 540 to 2,200.
Of the 21-29 inches of rain that fell on the island in a study year, up to 10 inches trickled into the aquifer — the remainder evaporated or ran off — and "virtually all the [recharge] was used for public supply and domestic purposes," the study by the U.S. Geological Survey stated.
"Ground water is the sole source of freshwater" for the island, the study stated. "Because the population of the island is increasing rapidly, there is concern that the fresh groundwater resource is not adequate to support continued growth and that increased pumpage will adversely affect its availability and quality."
The study intended to describe and quantify the groundwater system, identify groundwater quality problems, determine how much water was available and discuss options for monitoring the quantity and quality.
But a water budget to determine how much water is available for daily use was never developed. Despite the study's warnings, wells continued to be drilled on the island.
"One hundred thirty three wells have been drilled on Guemes since 1995, but that does not mean that there are 133 new groundwater uses on the island," said Laura Gelwicks, communications coordinator for Skagit County. "For example, this number includes properties where the county forced owners to drill a replacement well because the existing well was not compliant with (state law)."
Meanwhile, the island population — and water use — continued to grow. "When we adopted the Guemes (Subarea) Plan in 2011, there were around 600-800 permanent residents on the island," Gelwicks said. "In the summertime, the population may swell to over 2,000 from part-time residents and visitors. We don't explicitly keep track of year-round versus part-time residents, so these numbers are estimates."
Elections Supervisor David Cunningham provided this indicator of population growth on the island: As of June 5, 688 voters gave Guemes Island as their primary residence on their voter registration forms.
And Hal Rooks, chairman of the Guemes Island Planning Advisory Committee, estimates there are at least 360 wells on the island. Some wells serve single-family homes and some serve multiple homes.
'We need a water management plan'
Ria Berns, section manager of the state Department of Ecology's Water Resources Program, said wells on Guemes Island are exempt from rules that apply to other parts of the county where wells can affect streams. That means no permit is needed to drill a well as long as the use does not exceed 5,000 gallons a day.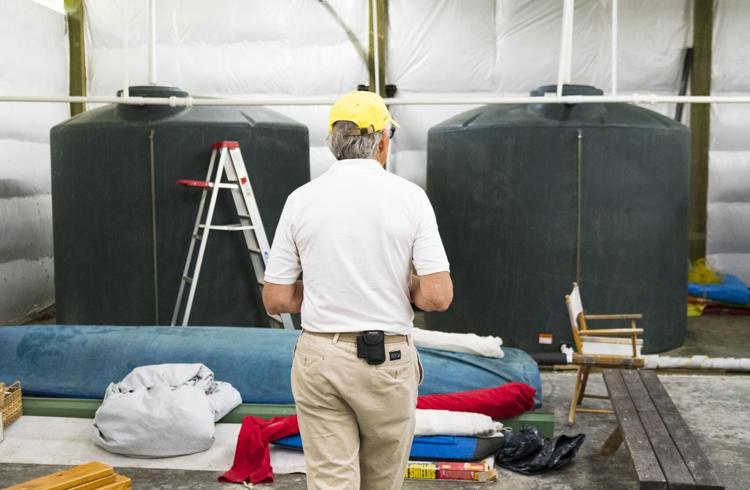 Guemes Islander Steve Orsini said high chloride levels in his well coincided with the drilling of wells nearby, so he turned to rainwater catchment. Other property owners hire tanker trucks to keep storage tanks supplied with fresh water. An entire neighborhood at Potlatch Beach invested in a desalination plant operated by Skagit Public Utility District.
To get new data on the status of the aquifers, the island's Planning Advisory Committee petitioned the state for funding to "quantify an updated water budget, and provide an accurate water-level analysis and water-table map of the [three] aquifers on the island." But because of the economic decline caused by the COVID-19 pandemic, Gov. Jay Inslee removed the funding from the 2020 capital budget.
"The study, for the moment, is on hold," Rooks said. "Nobody has any money for it. We have given thought to doing the fundraising ourselves, but everybody else is hurting" because of the pandemic.
Orsini said the island needs a water budget and management plan "so we don't make the problem worse."
Most communities "know how much water is going out of the system and can request, based on drought, that customers reduce usage," he said. "The problem we have is, that doesn't exist for Guemes Island. The county has never adequately responded to this question, and new wells are going in just as before the study."
Michael Cerbone, assistant planning director of Skagit County, outlined the process for drilling a well on Guemes Island:
One, the homeowner contracts with a licensed driller. Two, the driller files a notice of intent with Ecology at least 72 hours before drilling starts. Three, the driller notifies Skagit County of well drilling.
The chloride levels in Orsini's well water climbed after seven wells were drilled within a half-mile of his home, he said. By 1998, he had to find an alternative water source. Then, land became available next door.
Orsini bought the property and built what he calls a rain barn: a pole building with a 2,880-square-foot roof. Annually, the roof directs an average of 40,320 gallons of water to storage tanks — well over the 23,360 gallons his household uses each year.
Orsini said had he known rainwater catchment math at the time — each square foot of roof captures 14 gallons of rainwater — he would have built a smaller system. But it was worth the investment.
"We've been on total rainwater catchment since 2006," he said.
Potlatch Beach turned to the Skagit Public Utility District in 1998 when wells showed signs of seawater intrusion. Skagit PUD installed a desalination plant, an effective but expensive solution, according to PUD spokesperson Kevin Tate.
The plant was constructed in 1999 at a cost of $405,484, Tate said. Thirty-four landowners were assessed $11,926 per parcel, spread out over 20 annual payments — about $629.09 per year per landowner, including interest — to pay for the system, which was financed by Skagit PUD. The final payment was received in 2019, Tate said.
Water rates encourage conservation, Tate said. The basic rate is $109.95 a month, in addition to a water use rate of $18.63 per hundred cubic feet, or 748 gallons.
Other options would be more expensive. One idea that was explored was connecting to the City of Anacortes' water system, which is supplied by the Skagit River. But that would require running a water line under Guemes Channel and constructing a distribution system to get the water to users.
Property owners "can do rainwater catchment for a lot less," Orsini said.
* Note: The number of registered voters on Guemes Island provided to the Anacortes American by the Skagit County Elections Office was incorrect in the story "Guemes water issues growing," page A2, June 3 Anacortes American. According to records obtained in a public records request, there are 688 registered voters on Guemes Island.