Allan Island sits in Burrows Bay, west of Anacortes, and is home to a caretaker couple and varied wildlife.
For decades, the 292-acre island has lured investors who've dreamed of building here. Those dreams have proven elusive — until now.
Installation of a new pier, 80-foot gangway and 200-foot breakwater dock, which began in October, was recently completed.
"We're down to punchlist items like adding some trim and putting up warning signs, things like that. All the major work is done," said Greg Wright. He and his wife Karen have been the island's caretakers since October 2017 and are its only two full-time residents.
The old pier, dock and creosoted pilings have been removed, Wright said. A caretaker's residence has been built above an existing garage and the two-story log home has been refurbished. Plans are moving forward for the construction of up to six cabins that would be used part of the year; the cabins will not be sold, Wright said.
The owners "love the natural beauty of the island and don't want to make it like a lot of the islands have been with the development that gets put on them," Wright said. "That's not at all what they want. It's a very small plan, and that would not include selling anything off at all."
A permit dating to 1987 allows for 17 gallons per minute, or 13.56 acre feet of water per year, to be drawn from two wells, according to Ria Berns, state Department of Ecology water resources program manager. Wright indicated that water use will be far less than that: 17 gallons per minutes equals 1,020 gallons an hour; he said he and his wife use a total of about 300 gallons in a week. "The wells seem to be very deep," he said. "We've found the water table as high as just 2 feet down in the ground, even in dry months."
The water permit was issued when a previous owner proposed building up to 44 homes on the island. Wright said the current owners' plans are less grandiose and more eco-friendly.
"They are definitely in love with the beauty of the island and want to kind of maintain that," he said.
Smaller their plans may be, owners Eric and Inessa Anderson of Bellevue — a co-owner's identity is protected by a non-disclosure agreement, Wright said — are succeeding where previous owners of Allan Island have failed. Wright said that's because the plans are right-sized for the island.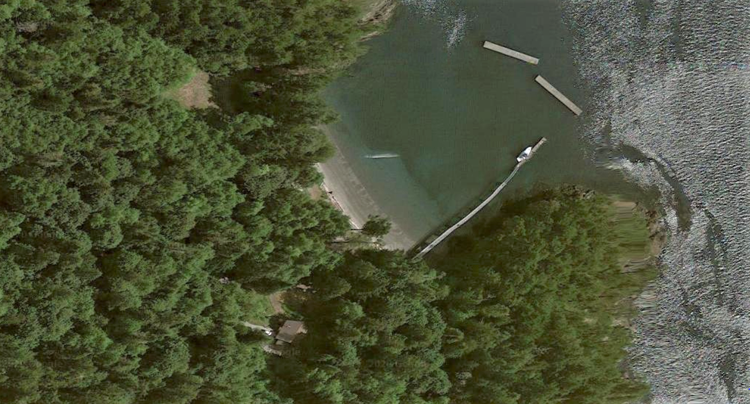 Off the grid
Efforts to establish permanent residency on Allan Island have been as rocky as the island's soil.
Gen. Hazard Stevens, son of Territorial Gov. Isaac Stevens and a Medal of Honor recipient for Civil War heroism, owned the island in the 1880s, according to research by archivist and historian Teresa Trebon. But Stevens never settled there, instead briefly returning to his native Massachusetts where he served in the legislature. When he returned to Washington, it was to summit Mount Rainier and establish a farm in Olympia.
Newcomers established sheep farms on Allan and Burrows islands in the late 1800s and boaters frequently visited the island for outings and to fish for rock cod, according to newspaper accounts found by Trebon. The Anacortes High School sophomore class had its annual class picnic here in the 1910s.
Dan Gilmore, who had founded a hospital on Fourth Street between T and U avenues, became a recluse on the island in the 1920s, raising goats and rabbits and subsisting partly on seagull eggs, according to a 1996 Anacortes American article by Wallie Funk.
At some point, the island was platted into 44 parcels ranging in size from 5 to 20 acres, and a grass airstrip and two-story log home were built. In 1987, the island's owners received the water permit from the state Department of Ecology. Still, development plans dried up.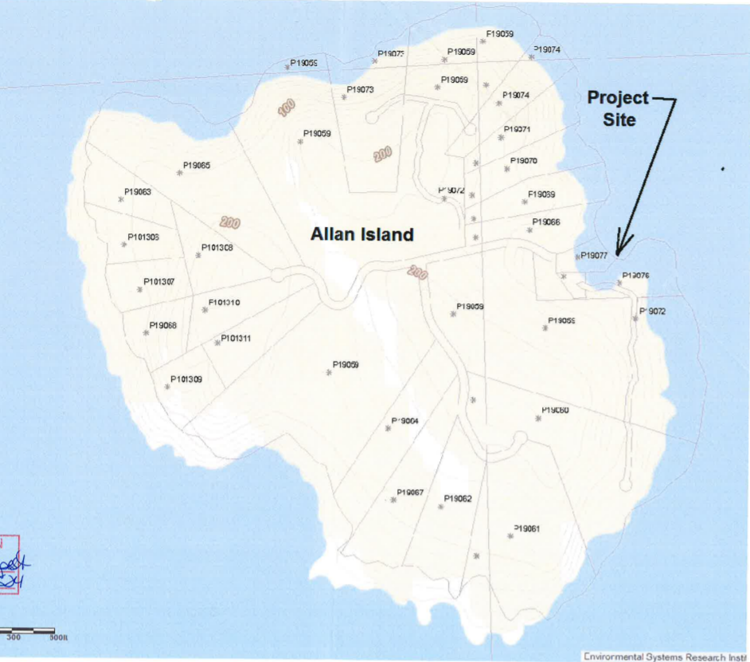 The last big effort was in the early 1990s, when Christopher and Gail Bach and their business partner, Shiraz Balolia, purchased the island from the Allen Island Estate Owners Association with plans to build a residential community and 18-hole golf course, to be served by a small ferry from Skyline, the Anacortes American reported at the time.
The partnership petitioned the City of Anacortes to annex the island but was denied.
Access to electricity was the main challenge to development, according to an email from Balolia's assistant last week. He and the Bachs instead sold the island in 1992 after getting "a good offer," according to the email.
The buyer was Microsoft co-founder Paul Allen, at the time the sixth-wealthiest person in the world. Allen reportedly considered the island as a possible vacation-home site, but abandoned those plans after buying property on Lopez Island's Sperry Peninsula. AI Project LLC, of which the Andersons are partners, bought the island from Allen's Kona Residence Revocable Trust in 2013.
"We are currently looking into plans for the future development of the island and are considering a number of options, including the building of new residential structures on the island," the Andersons wrote in a letter to the county that accompanied plans for the new pier, gangway and breakwater dock.
They wrote of their plans for "an eco-friendly community," and the dock project was the first reflection of their green thinking: Gone are creosote-treated timber pilings, replaced by non-corrosive steel. The new dock was relocated away from eelgrass beds. The dock, gangway ramp and floating breakwater are grated to allow sunlight through to the seabed.
The pier, gangway and breakwater dock project cost almost $1.6 million, according to the project file at the Skagit County Planning Department. The contractor is listed as Waterfront Construction, a Seattle firm specializing in docks, piers, floats, and green alternatives to bulkheads.
The Andersons did not return a request for comment for this story. But AI Project agent and attorney Mark McBride of Bellevue-based Perkins Coie said, "The owners want to be good neighbors and want to be a good part of the community."
McBride is at a loss for a reason why past development dreams didn't materialize on Allan Island.
"I was just up on San Juan Island. It was interesting to ride the ferry and see how many (non-ferry served) islands have homes on them," he said. "So, obviously, the San Juan Island area is not new to development.
"What is it that's unique about Allan Island that has made it more difficult to develop than all the other islands that have been developed on some level? Unfortunately, I don't have enough historical information or knowledge to be very helpful."
The Wrights love their off-the-grid life on Allan Island. "It's a fair amount of work. It keeps us pretty busy through the week and lot of times into the weekend."
They maintain the trails and the island's grass airstrip. A typical day, he said, "is trying to finish the list and get things closed up and construction completed so I can call for final inspections. There's (a) wood stove, so that requires some trees to be cut up and split. It's probably your average day on the island."
Rewards include the periodic sighting of orcas in Rosario Strait, stunning sunrises and sunsets, and the calls of bald eagles that nest in Allan Island's trees.
"We do have a fair amount of bald eagles out here. We have some juveniles as well, and it's always nice to see them and watch them grow," he said, adding, "We certainly enjoy the beauty of the island."