The Anacortes City Council may consider a moratorium on five-story buildings in residential neighborhoods west of O Avenue to study the impacts of tall buildings on single-family homes.
The discussion comes after residents raised concerns about a five-story apartment building that is planned at O Avenue and 18th Street. Under updated development regulations approved in August, the developer is allowed a fifth floor if 25% of the units are 600 square feet, the theory being that smaller apartments will command cheaper rents.
Residents — speaking at Monday's City Council meeting and in a public forum Thursday, Oct. 10 at the Senior Activity Center — said the tradeoff was not a good one. They said project notification of residents by the city was insufficient, that the proposed apartment building is outsized for the neighborhood and lacks sufficient parking.
However, a moratorium likely would not affect this project because it is vested, meaning the developer applied for permits under current rules.
Concerned residents said the proposed apartment building would do nothing to solve the need for affordable rentals in town. The developer previously told the Anacortes American that rents for the smaller units would be dictated by construction costs. He also said, however, that he intends to apply for a multifamily property tax exemption if the program is adopted by the City Council. The exemption would give him a property tax break for about eight years in exchange for keeping rents lower during that time.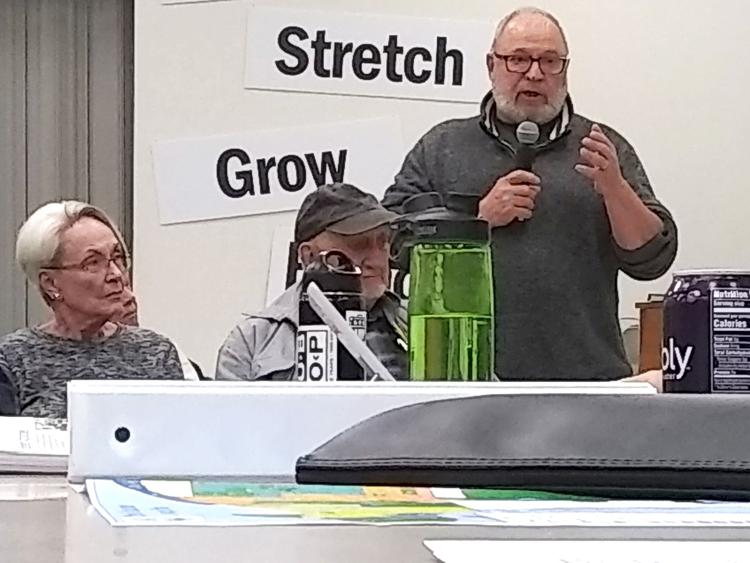 "I'm going to put a number to affordability, to the people that need housing in Anacortes," said Ellen Chevalier, who lives at M Avenue and 16th Street. "It's all the people who make $12 to $15 an hour. You can take all the clerks downtown. You can go to the hotels; it's all the staff. You can go to the hospital. I am a (certified nursing assistant). There are jobs for all of us. I can walk tomorrow into the nursing home, the hospital, and get a job as a CNA because it's a low-paying job, and we're in desperate need of CNAs to take care of this retired community here."
However, those wages won't cover local rent. Noting a report that the median household income in Anacortes is $63,000 a year, she said, "That's not even close to what I make, yet I'm a person of value. Where am I to live? I deserve to live in this community too."
Patty Carp, a resident of A Avenue, said she was not notified of the proposed apartment building because she lives outside the 300-foot notification area, but she frequents Starbucks and "was really appalled when I went down there one day and the two little — what probably were affordable — homes were bulldozed and I saw the notice up that there was a five-story apartment building going in. I usually drive up 22nd (Street) to get to my house. Somebody put up a three-story house that totally blocks the views of anybody behind it. Five stories is going to be two stories higher than that."
Neighbors asked for new comment period regarding the proposed apartment building at O and 18th.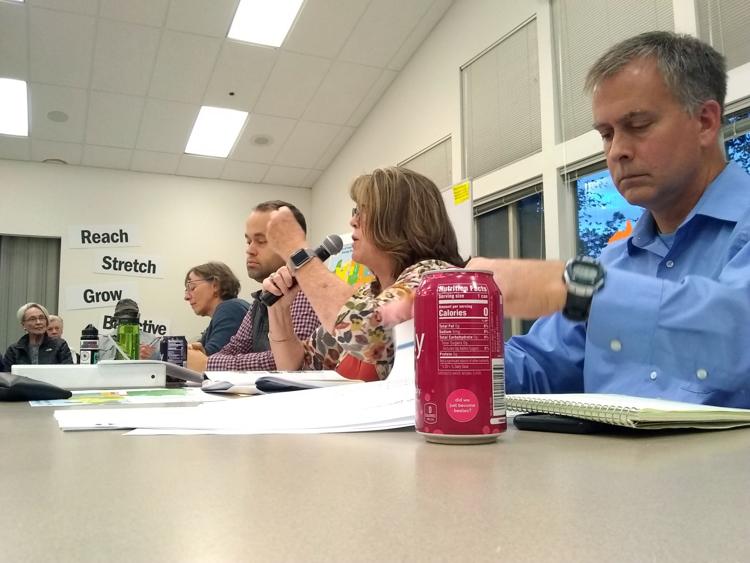 City Councilman Ryan Walters said the project is vested — the developer applied for a permit under existing rules — but he said the development regulations could be revisited and possibly revised for future development.
"I would support an emergency ordinance creating a moratorium in the R-4 zone west of O Avenue," Walters said. "If you look at the map, there's a pocket of R-4 that intrudes into what otherwise is the commercial zone and basically is bordered by O Avenue.
"I think this project we are talking about, which is east of O Avenue, is within that pocket and would be consistent with the kinds of projects we would see in the commercial zone, but if you start moving further west of O Avenue (they) would be an even more dramatic departure from the types of existing structures we have in that area. It would be quite a bit of a larger shock to the neighborhood."
Councilman Brad Adams said the council needs to "look the cause and effect of our new regulations" and suggested the council "get (a moratorium) on as an agenda item very soon."
Mayor Pro Tem Matt Miller agreed. "It's a tight area in R-4," he said. A moratorium discussion "is the way forward. We'll get it on as an agenda item so can take a look at this in the future."
What is "affordable housing"?: Affordable housing is defined in Anacortes Municipal Code as "units that are affordable to households with an income 50% or less of the area median income for rentals, and 80% or less of the area median income for owner-occupied housing. Affordable means that housing costs do not exceed 30% of household income, so that the household can cover other living expenses.
What would be an "affordable" rent?: The city uses household median-income figures from the U.S. Department of Housing and Urban Development because they are more current than U.S. Census data, according to Joann Stewart, administrative assistant in the Anacortes Department of Planning and Economic Development. The median annual income for a family of four in the Anacortes-Mount Vernon statistical area is $79,100, Stewart said. A household earning 50% of that would be able to afford a monthly rent of $988, Stewart said.
What is the city doing to create affordable housing?: The City Council adopted an updated development code in August, the thought being more and smaller homes and apartments would meet demand, driving costs lower.
• Builders can get build an additional floor if 25% of the units are 600 square feet, the theory being that smaller apartments will command cheaper rents. Those rents are still market-driven.
• Builders can get build an additional floor if 25% of the units are rent-controlled.
• Cottage housing — a cluster of four to 12 single-family homes around a common space — is allowed in residential zones.
• An accessory dwelling unit on a lot with a single-family home can be used as a long-term rental as long as the owner lives on site most of the year.