It's been more than two years since Rachel Muntean-Salazar and other skateboard enthusiasts proposed an expansion of Anacortes' Ben Root Skate Park, a 32-year-old park located within Alice Parchman Newland Park on R Avenue.
The verticals are too steep and the concrete surface is too rough, skaters told the City Council in April 2019. The bottom of the bowl is flat, not rounded. Cracks in the concrete pose a trip hazard.
The nonprofit Anacortes Skate Park Improvement Project raised about $35,000 to replace the current skate park with a new one — a venture that is expected to cost $500,000. Then, the COVID-19 pandemic hit, deflating the project's fundraising.
Now, with the economy showing signs of recovery, fundraising is resuming — with great ambition.
"We're about to contact the designer because we have the money for blueprints," Muntean-Salazar said May 25. "We have a donor who has pledged funds as a stop-gap for the money we aren't able to raise in the next few months. And we have a skate-deck art show scheduled Aug. 5-31 at The Machine Shop in Lynden and Sept. 5-30 at Vagabond Station restaurant."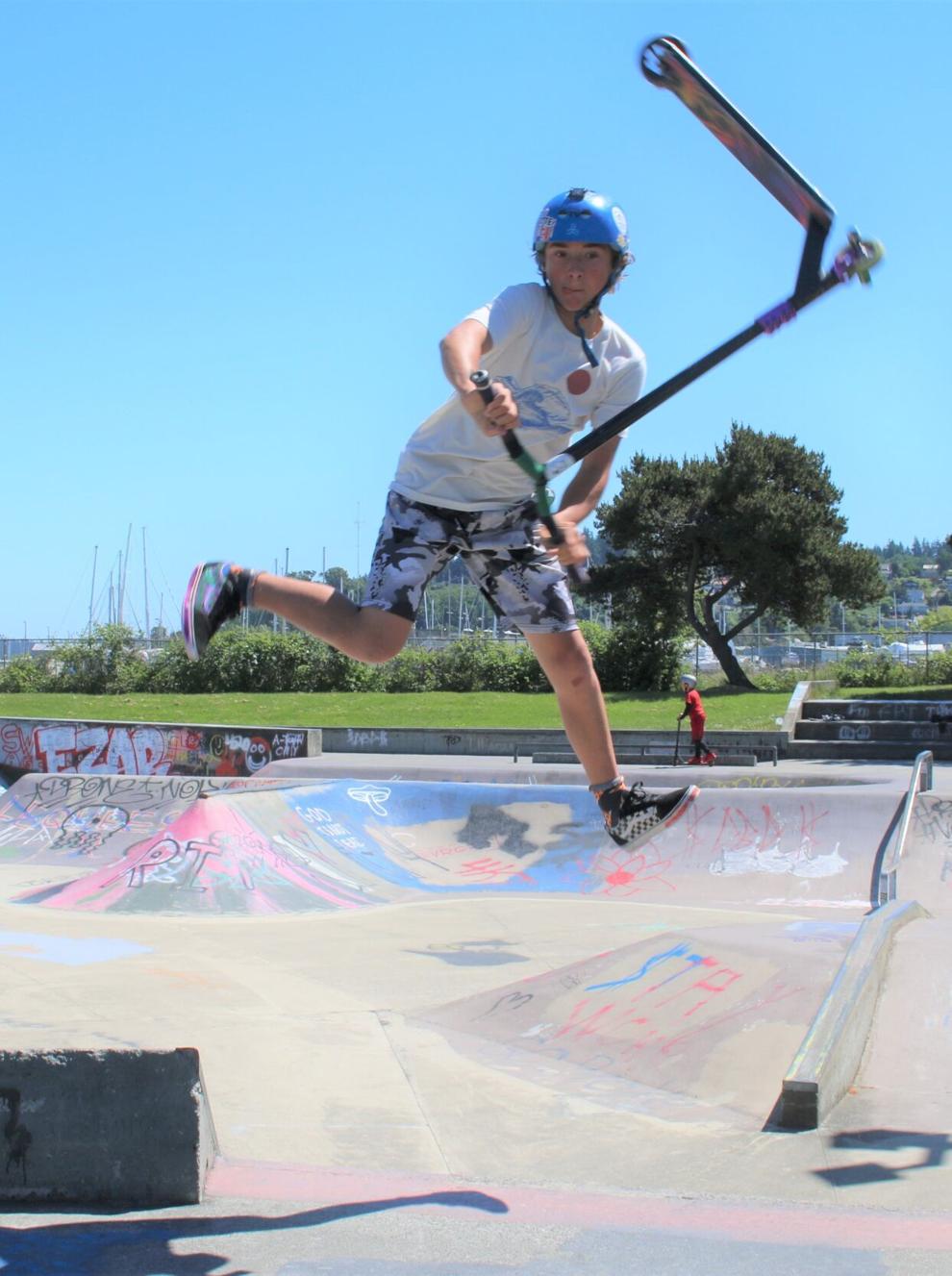 Skate decks painted by Muntean-Salazar, Oak Harbor artist Tim McCants, Anacortes fine artist Terry MacDonald and as many as 12 other local artists, will be available for viewing and purchase. Of sales proceeds, 60% goes to the artist, 20% to the venue and 20% to the skate park project.
The project plans to sell naming rights to skate park features. A young skater would someday grind on a rail or get air in a bowl bearing a donor's name. The project will pursue a state grant, Muntean-Salazar said.
The City of Ferndale received such a grant from the Washington State Recreation and Conservation Office to fund its proposed skate park, also estimated to cost $500,000. Of 85 applicants for grant funding, Ferndale placed fourth.
"It's a big deal for this community," Ferndale's Riley Sweeney said Saturday of his city's proposed skate park; he is the city's spokesperson and also runs the city's parks and recreation programs.
"If you live in Ferndale and you don't play football or any of the other major sports, there's not much to do in this town," he said. "This skate park will accommodate a lot of people who are being left out in this community. And not just skaters; cyclists and scooter riders also use skate parks."
Sweeney said Ferndale applied unsuccessfully for a grant two years ago. His advice to Anacortes: make a compelling argument.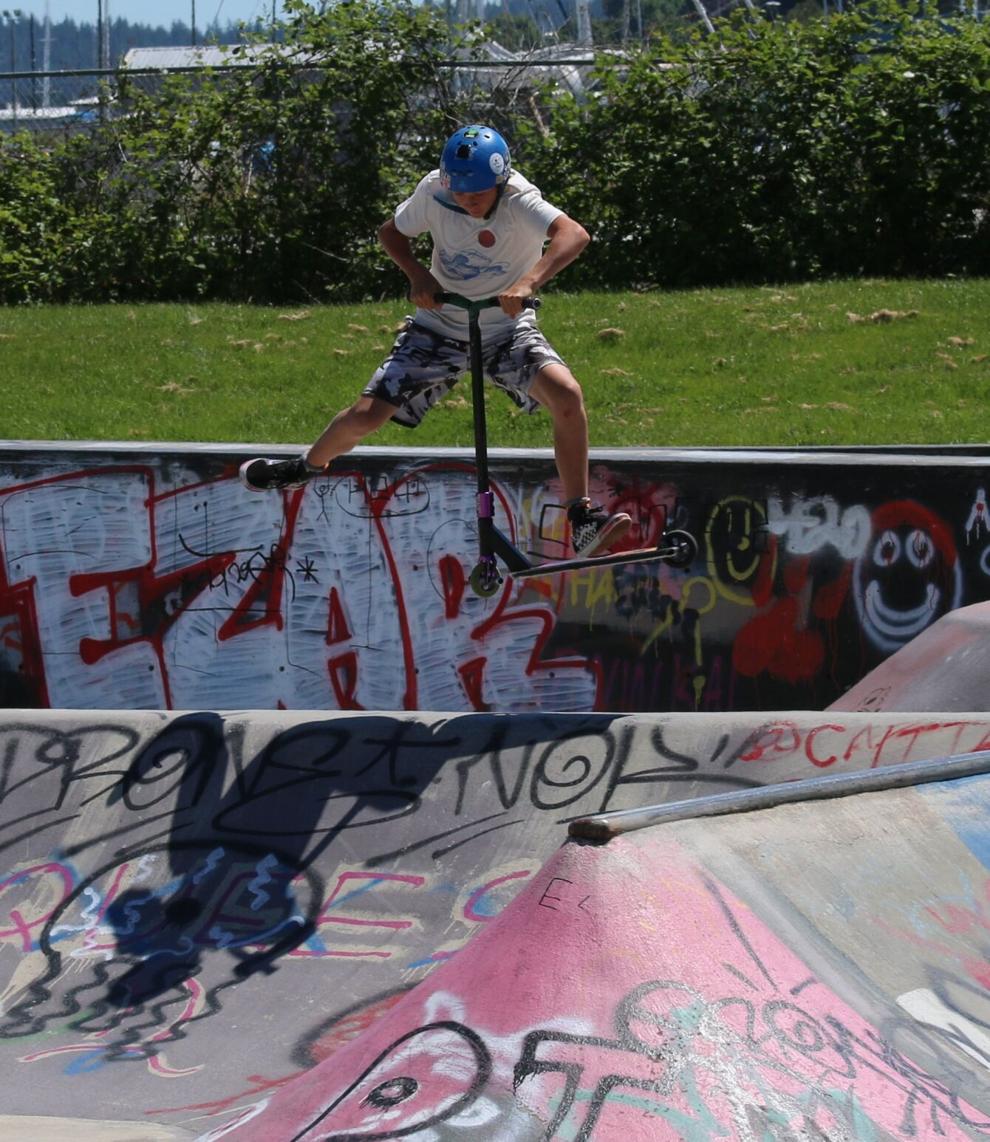 Muntean-Salazar is confident the money for Anacortes' skate park will be raised by 2022.
Proponents say the skate park will be good for the entire community.
"Skate parks are a positive outlet to instill strong values like work versus reward, determination, the importance of community, having fun, and can give many the sense of being we all need and want," the project website states. "Skate parks in any community can be a gathering place and even a second home for families and people of all ages who love skateboarding."
Terri Rodgers, director of the Orcas Island Park and Recreation District, said the pandemic has changed the demographic of the Grindline-designed Scott Stamnes Memorial Skatepark, which was built in 2002.
"Since COVID, we went from a park full of late teens and 20-somethings to a park full of families and young children," she said May 25.
Sweeney said Ferndale expects Metalworks Skatepark will attract skaters from throughout the region because skaters like to visit other parks.
"We expect to have a lot of foot traffic," Sweeney said. "And it's being built in line-of-sight of a city park that is frequented by families with children."
Users of the Ben Root Skate Park say a new park is needed here.
Owen Nauman, 10, and his friends were at the park on Saturday, performing 360s, barspins and tailwhips on their scooters.
"Smooth ramps, a better bowl, more coping," Owen said of the park's needs. "It definitely needs to be more of an actual park. Overall, it's more, like, 'What is this?' It was made by constructors who don't build skate parks. And it's not that big of a park. It's pretty small."
Cage Littlefield, 14, agreed.
"Most parks were built by skaters or people who actually do the sport," he said. "This park was built by people who don't really skate, so it was built in a different way. It wasn't built to flow. It's really blocky."
Jamel Doherty, 14, said the park lacks smooth transitions — the curved vertical surface of the ramp — "so you're not just going directly into the ground."
But there are some features of Ben Root Skate Park that he likes.
"Those little humps are called boxes, and you can jump and trick over it. Those are probably my favorite," he said. "I like the horseshoe and the spine — there are two ramps on each side that you can jump and get a lot of air." But the park needs bigger, smoother ramps "so you can get more pop."
Jamel formerly rode BMX but now devotes his free time to trick scootering. If not for the skate park and others in the area, he said he'd probably be playing more video games.
"I like being outside," he said.