A boater was rescued Dec. 2 off Cypress Island, as reported in last week's Anacortes American. But there's more to the story.
The boater's safe return to shore wasn't as simple as plucking him out of the water. It involved cool thinking by four men aboard a private boat and a Guemes Island Ferry captain who relayed updated information to them about the boater's possible location.
Here's what was known: According to Washington State Ferries and the Skagit County Sheriff's Office, a boater was rescued the afternoon of Dec. 2 after his 14-foot boat overturned in Guemes Channel off Cypress Island. The boater was found sitting on the hull of his boat. A rescue boat from the state ferry Samish went to the scene. The Coast Guard and Sheriff's boat also responded.
Guy Mitchell was working a shift as captain of the Guemes Island Ferry when a dispatch went out regarding a capsized vessel and a boater in the water. It was about 3:15 p.m. and Mitchell knew Joe Hyland and his coworkers would be returning to Anacortes about that time from their jobs on Sinclair Island.
"He asked if I was OK," Hyland said, "and I said, 'I'm OK. So, where's this guy in the water? Because I'm out here right now."
Hyland and three co-workers — Tom Hofer and brothers Ryan and Trevor Farsovitch — were in Hyland's 20-foot Alumaweld off Cypress Head. Mitchell said the boater was believed to be somewhere between Cypress and Guemes islands.
"We stopped the boat and started looking around with binoculars and couldn't see anything," Hyland said. "Up toward the north end of Guemes it was white-capping, and I thought, 'Maybe that's where it's at.' Then I got a text from (Mitchell) that it was off of Yellow Bluff.
"I started to take off down there and then he texted me again and said the (state ferry) Samish had a visual on him. I could see the ferry and then could see the guy in the water sitting on his boat. We firewalled it and took off to there and we got there about the same time as the rescue boat from the Samish."
The capsized boat was a lightweight, 14-foot self-built trimaran with an electric motor. Built of carbon fiber, the vessel weighed 70 pounds.
"Conditions weren't bad," Hyland said of the channel. "There was some northeast wind and the tide was starting to go out. As soon as we got him in the boat, that's when it started to pick up a little bit."
The boater was OK, but wet to the bone, Hyland said. Water temperature that day in the channel was about 49 degrees, according to several weather-related websites. The Anacortes American is not naming the boater because it has been unable to reach him for comment.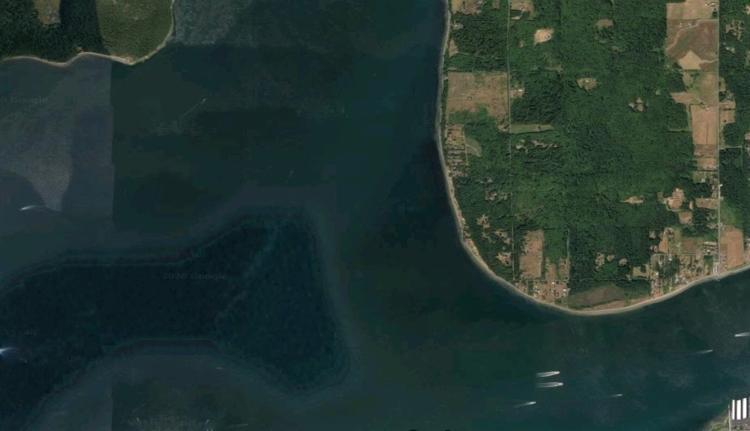 Hyland said the boater later told him he was trying out some new pontoons — smaller than those he usually uses — and that the boat capsized while he was making a turn.
Hyland and his co-workers got the boater aboard and told the Samish's rescue boat that the Alumaweld could get him to shore off the Guemes Channel Trail, where the man had parked his car and gotten underway.
"We wanted to get him to his car so he could get warmed up," Hyland said. The captain of the M/V Samish gave the OK, and the Coast Guard arrived and followed Hyland's boat in.
The trimaran proved to be a difficult tow. They righted the boat and baled water out of a forward compartment, but still "it kept tracking badly behind my boat and we were only going 5 knots," Hyland said. Faced with a rapidly ebbing tide, they decided to pull the boat across the back of Hyland's Alumaweld and tie it down.
Within an hour of receiving that first message from Mitchell, Hyland and crew put in on a sandy beach and offloaded the trimaran and its owner.
"I asked him one last time if he was OK and told him we'd help him load his boat," Hyland said. "He pulled his boat back onto the beach and said he was good."
Hyland boats to Sinclair Island almost daily. He grew up on the channel and has fished and crabbed in local waters. He's provided assistance tows to distressed boaters — three times this year alone, he said Sunday — but this was the first time he'd pulled someone out of the water.
Mitchell said vessel capsizings are rare in the waters in the channel.
"Not very many in our patch of water, but if you listen to VTS, they're around," he said, referring to the Vessel Traffic Service, a marine traffic monitoring system. "It's mostly kayakers, it's not usually a capsized boat — that's kind of a big deal."
Of Hyland's response and knowledge of local waters, Mitchell said, "Joe's the man. He's good to have around. It's nice to have a guy out there who knows what's going on."