Even before he starts speaking, Richard Riddell draws notice at Anacortes events from parades to celebrations.
In his short trousers, long coat, buckled shoes and three-point hat, he looks more at home in the days of yore than on the modern streets of Anacortes.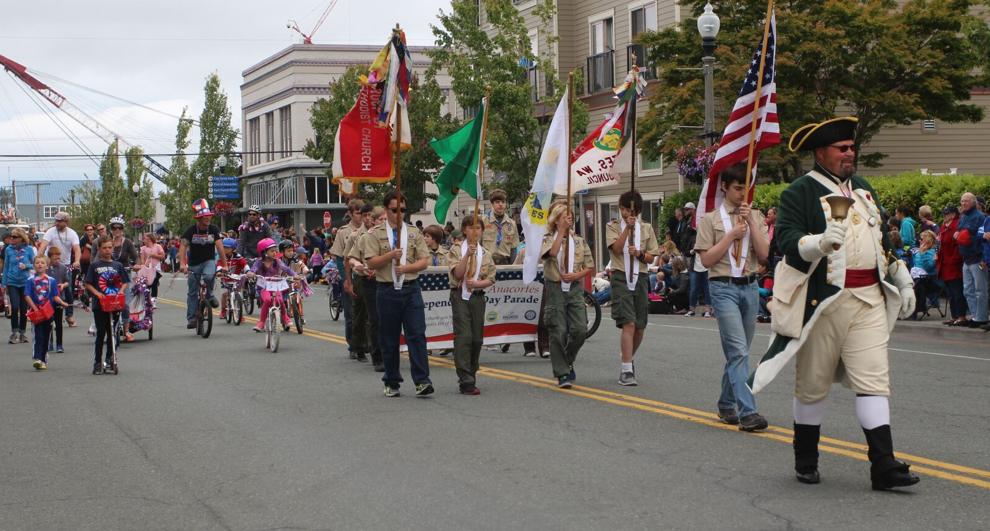 Anyone who hasn't noticed him certainly does when he starts into the cries he's famous for worldwide.
He lifts his brass bell and shakes it, letting out a sharp ring that turns head from yards away. Then, he starts a call-and-response of "Oyez" with the crowd, the last coming out with his signature opera-trained voice and generally bringing chuckles and cheers from those gathered.
Riddell's done the job of town crier since 2007, helping to start community festivals and events, lead parades and visitor tours and to light the community Christmas tree each December.
"He is an icon in the community," Port of Anacortes Executive Director Dan Worra said. "For many people, it's only when the town crier shows up that the event has really begun."
Riddell is moving away this summer after 14 years in a position that he said has brought him much joy and has taken him around the world.
"Richard has represented our community so well," Mayor Laurie Gere said. "He has an incredible ability to capture the crowd. We, as Anacortes, have become known globally because of Richard. It has been a unique opportunity to work with him, and I will miss him dearly."
Riddell, who grew up in southeast Alaska and northern British Columbia, graduated from Anacortes High School in 1982.
He went out to make his way in the world, studying at the National Shakespeare Conservatory in New York City. At that point, he had dreams of being a stage actor.
He started acting as a teen as a way to lose himself and forget about his own life for a little bit.
"You get to be other people, with other people's problems," he said.
As he was completing his professional acting certificate, he started booking jobs. More people were hiring him to sing than to act. He started taking lessons and soon found a new passion.
"I fell in love with opera right away," he said.
He started studying music at the University of Hartford, while auditioning and working as a singer.
His new love of singing led to an audition for the Zurich Opera, which led to him performing in Europe for a couple of years.
He also took side gigs and explored all kinds of performances. He loved Mozart for the depth of his music and Rozzini for the "fall-down, pratfall craziness that is Bel Canto," Riddell said.
He sang in multiple places in Europe, including Austria and Germany. He sang "Escamillio," the toreador song from "Carmen" in a bullring in Sevilla. As the months passed, he kept exploring opera and the places it took him.
While studying, his vocal fach (or vocal type) changed, so he signed up for a two-week singing workshop in Germany in July 1998. In that class was fellow student, Johanna. Riddell said he had plans to leave the workshop after one week to meet up with some friends in Rome. Once he got to Rome, though, he knew he needed to go back and talk more to the girl he had quickly fallen in love with.
He headed back to Germany.
"And that was it," Riddell said.
Soon, Riddell's contract with the opera was up, and he had to return back to the United States. He did so just long enough to clean out his apartment and finish his education at the University of Hartford. That Christmas, he moved to Germany to be with Johanna.
They married the following July and ended up moving back to the Seattle area as Riddell planned to study at the University of Washington. Their daughter Ophelia was born in 2000, followed by Malcolm a couple years later.
After Seattle, the young family moved to the Skagit Valley (first in Mount Vernon and then in 2005, to Anacortes) so that Riddell could study at Western Washington Univeristy to be certified to teach. He did so in Mount Vernon and Anacortes, teaching German, Italian, music and English as a second language.
He helped his friend Ron Wohl start the Skagit Opera.
Then, in 2007, Anacortes Town Crier Judy Jewell announced she was moving. She had been acting as a town crier since 1997, but then-Mayor Dean Maxwell named her the "honorary town crier" in May 2007.
"The Sister Cities relationship between Anacortes and Sidney B.C., now in its 25th year, is what set the stage for Anacortes to become involved in a Town Crier program," Sister Cities Association Past Presdient Duane Clark wrote in an email.
Jewell talked about the end of her run in a July 4, 2007, issue of the Anacortes American.
"I decided it was time. It had been nine years, and it was time to hand it off," she said.
When it was time to find a successor, Jewell and Clark approached Riddell, with his opera background.
In May 2007, Maxwell named Riddell as Jewell's successor, effective July 4 that year. At that May meeting, Riddell wore clothing and a bell borrowed from Jewell's husband, former La Conner Town Crier Andy Hansen.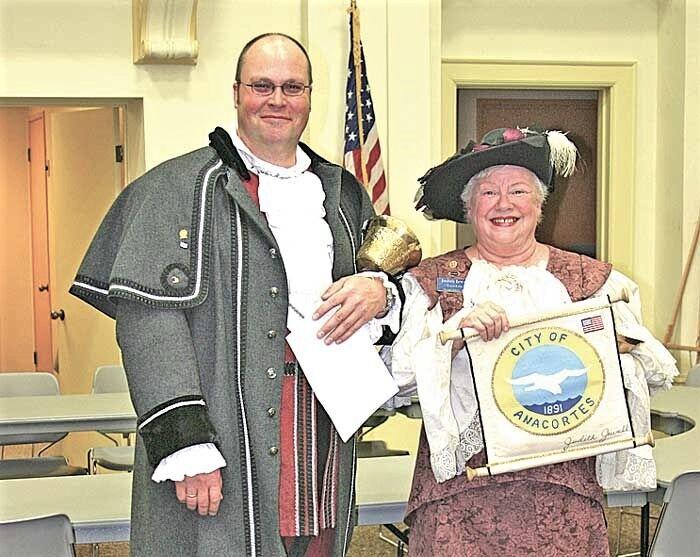 Anacortes is blessed to have had both Jewell and Riddell in the position, Clark wrote in an email last month.
Jewell organized the first-ever World Town Crier Championships in Anacortes in August 2001. The town filled with 47 town criers and their escorts from around the world, all with their own costumes, bells and loud voices, according to the Sister Cities Association.
Riddell's booming voice and history in opera and Shakespeare performance made him perfect for the role, Clark said.
At the time, Riddell thought he was signing up to cry at two parades and the tree lighting. He had no idea how large the position would become or where it would take him in the world.
Riddell writes all of his own cries.
"He really does his homework," Mayor Gere said. "Usually, I have to scratch out a couple of paragraphs of my speech at any event because he has covered what I researched in his cry."
Riddell has represented Anacortes at crier competitions on multiple continents, has brought home world champion titles and has performed and several community events each year for more than a decade. He's been in a parade in Ghent in Belgium and was named "Best American" at a contest in Maryland.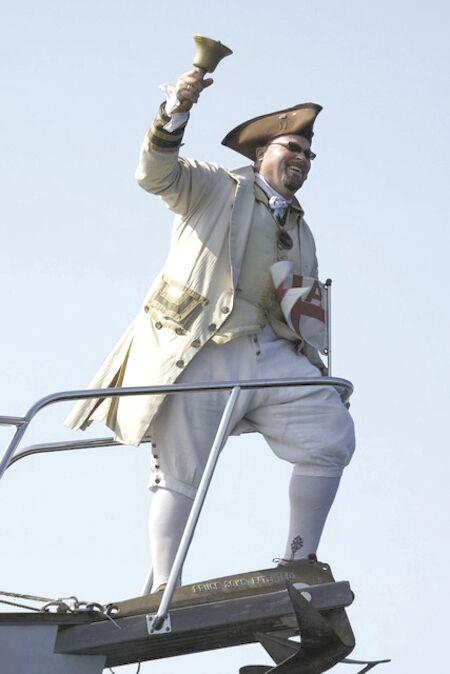 His first world title came in Bermuda, followed by one in Kingston, Ontario, and his most recent in Australia in 2019.
When he competes, Riddell is given specific guidelines and then he writes his own cries to match them.
He has also won many other titles and participated in events throughout the world.
Every place has something special to offer, Riddell said.
"Richard became an ambassador for Anacortes in numerous countries around the world," Clark wrote in his email. "Thousands of people know about Anacortes, Washington, because of the energy and talent that Richard has. What's more, in a position that requires various performance skills along with an outgoing personality, he has been a perfect fit."
Riddell said picking out just one part of being the town crier as best is hard to do.
"It's been lovely to participate in so many things where Anacortes is having fun," he said.
One tradition is the Anacortes Fourth of July photo, when he stands at the front of the crowd of townspeople and leads the town in a rousing version of "Happy Birthday" for the USA. It's indicative of what kind of community Anacortes is that so many people turn out for the photo, Riddell said.
This summer, he is moving from Anacortes to Nova Scotia.
His title of town crier is being transferred to someone else as he starts his new life on a small farm in Canada.
"I'm deeply proud to be Canadian, as well as American," he said.
He said he's so happy to have found a place in the Town Crier community. People from all different places can come together to compete and become friends. It's a true community that Riddell said he is proud to have been a part of for so long.
He said likely he will be taking on a new town crier role near his new home.
Originally, Riddell planned to host a world competition in Anacortes this year, with a portion of the competition for Anacortes residents. That would be a great way to find the new town crier, Riddell said in 2019.
Unfortunately, COVID-19 had other plans, and the pandemic canceled all events.
So the Anacortes Sister Cities Association has been working to find a replacement for Riddell. They started the process earlier this year, accepting applications and narrowing it down.
Finalists will soon compete for the role of Anacortes town crier.
The winner will have large shoes to fill, Worra said.
"(Riddell) was always very generous with his time, on time and well-prepared," Worra said. "We will miss him, but we are excited to see what's on the horizon."
Riddell will host that competition and also offered a little advice for the new crier.
"Having fun, that's the first rule," he said. "You can't take yourself too seriously."
The position is unpaid, but many of the expenses, including outfits, transportation and accommodations are covered by the association.