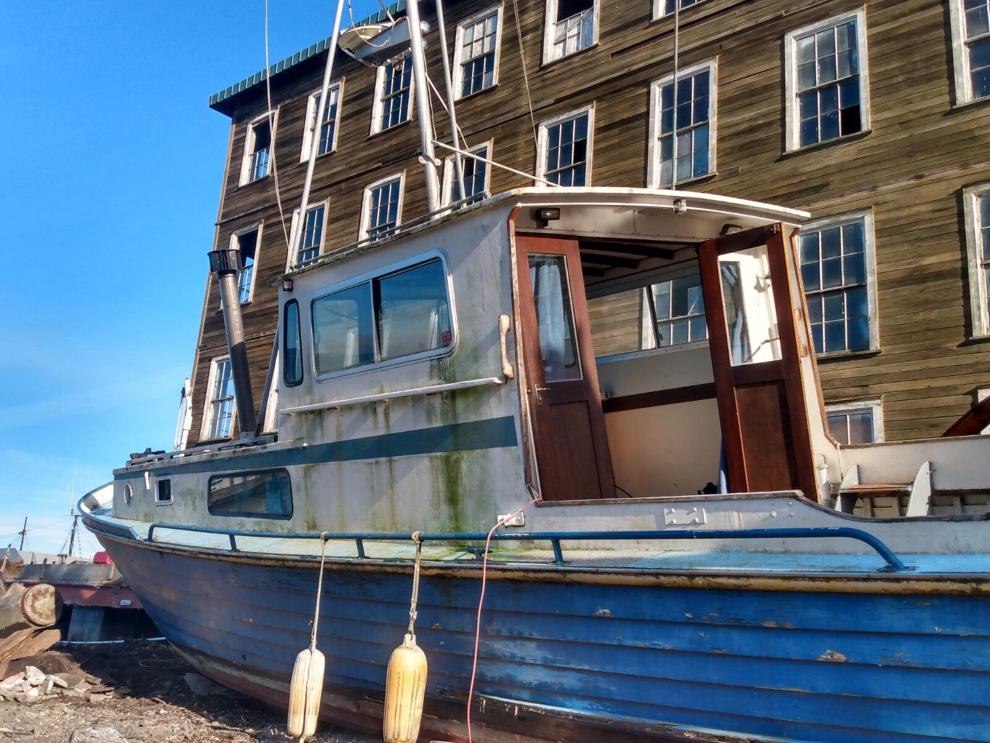 Anacortes' working waterfront is a hallmark of the city's history and economic success. But that work often leaves issues in its wake. Lovric's Sea-Craft took a financial hit from a January storm. And the 56-year-old marina and shipyard faces other problems, as well. It is not alone. This is the first of an occasional series exploring some of the challenges, including environmental cleanup, on the island's working waterfront — and plans for the future.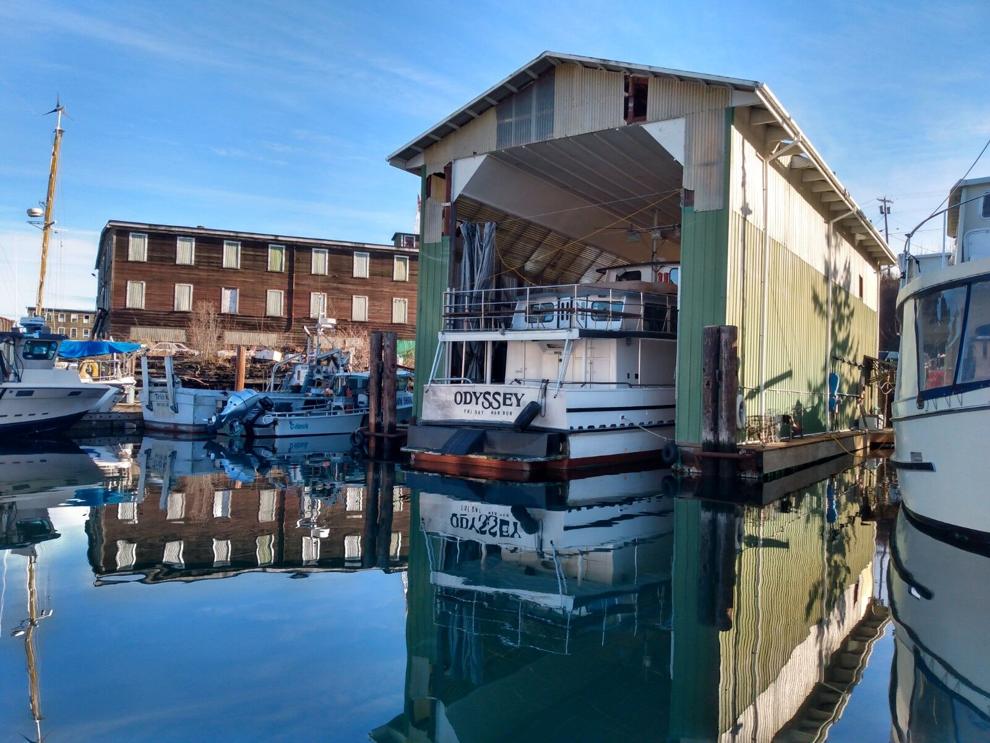 A January windstorm that set two vessels adrift before sinking one of them along with a floating dock was just the latest challenge for Lovric's Sea-Craft of Anacortes, which also received a state listing in 2019 as a contaminated site.
The M/V Chilkat, the former Alaska state ferry-turned-scallop tender that also was set adrift and sank in the storm near the Guemes Island Ferry slip, is gone. It was salvaged Jan. 27 at a cost of $800,000, which was paid by the state Department of Natural Resources' Derelict Vessel Removal Program. If the owner doesn't claim the vessel within an allotted time, it will be destroyed, according to Troy Wood, program manager.
Meanwhile, the Acushnet, a former U.S. Coast Guard vessel set adrift in the storm when the dock sank, was expected to have a new owner soon and be en route to a new home.
Lovric's Sea-Craft will use proceeds from the sale of the Acushnet, which was listed for $135,000, to help defray the costs of raising the floating dock, which sank after the Chilkat punched a hole in it during the windstorm's tumult. The company became owner of the Acushnet by default after its previous owner fell behind in mortgage payments and abandoned it, general manager John Lovric said.
Other challenges remain for the 56-year-old marina and shipyard.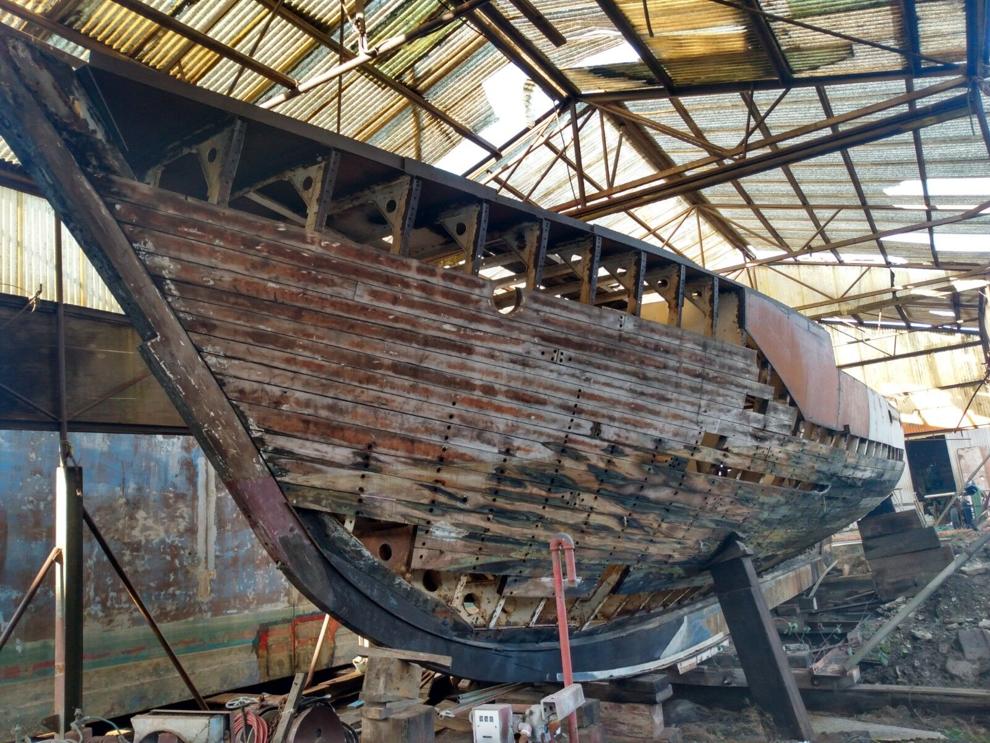 Contamination and violations
The state Department of Ecology notified Lovric's on July 10, 2019, that it was being listed as a contaminated site. Tests of marine sediments collected in nine sites in 2016 and 2017 revealed levels of benzoic acid, copper, phthalates and polycyclic aromatics exceeding the federal pollution standard.
According to Ecology's letter to Lovric's, a copy of which was obtained by the Anacortes American, the agency was seeking a cleanup order requiring the company to remove contaminated aquatic soils by dredging, and to remove creosoted pilings, repair shoreline armoring and improve maintenance of its marine railways.
Then on Jan. 5, 2020, a 140-foot barge that was reportedly scheduled to be scrapped began to take on water. Lovric project manager Ed Ehler and another Lovric's employee towed it to shallower water east of the shipyard, where it sank and still remains.
In June, inspectors from the Occupational Safety and Health Administration found 11 violations of occupational safety laws during a site visit, according to a report available on the OSHA website. Two violations were listed as serious.
While the online report does not provide details, the laws cited involve wearing life preservers where there is risk of drowning and working safely from platforms. Those violations yielded total fines of $3,600, later reduced to $1,800, according to the report.
The other violations resulted in no fines. They involved, according to the laws cited: maintenance of electrical fittings, boxes, cabinets and outlets; labeling of forklifts for maximum capacity and weight; maintaining training and evaluation records of forklift operators; providing fit testing and medical evaluations for employees who use respirators; ensuring valves on empty compressed gas cylinders are closed; and ensuring an adequate number of employees trained as first-aid providers are present each workshift.
Lovric said the company has cooperated with Ecology and is working to improve the health of the upland and marine environment at the marina and shipyard.
"We do our own samples and testing of runoff and some of the mud out in the beach to see if anything has leached out there," he said. "We have removed quite a few pilings that are not in use or don't serve a purpose, as well as an old pier." He said the company is developing a plan to capture stormwater runoff from the marine railways.
Lovric said he doesn't have a ballpark cost on the work. Ecology is allowing the work to be performed over time, and much of it can be done in-house which means the costs to Lovric's will be staff and materials.
Lovric said his company received piling removal assistance through Ecology and the state Department of Natural Resources. A program requires a developer who installs new pilings to mitigate the environmental impacts by paying to remove an equal number of old pilings from any location in the state. Through that program, Lovric said an estimated 80 creosoted pilings were removed from his marina and shipyard at no cost to his company.
Regarding the OSHA inspection, Lovric said the findings were the result of ever-evolving regulations.
"We have a good record with no injuries," he said. "There's probably a lot of people who think we don't follow guidelines like everybody else because the yard's pretty rustic, we've got a lot of old equipment and this and that. But of course, like any other business, we have to follow what they're requiring of us.
"We do have to take our water samples every month when it rains and send them in to labs and test and see what kind of materials we're working with or what's coming off of boats and things. To have anyone think we don't follow these guidelines and do whatever we want, they're completely out in left field."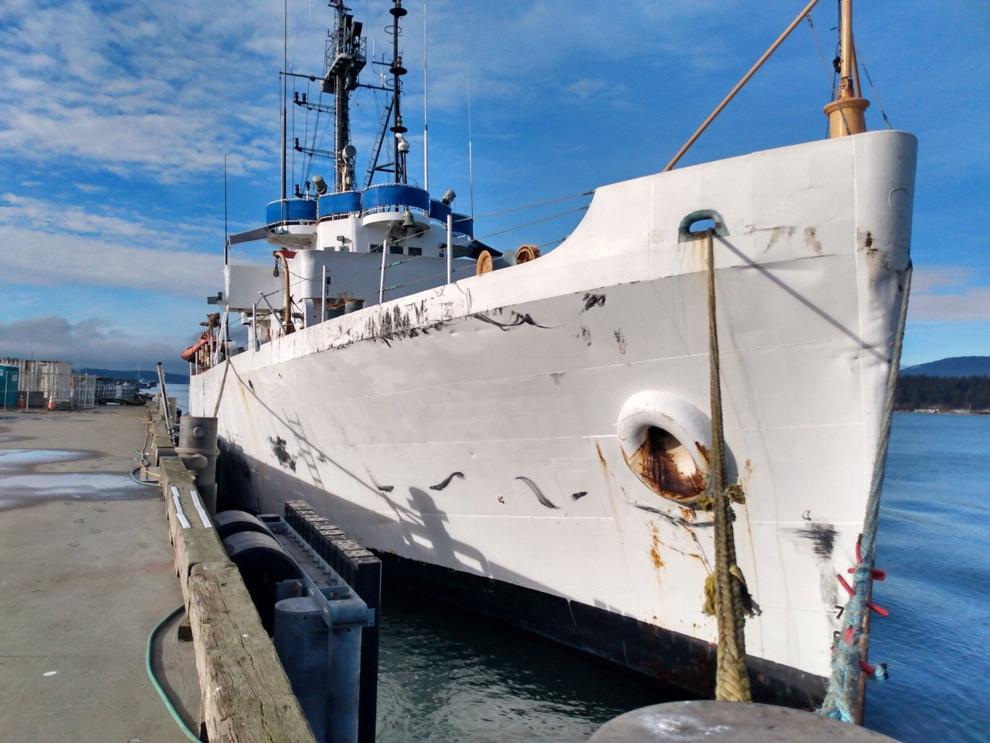 John's parents, Anton and Florence Lovric, established the boatyard and marina on Guemes Channel in 1965 at the former site of Robinson Fisheries and the Russian Cement Co.
Robinson formerly occupied the three-story, 1912 building to the west; the Russian Cement Co. — which according to information available on the Anacortes Museum website made glue, fertilizer and fish oil from fish byproducts — had occupied the four-story, 1912 building to the east.
Anton Lovric was a ninth-generation Croatian boat builder who, while serving in the Yugoslavian army during World War II, was captured by the Nazis and spent 14 months at the Dachau concentration camp.
"I wouldn't be talking to you today if Patton's troops hadn't liberated (Dachau)," John Lovric said.
After the war, Anton became a naval architect and marine engineer and in 1960 emigrated to the United States, where he and Florence met and married.
Anton was familiar with the use of decommissioned vessels as breakwaters, so he and Florence acquired the hulk of the former four-masted schooner La Merced in 1966 for use as a breakwater on the west side of the marina. The vessel, built in 1917, had been converted for use as a floating cannery in Alaska in the late 1920s or early 1930s, according to the National Register of Historic Places.
Lovric's marina has moorage for about 40 vessels up to 70 feet in length, John Lovric said.
The shipyard to the east has a drydock, two marine railways with 650-ton capacity and 50-foot breadth, a woodshop, steel fabrication area and a machine shop as well as moorage for larger fishing boats and other commercial vessels. The office is located in a portable building. Several other buildings house a variety of uses.
There are about a dozen employees, John Lovric said.
There's a constant hum of activity at the shipyard.
On one day in January, fishing boats were being worked on or were being secured for winter. The 70-foot, two-masted halibut boat Woniya was on the rails for hull work and other maintenance. Under a covered work area, the historic two-masted sailboat Varua — built in 1942 for noted author and circumnavigator William A. Robinson — was on blocks, stripped down for a full restoration. Divers were in the water, preparing that sunken dock to be raised.
But there were challenging signs, too.
The 140-foot barge that sank in January 2020 is still there, its top visible at low tide. Florence Lovric, who serves as company president, said Feb. 13 there are plans to salvage it soon. John Lovric, added: "It's hard to say a timeline on that. We're dealing with one thing first, but we keep (the Department of Natural Resources) updated on what's going on."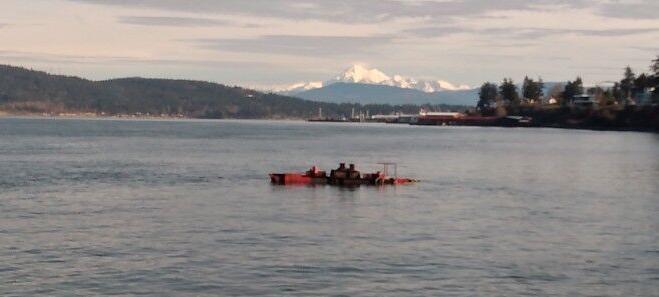 Nearby, west of the old Russian Cement Co., building, another barge has sunk. It was used as a covered, open-air woodshop, John Lovric said. The barge will be raised at some point and scrapped, and its metal roof — visible above the waterline — will be repurposed, he said.
Throughout the property, there are abandoned trucks, a dilapidated portable building on a trailer and old machinery. A fuel tank from a Navy jet rests atop the metal roof of an open structure, above a rusted industrial truck with flat tires. The tank, called a drop tank, resembles a torpedo and bears the marking VA-196 — for Attack Squadron 196, which has been homeported at Naval Air Station Whidbey Island since 1966.
A Kenworth refrigeration truck at the bottom of the road leading to the marina says "Western Cartage Inc." on its door. According to the Washington Secretary of State's office, the Seattle-based company dissolved in 2008.
"A family friend brought it and was supposed to have left it for a short time," John Lovric said. "I don't want to say we're stuck with it, but he kind of parked it there long term."
And the La Merced — described in 1990 by the National Register of Historic Places as having the appearance of "a well-tended, laid-up hulk that retains her lines, form, and evidences a high level of preservation" — is sloughing pieces of its century-old hull into the water below.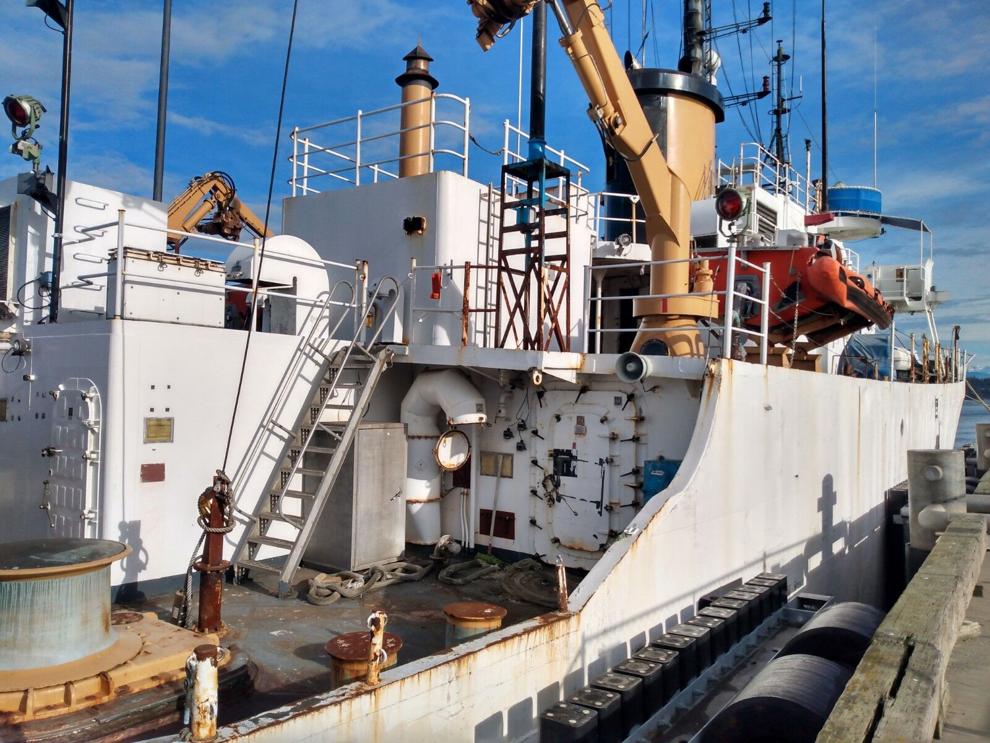 Family pride runs deep here. John Lovric points out that he and his siblings are 10th-generation boat builders, and the old Robinson Fisheries building houses a 22-foot motor sailor that their grandfather started and they finished.
Moorage and haulout fees are lower here than at other marinas and boatyards, Florence Lovric said. That may have made their yard a magnet for boat owners with big dreams but small pocketbooks to match.
Some owners "don't understand what it costs to maintain a boat," she said.
Her son, John, added, "Someone thinks they can own a boat or go live on a boat for cheaper, but they're not maintaining the boat underneath themselves. Certainly, moorage is a fraction of the cost of living in a house, but you have to put money into your boat. There's been boats we've had to pull out of the water and dismantle because they were going to sink on us. A lot of people don't have a good idea of what it takes, so yeah, (we) do kind of get stuck with it. … It becomes an expense to us."
The barge that sank in January 2020 in shallow water had been abandoned at Lovric's by its owner.
Lovric's became owner of the Acushnet after that owner didn't pay his moorage fees. The recent listing price of $135,000 does not reflect the cost of running a 213-foot ship that was historically manned by a crew of 75.
The Western Challenger, a 128-foot fishing boat, is tied up at the dock and stuck there by regulations. According to court documents available on the U.S. District Court database, its owner bought the Canada-flagged vessel with assurance from a Seattle-based consultant that he could get it reflagged in the U.S. so it could participate in U.S. fisheries. But the consultant "declined," according to court documents, to provide the Coast Guard with the calculations he used to document Western Challenger as a 191-ton vessel, rather than as a 227-ton vessel as formerly documented.
The Coast Guard declined to certify the vessel. So it sits at the dock. Several pieces of ice sheeting, a protective layer of ironwood planks, are missing from the side of its hull; grasses are sprouting on an upper deck. Florence Lovric said the boat's moorage fees, however, are paid.
John Lovric said the rusted vehicles and equipment scattered on the property don't pose an environmental hazard.
"Most of those things would be empty of fuel," he said. "It's mostly older equipment that maybe served its purpose for us, and then it got parked and there it is. It hasn't been a huge right-away concern (for us) to do anything with it."
A lot of that old stuff represents the late Anton Lovric's commitment to repurposing, such as acquiring the La Merced for use as a breakwater and using a section of the old I-90 floating bridge for use as the outer dock.
"My dad, coming from Croatia, didn't have a lot of money," John Lovric said. "Years ago, he'd gone to some auctions and found he could buy a lot of things for a pretty small dollar. Some pieces of equipment he bought with the idea of repurposing them and getting them going again, and in some cases, it didn't happen or they got used for their purpose and he didn't need it anymore. It was a lot of different times back then."
As for now, John Lovric said, "We have a lot more regulations to follow nowadays. But we've been in business for 55 years. A lot of businesses can't survive for five."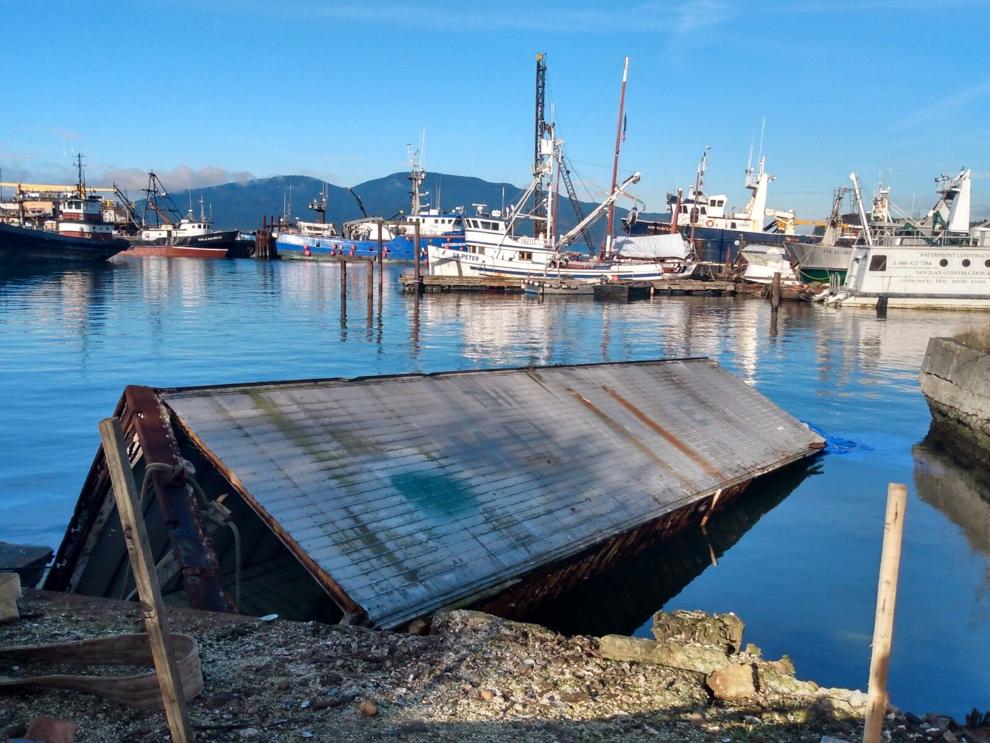 — Staff writer Questen Inghram contributed to this report.