Shortly after 11 o'clock today two convicts, John Laurie, sent from Pierce county, aged 28 years, and Samuel Stauffer, from Spokane county, aged 20 years, made their escape from the state quarry at Deception Pass one mile west of this town.
In an interview with an American representative Marshal Baker stated today that a deputy marshal had been stationed on the Fidalgo bridge, while Sheriff Stevenson had also placed a man on guard, to be on the lookout for the escaped convicts, but up to the hour of going to press, nothing has been seen or heard of them.
Heart Lake pipeline is under construction, a dozen men and a team being engaged in opening the ditch from the reservoir to the road, and two weeks more will probably see the work completed and the new line in service.
The cause of the fire in the county jail July Fourth has been fixed upon five prisoners, who have been charged with arson, Wesley Neilan, W. L. Case, Hoffman, Mott Harvey and Emil Bassett.
He can't enter the United States. He can't enter Canada. A man without a country.
Temporarily at least, Kornel Issar, a Roumanian subject, fills the bill made famous by fiction.
Shifted back and forth by immigration officials in Anacortes and Sydney this week, Issar, now in this city, awaits official settlement of his predicament.
Four years ago, in 1927, he secured a permit, so records show, to visit his brother in this country. The time limit on the visiting permit elapsed, but Issar stayed.
He secured work as a welder in the Ford plant at Detroit, Michigan. In 1929, after two years of steady hard work, he took a vacation into Canada, and came back into the United States through Anacortes. He passed through immigration authorities here, probably during a rush of tourist traffic.
Another two years of hard work in the Ford plant rolled by, and recently Issar decided to take another vacation. He thought the same trip into Canada would be nice.
How not to form a parade The Clowning - crowning of the King Goof, plus what drives parade managers to sanatoriums will be illustrated with gusto Friday evening during the Goof Parade which will form on Commercial avenue and get under way with a blast of trumpets and the crowning of the Pageant Goof King.
Goof bands, a real band, clowns nuts, goofs and what have you will make up the lineup of the Goof Parade.
Persons watching this parade are advised to hang onto their hats and watch out for most anything to happen.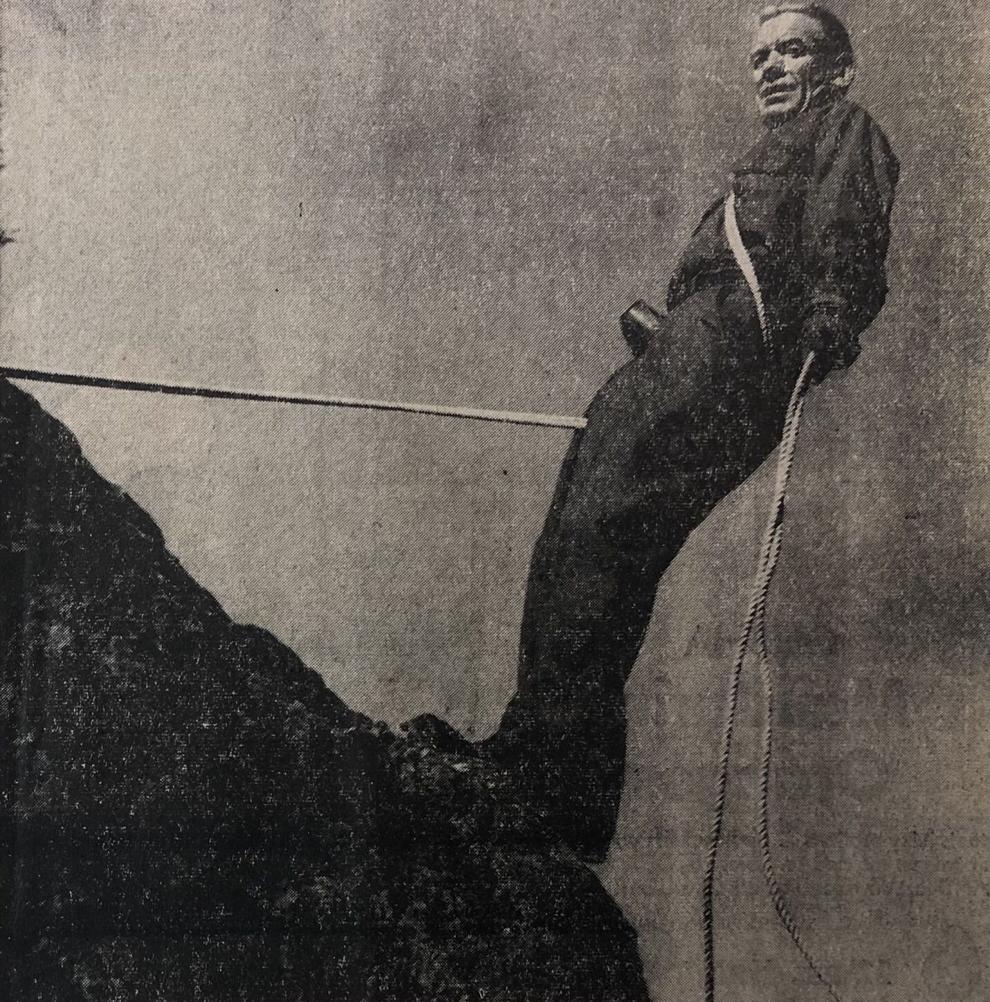 West Coast Telephone company officials, remained firm today in their original wage offers to striking members of the A. F. of L. electrical workers union.
The third day of the worst communications strike ever called in this area passed without any signs of negotiated agreement in the immediate offing.
Word received by the AMERICAN today, indicates that the company intends to stand firm on their offer of Tuesday.
"If the company were going to to meet the union demands, I think they would have done so Tuesday," L. Gray Beck, Telephone official said.
Paul Roegner, business representative of the union, said that no word had been heard from the company regarding other meetings to settle the dispute.
Representatives of the navy, this morning met with the union to request release of two crews of men to work on phone lines at Whidbey Island. These crews will be allowed to work in order that poles may be raised to allow the passage of heavy equipment along the road to the Ault Field construction site.
Materials are being readied for this weekend's Trailblazing project at Mount Erie. Lumber for stairways is being precut for fast assessment at the site, committeeman Paul Grube reported.
Alcoholic beverage users in Washington State Parks will no longer have to hide their bottles in most areas within parks as a result of action taken in Anacortes Monday by the Washington State Parks and Recreation Commission.
Bargain Hunters by the hundreds were drawn to "The World's Largest Shipwreck Flea Market," held last Saturday in downtown Anacortes. Three blocks along Commercial were blocked off and devoted to booths of both merchants and private individuals.