The chamber of commerce held a session Saturday afternoon in Goodwin & Benedict's office to take steps towards petitioning the county commissioners for the building of a road and drawbridge over the Swinomish slough to connect the island with the mainland.
"Seeing Puget Sound" will attract considerable attention this season. Capt. Ray Robinson has just had completed a practical houseboat, fifty feet long, fourteen feet wide, and having sleeping accommodations for twelve people. It has a dining room twelve by twenty feet and bath connected with a range. The fresh water tank has a capacity of eight hundred gallons, which Capt. Robinson states will be filled with water from the springs on Cypress Island.
There were some disappointed booze runners and bootleggers and ultimate consumers of Canadian whiskey in Anacortes last week, and there is said to be, also, smiles on the faces of some who like a wee drappie occasionally. The whiskey is said to be sure fire stuff, but runners and dealers missed fire in caching and delivery to the disappointed thirst of their customers and the satisfaction of some others. Friday night last some boys playing in Causland Park found a sack of a dozen and a half bottles of Canadian stuff cached in a dark corner and not only reported it to the police but to the public generally, so the police had no hope of catching the buyer or runner by waiting for either party to show up.
A resolution sponsored by the local Trades and Labor Council was being circulated as a petition today in Anacortes calling attention of the school board to the fact that only a small percentage of workers on the new high school building were from Anacortes. The protest is being made, according to George Wedlund, president, on behalf of both union and unorganized labor of this city.
Lumber mills thruout northwest Washington connected with the I.W.A. were no nearer to a solution of the problems which have tied up their plants for sometime up to midweek of this week.
Approximately 2,000 members of local 90 in Clallam county however voted to reject the strike continuance.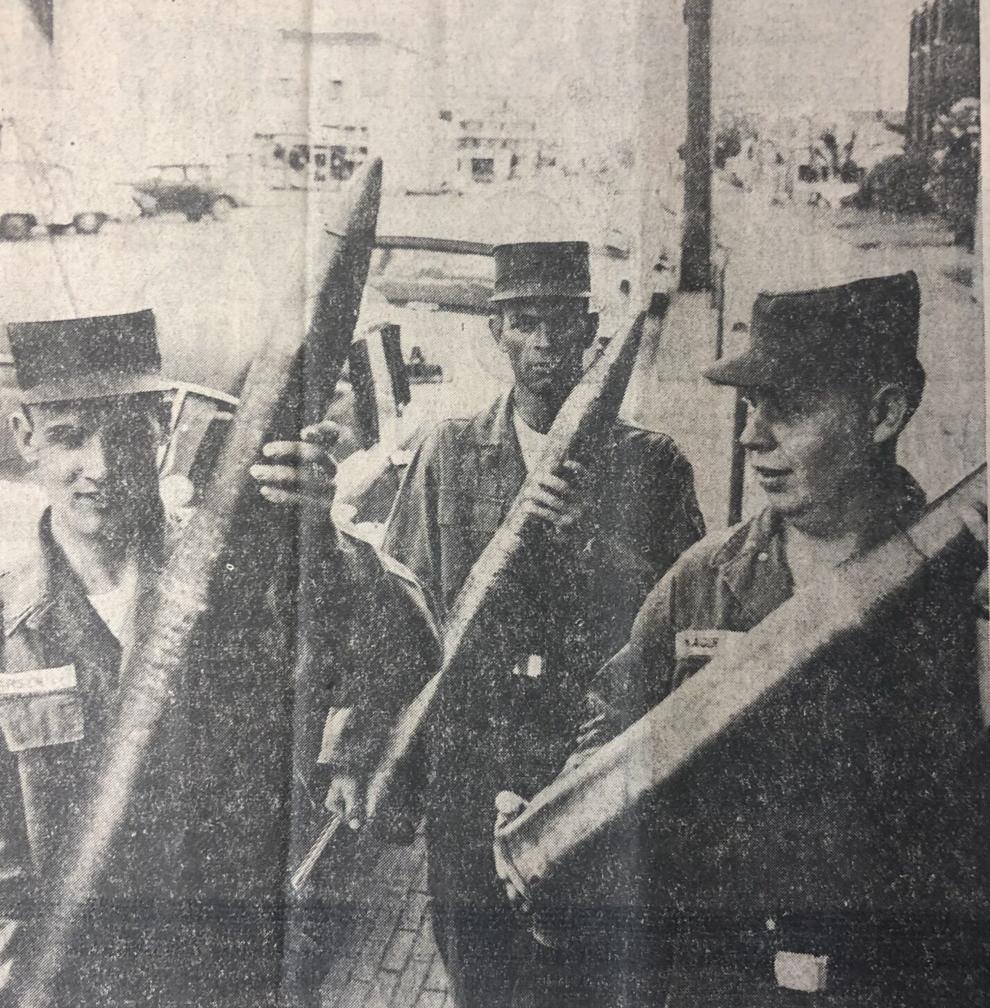 Activity in Fidalgo strawberry fields was gathering momentum today as growers prepared to launch wholesale harvesting early next week of the island's largest income crop.
With flats, farmers and canners ready for the rapidly ripening fruit to start rolling is just one thing now is lacking – sufficient pickers.
"This year's season coincides with a period of peak employment," Employment Office Manager C.D. White explained today. "And we have received more requests for pickers than ever before."
He said that it would be up to the school children of the area to give growers the necessary help to get their berries from vines to boxes in time and asked that anyone who could possibly work in the fields contact his offices as soon as possible.
Growers this year are offering about $1 per crate.
Eighty Dewey Beach residents have signed petitions asking that something be done to remove oil which has washed up on the beach.
Several Fidalgo Island beaches have been fouled by oil which leaked from tanks on the Island Mail when it was beached at Ship Harbor last week.
The petitions, which will be delivered to the State Pollution Control Commission, ask that something be done immediately to clean up the mess.
The Sharpes Corner to Oak Harbor 24 inch pipeline which looked like an almost dead issue a week ago took on a ray of hope Tuesday evening in the Navy City.
At a very lengthy council meeting in Oak Harbor Tuesday, the agenda finally got around to the water negotiations and City Attorney John Wold, who was a late arrival due to a meeting in Anacortes on the water issue, advised that the people in Anacortes are trying to put something together.
He stated "Anacortes has some excess water and if Oak Harbor wants to reserve two rooms in their 35 room house they will have to pay for it."
Plans for an up-to-$8 million expansion of Island Hospital were unveiled last Thursday at a special meeting attended by members of the Island Hospital Board, Foundation and staff.
In presenting the still-unfinal plans, hospital administrator Bob Brendgard asked the five-commissioner board to either approve or disapprove the building project at their June 23 board meeting.
…"We can barely meet the needs of the community right now," Brendgard said, explaining that the expansion program is needed to relieve the hospital's overcrowding problem.