At Sauk Farm, an organic fruit farm nestled at the base of Sauk Mountain near Rockport, technology is helping each plant get exactly what it needs while helping the farm cut back on the amount of water and fertilizer used.
While many farms sprinkle dry fertilizer at the base of plants, Sauk Farm injects the fertilizer into its drip irrigation system. The equipment allows the farm to "spoon-feed" each apple tree with the right amount of water and nutrients, said operations manager Griffin Berger.
Berger estimates the system has reduced water loss from 65% (sprinkler) to 3% (drip irrigation), saving 100,000 gallons a year. In fertilizer costs, the farm saves $450 a year per acre in its apple orchards, he said. 
The farm has about 100 acres, with 10 acres in production, Berger said. The farm grows honeycrisp apples, grapes, plums and peaches.
The 25-year-old Berger has worked on the farm full time for three years after graduating from Washington State University, where he studied fruit and vegetable management, and field crop management.
Berger said he learned about "fertigation" — the combining of irrigation and fertilizing — while working on a farm in Italy. Sauk Farm purchased the system a year-and-a-half ago.
"This is high-tech for a small farm," he said.
He estimates it will take the farm about two years for the technology to pay for itself.
"It's expensive, and there's a learning curve," he said. "You have to experiment and fail."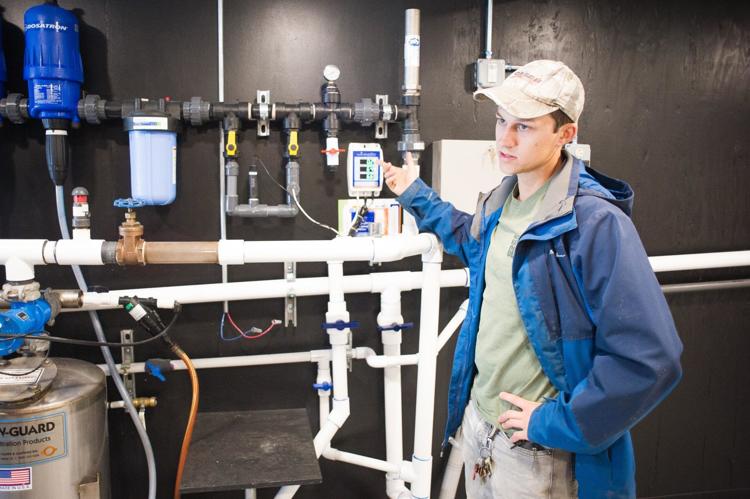 From a control center, Berger mixes fertilizers with water in a bucket. Equipment sucks the concoction into water lines to irrigate the farm.
Sauk Farm uses fertilizer from natural sources certified under the state Department of Agriculture organic program. Berger said the farm's main fertilizers are a saltwater concentrate and a fish emulsion made from scraps from the fishing industry.
One of the main benefits of fertigation is that it reduces the loss of nitrogen, one of three main nutrients plants need from the soil, Berger said.
"If you're fertigating and spoon-feeding a plant as you go, you're not overloading the system at once," he said.
Berger said since the farm switched to the fertigation system, nutrients have increased in its honeycrisp apples.
Berger said dumping fertilizer on plants can alter the pH of the soil, and affect beneficial microbes in the soil. It can also lead to more nutrient runoff, which makes its way into salmon-producing streams nearby, and in dramatic cases, leads to oxygen-depleted dead zones such as in the Gulf of Mexico, he said.
Jon Jarvis, agronomist at Skagit Farmers Supply, said fertigation systems are used by many Skagit County farmers, especially blueberry growers, for precision agriculture.
Berger said he has brought in other practices, such as placing mulch (broken down organic material) at the base of a tree that acts as a sponge to retain water.
He said he intends to continue his family's farm.
"I have to," he said. "I absolutely love it."