ANACORTES — Chris Sparks arrives on a gray September Saturday at what is known as the red cannery off 11th Street in Anacortes. He's here to load up 3,000 pounds of live crab to deliver to Canada in the afternoon.
Crab is just one of several staples for Sparks' business, Wildcatch Seafood Products. And it's one he doesn't have to catch on his own.
Sparks' style of fishing is in a wetsuit. He's been diving for sea cucumbers, urchins and other edible marine animals for 40 years in California and Washington.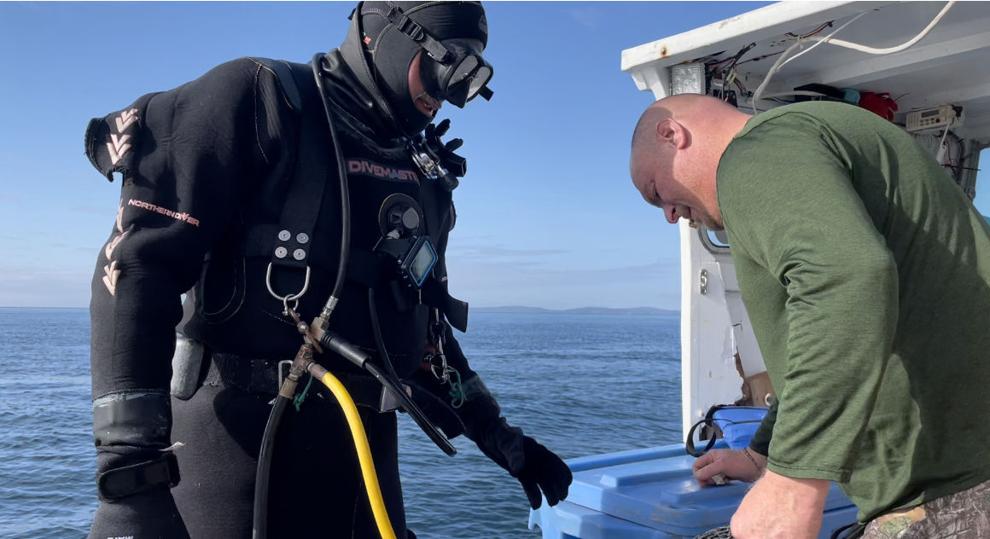 He's nearing the end of sea cucumber season now. Next, he will dive for green urchins, then red urchins. Then there's a bit of spring offseason in Washington. At that point, Sparks may go dive in California for a few months.
Meanwhile, though, his seafood business here is growing.
While the sea cucumbers that Sparks harvests from mid-August through September are exclusively shipped to Asia, some other products are sold here, including the crab.
"We buy and ship crab around the U.S., Canada and Asia," Sparks said.
He has leased and operated the red cannery for several years, and in December 2020, he and his wife Terra Johnson fulfilled a longtime dream of buying it with a partner, Smokey Bay Seafood of Canada.
The cannery's official name matches what is painted on the waterside of the wooden building — Sebastian Stuart Fish Co. It was one of the many longtime canneries in Anacortes, and the building is one of only two canneries remaining. Sparks wanted to preserve the name to honor its history in the city.
Not all commercial fisheries are alike.
For sea cucumbers and urchins, typical fishing gear such as hooks, traps and sweeping nets won't get the job done.
Sea cucumbers and urchins require a more direct touch — a hands-on harvest by a diver swimming in a weighted wetsuit tied to an air line. Divers search out the tube-shaped sea cucumbers on the sea floor in poor visual conditions, plucking them up with one hand then putting each in a net sack carried in the other.
Urchins, with their many pointy spines, have to be pried with a tool from rocks or other objects.
Despite their name, sea cucumbers aren't vegetables. The slow-moving orange and red bumpy-skinned tubes are actually animals, with many species throughout the world. Those found locally are called California sea cucumbers.
Their role in nature is to move the sand around and recycle nutrients on the bottom of the sea, which also helps other marine creatures and their habitat. Scientists call it "ecosystem services," according to Taylor Frierson, the state Department of Fish and Wildlife sea cucumber fishery manager.
Sparks typically takes turns diving and driving with long-time fellow diver George Tollo. A third person on Sparks' 24-foot Radon boat, when available, works to process the sea cucumbers before the boat even returns to the dock.
An efficient processing station consisting of a wooden box, a bucket and a large plastic cooler is right there on deck. The cooler can hold at least 500 pounds — and they aim to fill it.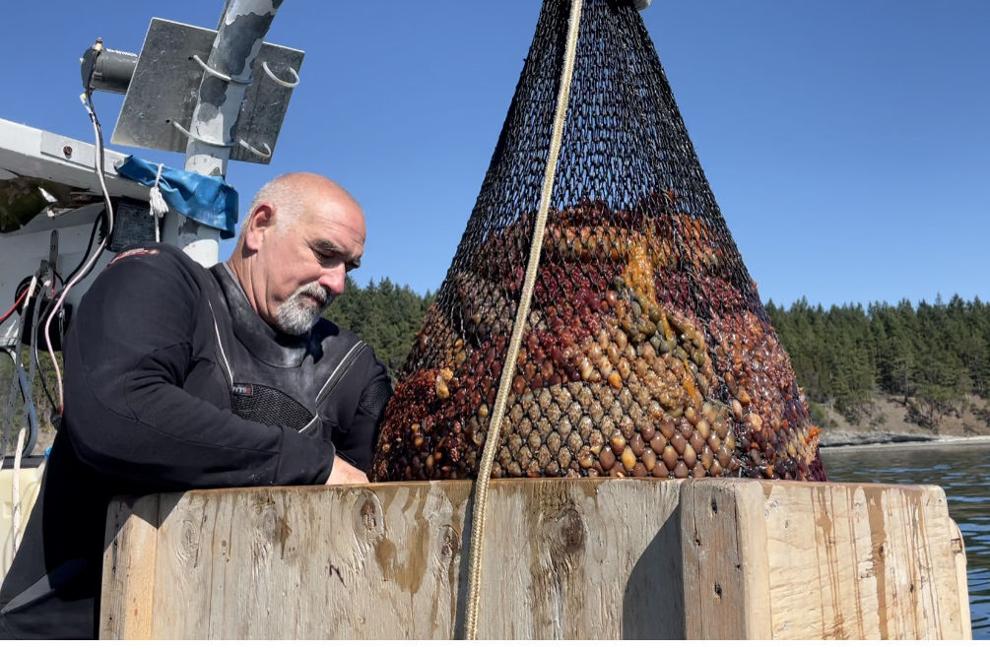 Sparks dives anywhere from 20 to 80 feet in search of these creatures. As he surfaces, he grabs a hook from a hoist and attaches the net sack he filled underwater. Machinery lifts the net, stuffed with over 100 pounds of squishy, multicolored sea cucumbers, over the wooden box where they will be cleaned like fish.
Sparks' wife is often the third person there to help with gutting the sea cucumbers as the hunt goes on. Johnson cleans hundreds during the daylong trip. They will be sold straight off the boat to a buyer with a particular market in mind. The recent rate has been $5 per pound, but that fluctuates.
For now, all of Sparks' sea cucumbers ultimately will be sold to Asian countries, mostly China, where sea cucumbers have been popular for many years. They have not yet caught on in the U.S.
Commercial diving for marine animals is physically demanding and sometimes dangerous work, especially in swift currents that are common around the San Juan Islands.
Because the sea cucumber season lasts less than two months, Sparks and Tollo go out nearly every day to get the allotment Sparks' state permit allows.
Not just any commercial fisher can harvest sea cucumbers, even if they have the experience.
Sparks holds one of a very limited number of sea cucumber permits. The fishery is managed by Fish and Wildlife, partly due to overfishing that occurred over 30 years ago. Sea cucumbers have since rebounded to a healthy status.
There used to be about 100 permits in Washington, but there are only about 25 now, fishery manager Frierson said. About half of the harvest takes place in the San Juan Islands.
This year's season harvest limit is 200,000 pounds, but it changes from year to year. Each permit is allowed 1,800 pounds a week over each seven-day period through the season, he said.
The goal when setting the season limit is to only take 5% of the biomass, "leaving 95% there to maintain a sustainable fishery," Frierson said.
By October, Sparks' target turns to urchins — green for a month or so followed by red urchins in winter.
Those have caught on in the U.S. and can be found in many sushi establishments.
With the cannery, Sparks sees more than just the chance to expand the types of seafood products offered. For now, there are holding tanks for live crab and a chilling area to lower their body temperature to 34 degrees for safe transport overseas.
Long-term plans include renovating the cannery to handle various seafood, including fish. He's also renovating a bigger boat for the diving part of his operation.
Eventually, he would like to set up part of the plant for aquaculture, such as growing oyster and geoduck seed.
He sees that as a way to help protect the fisheries — for the sake of the animals and the commercial fishers who rely on them. He also wants to educate people about them, so he sees a public-facing role for the cannery — retail sales and even school tours.
Sea cucumber seeds aren't possible yet — not enough research has been done — but Sparks sees it as a future solution that could one day help re-establish hard-hit areas and preserve "a strong and growing fishery for continued generations."
* Colette Weeks is Skagit Publishing director of content.