Like many restaurants, Skagit Landing has struggled to hire staff. The restaurant, which opened last summer at Skagit Regional Airport, had a cook position open for five months.
"I had Craigslist openings and Indeed openings, we tried Bellingham Technical College and the culinary program at Skagit Valley College," Skagit Landing chef Josie Urbick said.
She said applicants canceled interviews at the last minute, or simply did not show up. In one day, there were seven no-shows.
Without enough kitchen help, Urbick and her sous chef have had to work long hours.
The restaurant finally hired a new cook last week. But there was competition for the cook's services. Urbick said the cook received at least two other job offers.
With competition fierce to hire employees, Urbick said she has raised wages by about 20%.
"I raised them to stay competitive with the market as best I can," she said.
The county's low unemployment rate of 4.1% in September shows job seekers are successfully finding employment, Anneliese Vance-Sherman, a regional labor economist with the state Employment Security Department, said in a recent interview.
However, there are fewer potential workers in the labor force than there were in the past.
With a smaller labor force and a high number of job openings, many county employers — in industries from health care to manufacturing to nonprofits — have struggled to fill positions.
"A lot of people are feeling very confident right now that they can switch from one job to another," Vance-Sherman said. "They believe they can get better wages and better working conditions."
People may be seeking out training opportunities, looking for a lifestyle change, or fed up working in stressful jobs where they are exposed to COVID-19, those interviewed for this story told the Skagit Valley Herald.
As staffing challenges persist, employers have raised wages and some have offered bonuses.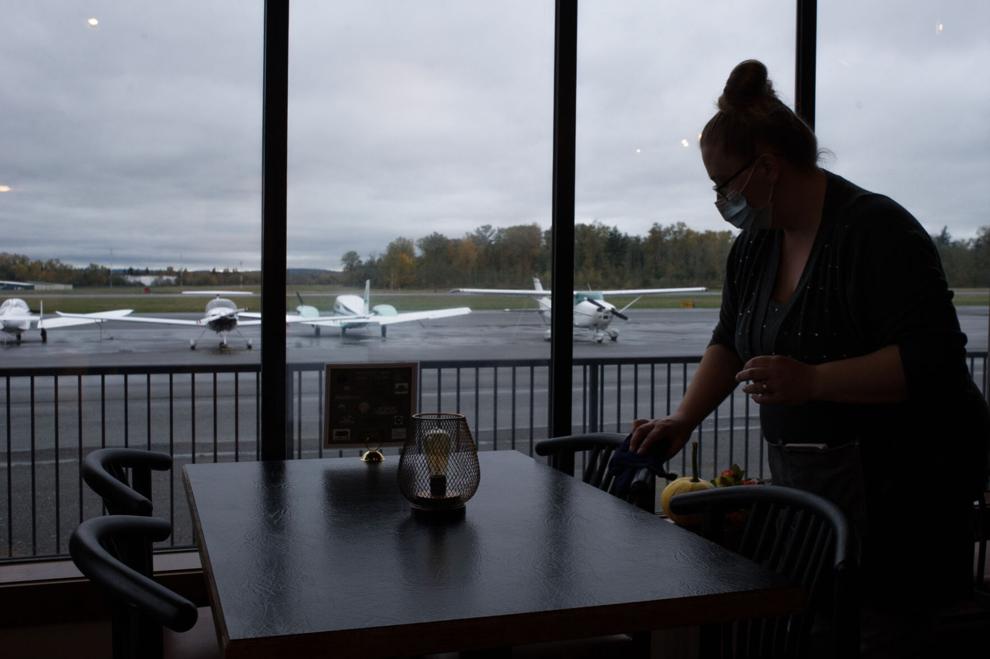 Skagit Regional Health is facing intense competition for its employees from hospitals throughout the country.
"It's a war," Skagit Regional Health CEO Brian Ivie said. "They are offering opportunities with sign-up bonuses at extremely high levels to entice employees to make a change."
Adele Skinner, regional vice president of human resources for Skagit Regional Health, said she has seen some hospitals offering sign-up bonuses worth tens of thousands of dollars.
In an effort to keep its staff, Skagit Regional Health will pay retention bonuses of up to $4,000 to all 2,700 of its employees.
"This is an effort to focus on and thank employees who have gone through a pretty rough 20 months," Ivie said.
He said Skagit Regional Health will spend more than $6 million on the bonuses, which were approved by the Skagit Regional Health Board of Commissioners at its Oct. 22 meeting.
In addition, many open positions come with hiring bonuses, and an employee can earn $1,000 for referring a successful job candidate.
Even with the bonuses, some are choosing to leave the health care industry, Ivie said.
"Employees throughout our organization and throughout the country are tired and have had a change in view on their values and what is important to them," he said.
Skagit Regional Health spokesperson Kari Ranten said many nonpatient care positions, such as food services and clerical staff, have also been tough to fill.
Some nonprofits have also had difficulties hiring.
"I think what's been surprising is the number of full-time positions we have struggled to fill that come with medical benefits," said Ron McHenry, CEO and president of the Boys & Girls Clubs of Skagit County.
He said his organization, which offers youth programs throughout Skagit County, is 60% to 65% fully staffed.
McHenry said the organization has raised wages four times this year, increased benefits, offered hiring and referral bonuses, and invested in recruitment marketing for the first time.
At the beginning of the year, McHenry said pay for entry-level employees started at $13.69 an hour — the state's minimum wage. Now the pay for those same employees starts at $15.35 an hour, he said.
With other employers taking similar steps to entice workers, hiring remains a challenge.
"People are getting job offers so quickly that we've had several instances where before we can get to the process of offering an interview, someone already has a job," McHenry said.
Some manufacturers — many who already faced staffing challenges prior to the pandemic — are also feeling the strain.
"It did change dramatically during COVID and got increasingly worse," said Jim Enright, CEO of Pacific Woodtech Corp.
Enright said Pacific Woodtech has raised wages for new hires, and increased what workers can earn through promotions.
"If we didn't do it, we probably wouldn't have (job) candidates," he said.
Enright said turnover has been higher than normal, including "surprising resignations" of longtime employees who were looking for a lifestyle change.
He thinks some are no longer willing to work long hours in a factory.
"People are looking for a certain type of job; they're not just looking for a job," Enright said.
'Perfect storm in the labor market'
Before the COVID-19 pandemic, many industries already faced worker shortages, said John Sternlicht, CEO of the Economic Development Alliance of Skagit County (EDASC).
He said baby boomers were aging out of the workforce, especially in manufacturing and the trades, and many workers faced requirements that they learn new skills or get additional training.
When the pandemic hit, it brought major disruptions some equated to a "near-death experience," Sternlicht said.
"People are taking the opportunity to reevaluate their life and roles and their jobs and their careers," he said.
Sternlicht said many who lost their jobs or quit have started businesses, while others have simply decided to no longer put up with low pay or bad schedules. For many parents — women especially, he said — online schooling and child care availability have been obstacles to returning to the workplace.
"All these things have combined to cause the perfect storm in the labor market," Sternlicht said.
He said it's important not to exaggerate the advantages of the current labor market for job seekers. While many employers are increasing wages, many workers lack the skills to get certain jobs, he said.
"People are looking for training," Sternlicht said. "I think we need to do what we can to provide as many opportunities to improve people's skill sets as we possibly can."
EDASC continues to hold online hiring fairs to connect area employers with job seekers.
Mount Vernon resident Josh Young, a 35-year veteran of the food service and hospitality industry, said he is isn't surprised about "The Great Resignation."
"I think people are reassessing what they are willing to put up with when they see certain people are thriving during the pandemic," he said.
Young said while many white-collar workers were able to shift from offices to remote work, service industry workers had no such option.
Young is on the hunt for a new job after he was laid off from his position as a chef instructor and food truck manager at Skagit Valley College.
Rather than go back to restaurant work, he said he is looking for a position that "gives me a quality of life," such as another chef instructor job.
"I don't want to work 60 hours a week anymore," Young said.
Urbick, the Skagit Landing chef, said a tight labor market gives employers more incentive to treat their employees better.
She said while she was unable to offer health insurance and a 401(k) plan to her new cook, she is offering a supportive and positive work environment.
"You can't take people for granted and you have to make sure that people know that they are valued," Urbick said.