The Skagit County Board of Commissioners heard Tuesday from a dozen residents who live near Lake Erie Pit, a gravel mine in operation for decades and seeking to expand from 17.7 acres to 53.5 acres.
Those residents reiterated concerns about unstable bluffs between the gravel mine and homes built along Sunset Lane and other roads that face Burrows Bay.
"It is clear that this expansion will further destabilize this bluff on which our homes sit," area resident Heidi Fish said during a statement in which she recalled the deadly Oso landslide in Snohomish County. "It will erode not only the slope, but the quality ... and possibly quantity of our lives."
Others spoke about traffic impacts from a potential increase in the number of trucks hauling gravel from the site.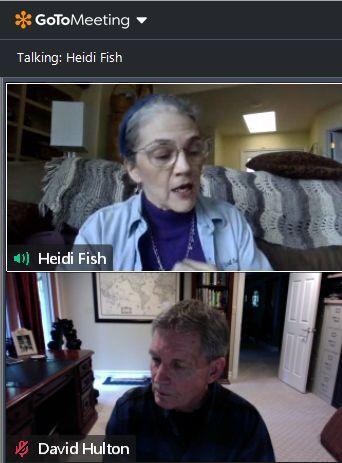 The proposed mine expansion was appealed in December by the local nonprofit Evergreen Islands. It's now up to the county commissioners — after hearing from the project proponent, county staff, the appealing group and area residents Tuesday — to determine whether approval granted by Skagit County Hearing Examiner Wick Dufford was legally flawed.
Skagit County Board of Commissioners Chair Lisa Janicki said a decision will be announced during a public meeting at 11 a.m. Feb. 23.
Following a public hearing in October where 34 area residents spoke against the proposal, Dufford concluded that public outcry didn't outweigh the existing status of the mine and expansion allowed under local land use laws. In November, Dufford approved a special use permit for expansion of the mine.
That permit would allow Lake Erie Pit to mine 60,000 tons of material per year for 60 years. Peak mining operations could see 26 truck trips — 13 empty and 13 full — on area roads per day.
Evergreen Islands, with the backing of area geologist Dan McShane, is asking the commissioners to reverse approval of that special use permit.
"Reverse issuance of that permit because it was approved without an evaluation of the safety risks that the mine poses to the geologically unstable land west of the mine, or gravel truck impacts ... to the road," Kyle Loring, an attorney representing Evergreen Islands, said Tuesday. "The permit places the community at risk because of those unexplored threats."
In a Feb. 5 document filed as part of the appeal, Evergreen Islands said that because the movement of groundwater west of the mine site and traffic impacts at intersections of Highway 20 with Lake Campbell and Rosario roads were not analyzed, the requirement for the applicant to prove no negative impacts to general public health, safety and welfare was not met.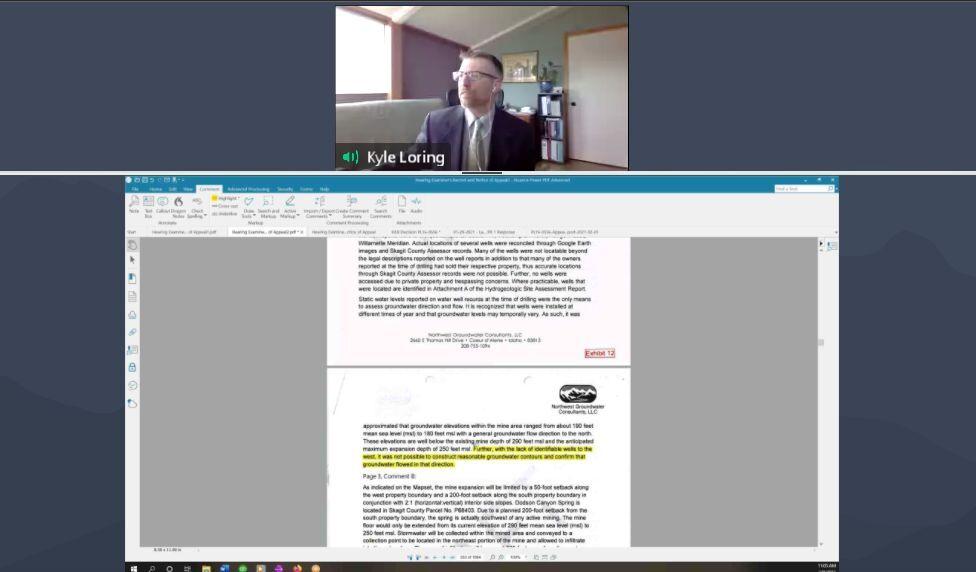 Skagit County Planning and Development Services Assistant Director Michael Cerbone asked the commissioners Tuesday to reject the appeal.
Stephen Taylor, representing Lake Erie Pit owner Bill Wooding, also asked the commissioners to reject the appeal.
"Allow us to get back to work running a safe, compliant mine," he said, calling Wooding "an excellent miner" and "a good neighbor to everyone."
Taylor wrote in a Jan. 29 response to Evergreen Islands' appeal that concerns of this nature should have been addressed years earlier, during a previous SEPA review relating to zoning of the gravel mine.
"This would have been the time to object to the expansion!" Taylor wrote in the statement.
He wrote that contrary to arguments from Evergreen Islands and McShane, several hydrologists have examined the site and determined "the Lake Erie Mine does not affect the neighboring properties! No Water Leaves This Site!"
McShane, though, said water already causing small landslides along bluffs adjacent to the mine is coming from somewhere at an elevation higher than Lake Erie, and that flow should be evaluated before any changes are made to the landscape.
"It really comes down to this technical issue: There is water moving towards those bluffs and it is causing instability," and removing forest to expand the mine is likely to increase that effect, McShane said. "It will threaten neighborhoods and roads."
Several area residents said those homes and roads may have been built after the mine was established in the 1930s, but that keeping them safe must be a priority now.
"Mining does not belong in a residential area," resident David Hulton said.
The Lake Erie Pit expansion is one of three mine projects in Skagit County currently facing public opposition.