The popular trail and two nearby campgrounds within the Mt. Baker-Snoqualmie National Forest north of Concrete closed May 21 while state and federal agencies investigated the reports of cougar activity.
U.S. Forest Service biologist Phyllis Reed said the original reports were third and fourth hand. She said she spent several days working to talk with the hikers who encountered the cougar to clarify what had occurred.
After getting clarification, the Forest Service and state Department of Fish & Wildlife determined the cougar is not likely a significant threat.
"In both cases the cougar did actually disengage and leave the area," Reed said. "It took some persuasion, but it did leave."
In one case, a hiker used bear spray. Reed said wildlife and public lands managers recommend hikers and campers carry bear spray in areas known to have bears and big cats. It's also recommended that hikers go out in groups and that dogs are kept on leashes.
"Any time people go out in the woods, you are going out into habitat that has got wild animals in it, and there may be bobcat or cougar or bear," Reed said.
State Department of Fish & Wildlife Communications Manager Sam Montgomery said no additional reports of cougar-human interactions were received during the two-week investigation.
The Forest Service plans to replace trail closure signs this week with those reading "ATTENTION: YOU ARE ENTERING WILDLIFE HABITAT" and listing what to do during a run-in with a cougar or bear.
Mike Morrison of Oak Harbor said he encountered a cougar May 15 on the Baker River Trail that adjoins the Baker Lake Trail. He was able to back away without incident.
"Ahead of me, it stopped as it was crossing the trail. I saw its tail and then it backed up, turned and looked at me, and I'm like, 'Oh crap' — and I just started to back up," Morrison said. "I was glad he didn't follow me."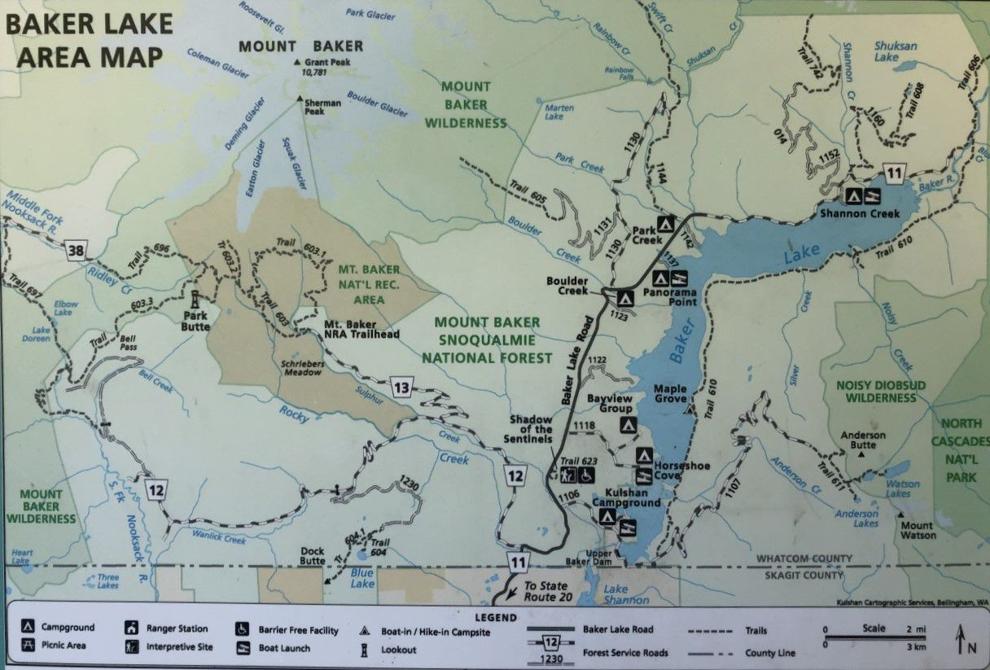 Morrison, an avid hiker and correspondent for the nonprofit Washington Trails Association, said cougar sightings are rare.
Reed said cougar-human interactions may become more common as more people move into the region and are drawn to the outdoors.
"There are going to be more people out on the trails and there is perhaps just a higher probability of crossing paths with one of them," she said. "They are part of our environment here in the Skagit Valley."
There are an estimated 2,000 of the big cats throughout Washington, according to Fish & Wildlife.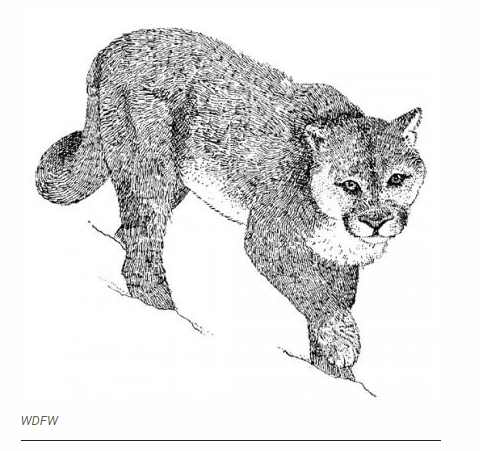 In the Cascades, cougars might kill a deer or elk every nine days, eating up to 20 pounds at a time and burying the rest for later, according to Fish & Wildlife. They are most active between dusk and dawn.
Reed said there is an abundance of deer in the Baker Lake area and over the past decade the Forest Service has seen kills stashed by cougars in locations close to recreation sites.
Cougar attacks on humans, meanwhile, are rare.
Montgomery said 21 cougar attacks have been reported in Washington since 1924. Two were were fatal, while the others resulted in injuries ranging from scratches to fractures.
Eleven of the 21 encounters occurred in Eastern Washington, and 10 in Western Washington. Montgomery said none have been reported in the Whatcom-Skagit-Snohomish county region.