Disagreement continues over how to approach Seattle City Light's Gorge Dam during relicensing of the city's three-dam hydropower system on the upper Skagit River.
Differences of opinion include the extent to which Gorge, the lowest of the three dams, impacts Skagit River fish, as well as how best to approach a potential remedy.
In the past week, Seattle City Light announced that it will analyze whether considering removal of any or all of the dams is necessary, while also arguing in federal court that a lawsuit the Sauk-Suiattle Indian Tribe filed over fish passage issues at Gorge Dam should be tossed out.
The Upper Skagit Indian Tribe, meanwhile, has committed to financing an independent look at removal of Gorge Dam.
"We're going full in and going to have it professionally done by engineers that are qualified to do that kind of study. We are just going to supply the questions that need asking," Scott Schuyler of the Upper Skagit Indian Tribe said. "We're trying to do the most comprehensive look we can because we owe it to our ancestors."
The tribe's study will delve into how the Gorge Dam could be removed, what that removal would cost, and how the loss of Gorge Dam would impact Seattle's power generation. It's a study Upper Skagit believes Seattle should be undertaking — and financing — but doesn't feel can wait until relicensing gets further underway.
"Ideally, they would pay for it. It's their (hydro) project," Schuyler said. "And to be frank they have cost the Upper Skagit enough; 100 years of degradation of our culture."
Seattle City Light, meanwhile, announced in a press statement last week that the utility "is committing to complete a comprehensive decommissioning assessment that answers the question 'Should we consider removing any or all of the dams on the Skagit?'"
Seattle City Light Director of the Natural Resources and Hydro Licensing Division Chris Townsend said the utility is intentionally asking that broader-strokes question not just for Gorge Dam, but of Diablo and Ross as well.
"If you are truly concerned about fish I think you have to look at all three dams and how they interact for fish," he said. "It doesn't make sense to look at one dam that probably doesn't have as big an impact on fish as the system as a whole."
The city's analysis will be done in concert with the relicensing studies recently approved by the Federal Energy Regulatory Commission (FERC) and submitted in April 2023 with a complete dam relicensing application. The analysis will be an on-paper examination of 17 factors FERC looks at during its National Environmental Policy Act review of dam license applications.
"It's almost a desktop exercise," Schuyler said.
The 17 factors include: Endangered Species Act listed wildlife, whether a river is targeted for fish recovery, a river's protected status, water quality, feasibility of fish passage, mitigation success and options, economics of a project, consistency with applicable comprehensive plans, physical condition of infrastructure, electricity generation, project benefits other than electricity generation, project dependent infrastructure and ecosystem services, historic properties, potential for recreation, tribal interests, and whether there's support for decommissioning.
"We are asking the question should we remove Gorge Dam, and answering that question, rather than what the Upper Skagit Tribe wanted which is how to remove the Gorge Dam," Townsend said. "Our answer has always been we're not going to look at that because we're not proposing to remove it. We're not ready to answer those questions."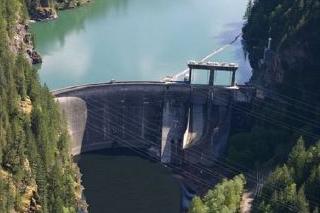 Seattle City Light has also said in recent court documents that the timing isn't right for considering fish passage mitigation options at Gorge Dam.
The Sauk-Suiattle Indian Tribe filed a lawsuit June 30 against Seattle in Skagit County Superior Court, arguing that the "presence and operation" of the dam blocks fish passage, which goes against longstanding state, federal and common law. The lawsuit asks the court to require Seattle to consider options beyond dam removal for allowing or aiding fish over, through or around the dam.
"There are numerous alternatives by which they could accomplish that," Sauk-Suiattle attorney Jack W. Fiander said, describing engineered bypass, trap-and-truck, and water cannon methods used at other dams.
Seattle moved the case in late July to the U.S. District Court Western District of Washington, and on Aug. 5 filed a motion to dismiss it. Seattle argues that because the tribe didn't appeal the current Skagit River Hydroelectric Project license issued for 1995-2025, the lawsuit is too late, and that because relicensing is now underway it's too early.
The city's motion says the court "should dismiss Sauk-Suiattle's decades-belated claims" and that "FERC will determine as part of the pending relicensing proceedings whether to order fish passage at Gorge Dam."
Fiander said the tribe contends the time for addressing fish passage needs is now.
"That (existing) license is about to expire, and if something isn't done now those dams may be allowed to continue operating as-is (for several more decades)," he said.
It could be several weeks before a federal judge decides whether to dismiss the case or to move it back to Skagit County Superior Court.