A leak Tuesday afternoon at the Shell Puget Sound Refinery at March Point led to an evacuation of employees. 
According to posts on the refinery's website, Twitter and Facebook, the refinery's emergency sirens were activated about 1:20 p.m. because of a leak involving hydrogen sulfide.
About 3:35 p.m., the leak was deemed contained and employees were allowed to return to their stations. 
How many employees were evacuated and where they took refuge was not shared. The cause of the leak and the amount of leaked material also were not disclosed. 
"There are no indications of offsite impacts at this time and the source of the leak has been isolated and secured," the posted notice states. "There have been no injuries reported and appropriate regulatory agencies have been notified."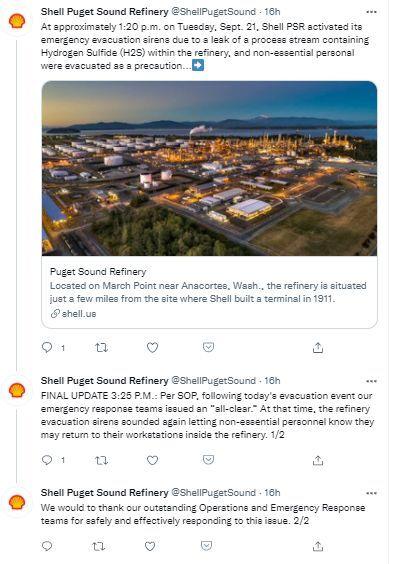 According to the U.S. Occupational Safety and Health Administration and the National Institute for Occupational Safety and Health, hydrogen sulfide is a colorless gas that smells like rotten eggs. It is extremely flammable, highly toxic and one of the leading causes of workplace gas inhalation deaths in the United States.
Exposure can have effects ranging from eye irritation and upset stomach to convulsions and coma.
The leak comes coincidentally during National Preparedness Month, which is highlighted on the refinery website. 
"The health and safety of our employees, contractors, community and environment are our top priorities as we strive to proudly fuel life in the Pacific Northwest," Shell Puget Sound Refinery General Manager John White said in a promotional statement. "During Preparedness Month, and every day, the Puget Sound Refinery in-house emergency response teams are ready to respond to an emergency at a moment's notice."