The black-bodied, orange-billed tufted puffin can be difficult to find not only because it's a seabird that spends most of its time bobbing on the water and obscured by waves, but also because its population has plummeted in Washington.
Some local youths, though, got about as close as possible this summer to one of the birds' two remaining nesting sites in state waters of the Salish Sea.
"Some of them had their tufts and looked really, really beautiful," 11-year-old Nash Kirby of Anacortes said, describing the yellow tufts the puffins grow seasonally on the sides of their heads.
Nash saw two of the birds during a boat ride to Smith Island this summer with the nonprofit Salish Sea School. He said he saw another nine or so during a Salish Sea School program the year before.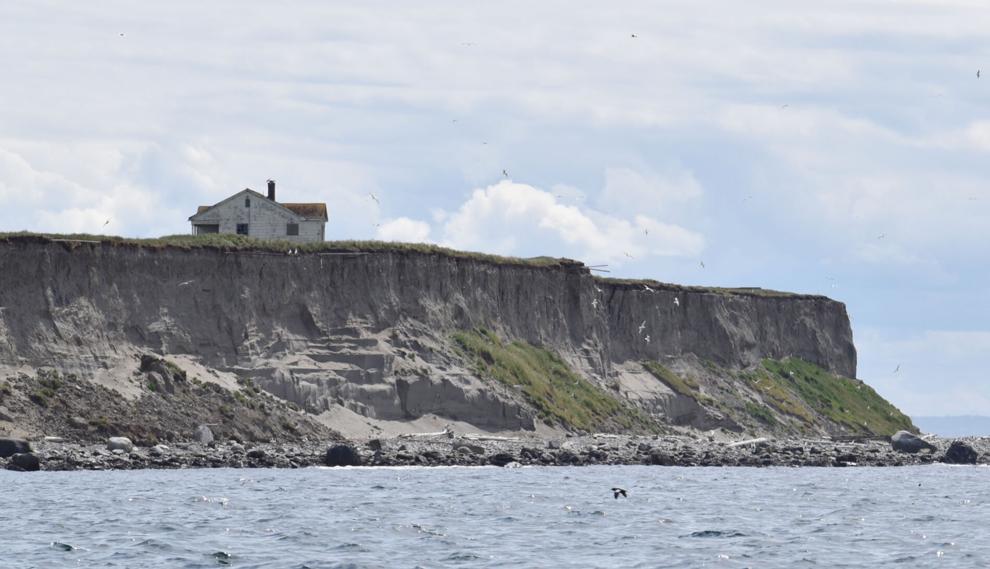 "We saw them flying in the air by Smith Island, which is where they hang out, and we needed binoculars," Nash said of one of the experiences. "They make nests and burrows into sides of cliffs to have babies."
Tufted puffins spend most of the year on open water, but visit islands such as Smith between about April and September to nest, according to federal and state wildlife agencies.
On Sunday, Sept. 12, the Salish Sea School took adults on an outing to Smith Island as a fundraising event that featured tufted puffins at the end of their nesting season.
"Everyone loved it. They were squealing and so excited and fell in love — even with just one," Salish Sea School Executive Director Amy Eberling said of the 22 adults, who were joined by two of the season's students who "were teaching their parents" on the trip.
The group, which included residents of Anacortes, Mount Vernon, Bellingham and Seattle, saw a glimpse of one puffin in flight and was able to watch a second on the water.
"They were super excited to see and observe the puffin," Eberling said.
The funds raised will support the Salish Sea School's youth programs, some of which focus on education about this little-known seabird that the state Department of Fish and Wildlife estimated could disappear from the state by 2050.
Tufted puffin nesting colonies used to be common along the state's coast and throughout the San Juan Islands.
According to state Department of Fish and Wildlife documents, the tufted puffin population in the state was estimated at about 25,000 birds throughout 44 nesting sites in 1909. By 2009, the population estimate dropped to less than 3,000 birds throughout 19 nesting sites.
Within the Salish Sea, nesting sites dropped to two: Smith Island, about 5 miles west of Whidbey Island, and Protection Island near Port Townsend.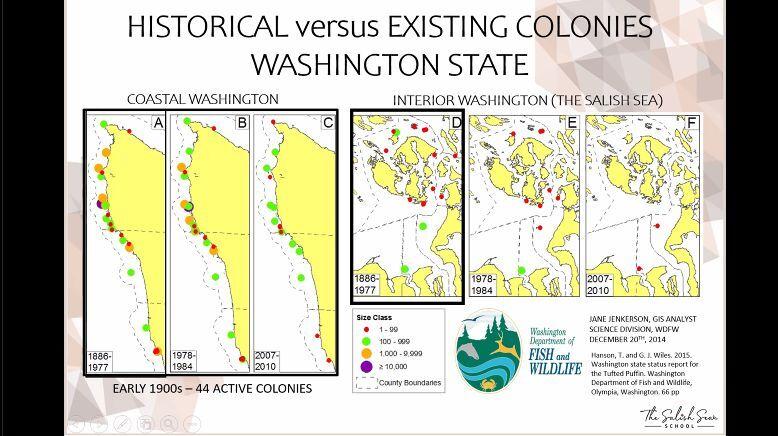 Both are managed as part of the San Juan Islands National Wildlife Refuge. Boats are required to stay 200 yards away.
On those two islands, population estimates fell from about 1,070 tufted puffins in the 1950s to about 60 in 2008, according to Fish and Wildlife data.
At Smith Island specifically, surveys suggest as many as 500 tufted puffins were seen in 1914, and one in 1973.
The tufted puffin's dramatic decline earned it state-level endangered species status in 2015. In 2020, however, the federal government declined to list the bird under the Endangered Species Act.
The U.S. Fish and Wildlife Service wrote in its decision that throughout its North Pacific range, the tufted puffin population is estimated at about 3 million birds and that many subpopulations appear stable.
An earlier agency fact sheet, though, says that in Washington and Oregon the number of tufted puffins declined by about 95% over 20 years.
Population changes have also raised concern outside of Washington — in Oregon, California, British Columbia and Japan.
Nash and his 14-year-old sister Paige Kirby, who also experienced tufted puffins through the Salish Sea School this year, said they want more locals to know the birds are living nearby and are in trouble.
"I'd never really thought about marine birds and birds that lived in the Salish Sea," Paige said. "Even just the excitement over one or two, I want everybody to feel that excitement when they see them."
Tasha Kirby, Paige and Nash's mother, said she shared their surprise when she learned that tufted puffins were local.
"I thought puffins existed in zoos and like the arctic regions," she said. "I feel a little sad thinking: 'How did we not know this amazing creature was living right here?'"
While the state has taken notice of the species' peril in its waters, data about population size has come in fits and starts over more than a century, and how to support the species' recovery is unclear.
According to the tufted puffin recovery plan the state published in 2019, monitoring is the first course of action to help determine what is driving the decline of nesting colonies.
According to federal and state wildlife agencies, threats to puffins include ingestion of ocean plastic, getting caught in fishing nets, and facing competition for habitat from foxes and other wildlife that can invade the birds' burrows.
Increasing ocean temperatures and sea-level rise caused by climate change may also impact the forage fish the birds eat, as well as the nesting habitats on islands already vulnerable to erosion.
Salish Sea School onboard educator Amanda Colbert said during a community presentation this spring that oil spills and growing populations of predatory birds, such as bald eagles that have been observed nesting on Smith Island, are additional threats to the puffin population.
"The deck is really stacked against our tufted puffins," she said.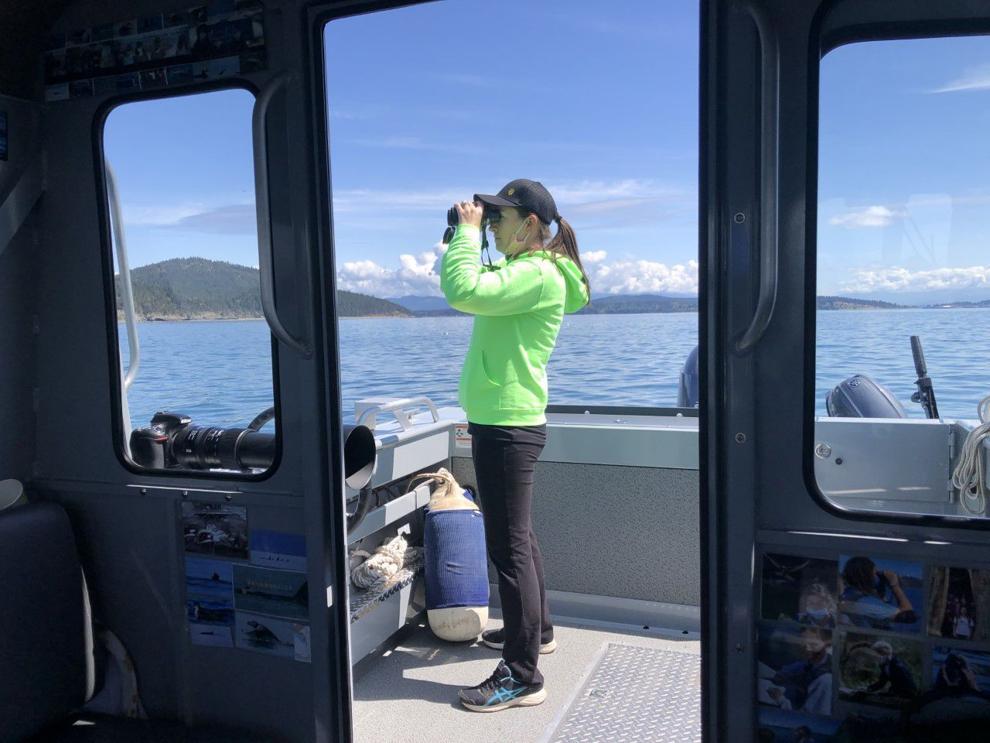 The Salish Sea School added lessons about tufted puffins to its program in an effort to help fill data gaps about population size and bird behavior on Smith Island.
"Our goal is, since we are on the water with the kids, to help the scientists with any data we can get," Eberling said. "So much more needs to be done to study these guys."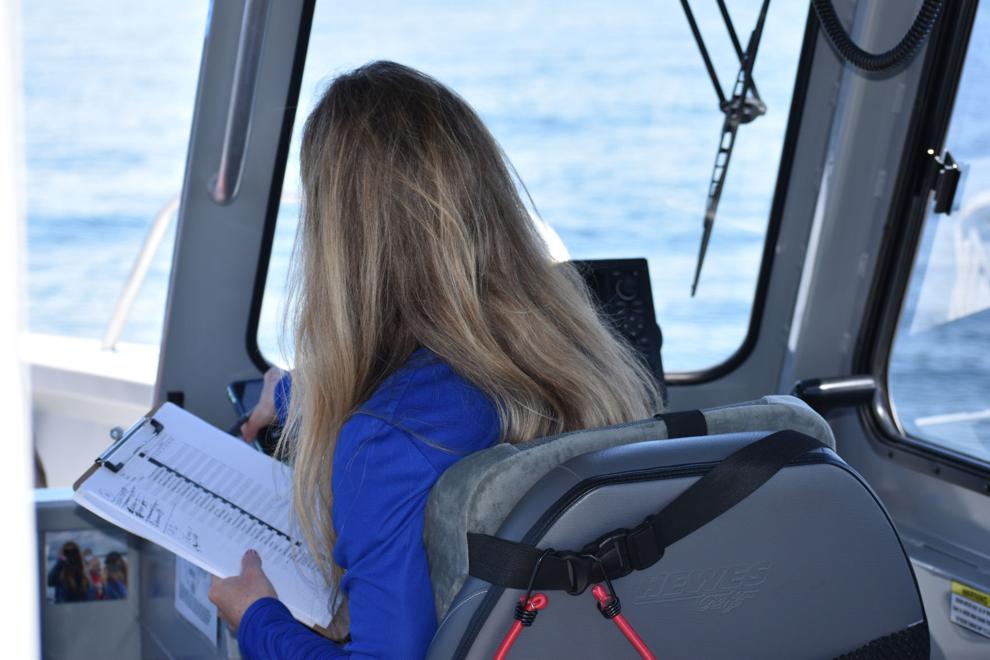 The Salish Sea School first introduced students to puffins in the summer of 2020 as part of the nonprofit's flagship Guardians of the Sea program. Fifty students helped with puffin observations this June, July and August.
The organization has documented between two and 24 puffins per outing.
While Eberling, Colbert and Salish Sea School onboard educator Brooke McKinley are more familiar with tufted puffins than their students, they still get giddy when they see the birds.
On a trial run in May before bringing students onto the water for the season, the three educators saw other birds, seals and even a gray whale during the boat ride from Fidalgo Island to Smith Island. But their excitement at spotting some of the first tufted puffins of the season outshined all the other sightings.
"They are brilliant and beautiful," Eberling said with binoculars trained to her eyes.
Three of the birds were seen that day — one floating solo, the two others together.
"I like to think they are a breeding pair that came back for summer and found each other," Eberling said.
Colbert said while questions remain about the birds — such as whether they mate for life — they are known to be about a foot tall and to weigh about 15 ounces.
"They are literally the size of an NFL-regulation football," she said.
The birds live about 15 to 30 years, can fly up to 55 mph and are on a trajectory to relatively soon disappear from their last island roosts in the state.
"A lot of people don't even know we have tufted puffins in Washington state because they are in such remote places and tough to get to unless you have a boat and know where to go," Colbert said. "(People) get out there and melt on the spot because these little birds are so dynamic and cute — and it would be really unfortunate if they were extirpated from the state."