ROCKPORT — After several years of additional studies and design work, the organizations that want to restore fish habitat in the Barnaby Reach near Rockport are ready for the work to begin.
In early July, a crew will begin to remove old fish hatchery infrastructure to restore fish passage to Barnaby Slough, a horseshoe-shaped side channel of the Skagit River.
The area has long been identified as important spawning and rearing habitat for salmon.
"This is a location on the Skagit River that has a lot of potential for chinook salmon restoration, (and) a lot of that involves floodplain reconnection," said project consultant Cynthia Carlstad.
A steelhead hatchery operated at Barnaby Reach from the 1960s until 2007. The hatchery has since fallen into disrepair and old infrastructure blocks fish access to floodplain habitat.
The restoration project is at least 10 years in the making, with community members weighing in on various proposals over the years.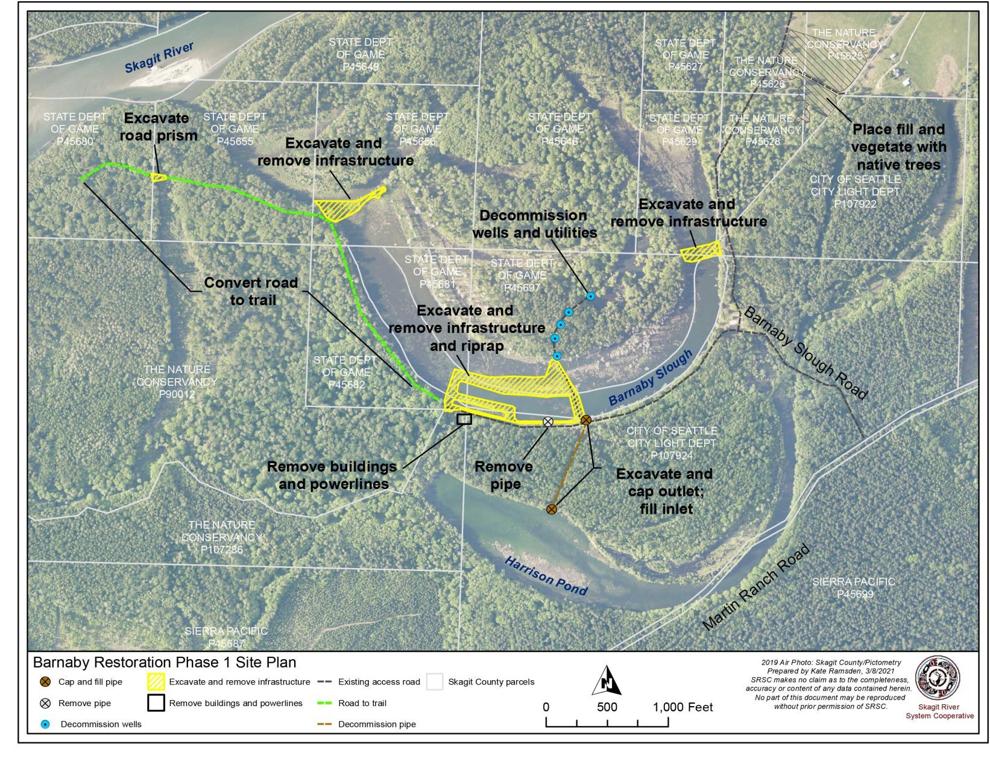 The state Department of Fish & Wildlife, Seattle City Light and the Nature Conservancy are partnering on the project. The three organizations collectively own about 1,200 acres in Barnaby Reach.
The project manager is the Skagit River System Cooperative, which provides natural resource management services for the Sauk-Suiattle Indian Tribe and the Swinomish Indian Tribal Community.
On June 12, about 20 community members attended a public tour to learn about the upcoming work.
Carlstad said the project includes removal of three cross dikes and an enclosed rearing pond. Other infrastructure, including water control structures, buildings and abandoned wells will also be removed or decommissioned, she said.
"The project will include a variety of heavy construction equipment, including tracked excavators, off-road dump trucks, dozers, and a well-drilling rig," she said in an email. "Noise levels will be typical for a construction site."
The work should begin about July 6, she said. Everson-based Tiger Construction expects to complete the work by Oct. 31.
The estimated cost of the work is $1.1 million, Carlstad said. She said the majority of the funding is from the state Salmon Recovery Funding Board and the National Oceanic and Atmospheric Administration. The federal Environmental Protection Agency and Seattle City Light are providing additional funds.
Following the work, the area will be monitored to see how fish use the newly opened habitat. The hope is that the area will provide safe rearing habitat for young salmon.
"Juvenile salmon are very good at finding habitat to suit their needs," Catherine Austin, with the Skagit River System Cooperative, said during the tour.
Carlstad said no salmon currently use the slough.
Matt Ethridge, a resident of Martin Ranch Road since 2016, attended the June 12 tour. He said he supports the proposed restoration work.
"Clearly opening up (the slough) will help it be a healthier ecosystem," he said.
Dave Radosevich, of Sedro-Woolley, also attended the tour. He said he is a sport fisherman and has been involved in efforts to open up Barnaby Slough for 20 years.
He said because the area is no longer in use as a fish hatchery, it should be restored to its natural state.
"There's just common sense things that can be done to improve fish habitat," he said.
The project also includes adding access for recreation.
Carlstad said the work will include changes to a driveway along Barnaby Slough and Martin Ranch roads to provide parking for up to four vehicles. That will allow a hiking trail to be lengthened by 800 feet and improve visibility for parked cars along the main road.
In addition, a pedestrian bridge will be installed over Lucas Slough.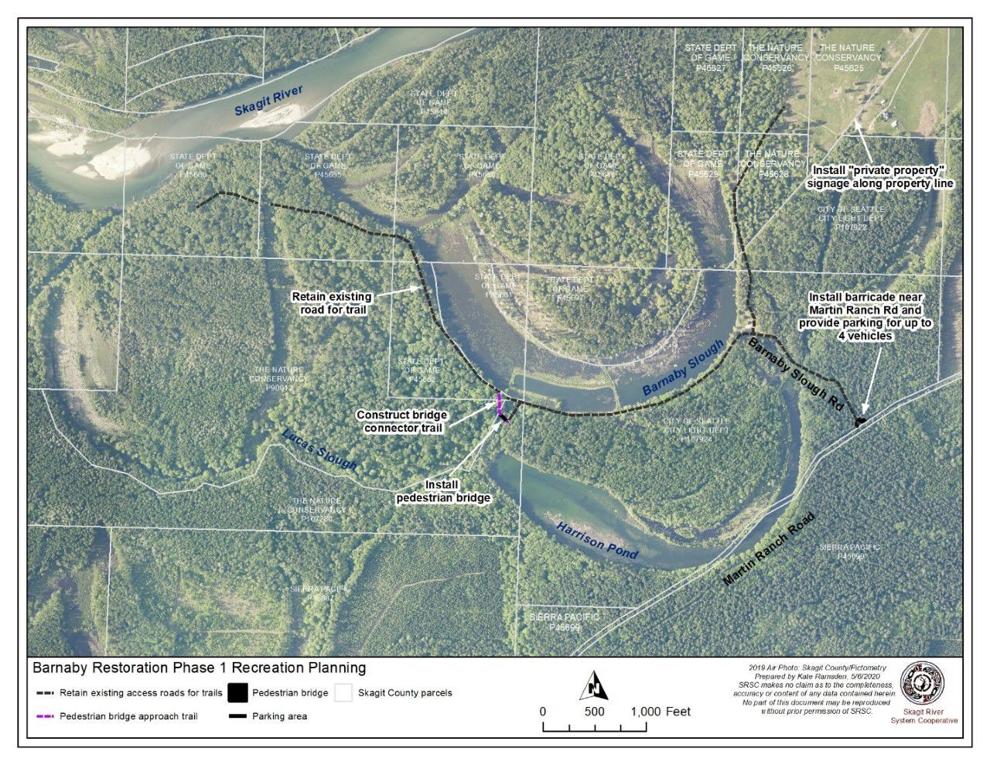 At the June 12 tour, several area residents raised concerns that better public access would bring crowds of hikers to the area.
Project partners said the idea is to maintain and improve public access at Barnaby Reach, not expand it. No signs will be installed at the parking area to advertise it as a recreation area, they said.
"The goal is to make recreation safer and to retain it for use for those who live here," Carlstad said during the tour.
Other tour participants brought up concerns about flooding. During discussions in 2015, some landowners objected to previous restoration options, fearing they would result in flooding of their homes.
In an email, Carlstad said extensive flood modeling has been done for the project. She said the work was completed by Natural Systems Design and reviewed by an independent technical review committee.
"It shows that the work proposed for this summer will not increase flooding downstream of the project area," she wrote in an email. "These projections have been discussed with community members through one-on-one and small group meetings over the last year during COVID restrictions."
Carlstad said partners are doing the project in phases "in direct response to requests from community members to take a measured approach to restoration work."
The site will be monitored for at least several years before additional work is considered, she said.
"Monitoring will be both for project effectiveness (are fish using it in the way expected), and is the river and slough responding in the way expected by the design engineers," she wrote in an email.
Howard Stafford, who has lived on Martin Ranch Road all his life, has been involved with the project since the beginning. In a phone interview after the tour, he said he supports the upcoming work and has no concerns about flooding.
He would like to see the slough opened up and is interested in how salmon will respond.
"Right now (salmon) are not making it into Barnaby Slough because of all the obstructions," he said.
Stafford said he also doesn't share concerns raised by others about the area becoming a big recreation draw.
"It's never been a destination place as far as sightseeing," he said. "I just don't think that's going to happen there that much."
Barnaby Reach - Restoration planning over the years
The Skagit River System Cooperative and three conservation-driven agencies that own land in east Skagit County propose restoring part of the S…
The Skagit River System Cooperative, which is managing the proposed project for The Nature Conservancy, state Department of Fish & Wildlif…
Five years after a proposal to restore fish habitat along Barnaby Slough in the upper Skagit River watershed shocked nearby residents, the pro…