LA CONNER — William Cumming painted a mural in 1941 for Burlington High School's new farm shop. The painting depicts dairy farming, berry picking, logging and building railroads — a celebration of agriculture and industry in Skagit County.
After the 28-foot by 7-foot mural hung at the high school, it was lost. It was stashed in a storage room, shuffled between barns and nearly ended up in the garbage pile. Now that mural — rediscovered 5 1/2 years ago — is hanging again in Skagit County.
The Cumming mural is on display through March 15 at the Museum of Northwest Art (MoNA) in La Conner. Admission is free.
The mural's return comes after more than five years of work to get the mural restored and back on display.
Work is underway to find a public place in Skagit County to showcase the mural permanently.
The Cumming mural had been rolled up and stored in Breckenridge family barns for decades.
Tony Breckenridge of Edison said he had inherited what he believed to be a tarp from his father, who had stored it in his own barn in Bow.
Breckenridge said he suspects his father obtained the mural while working as a teacher at Edison Elementary School in the 1970s. He believes his father had been asked to clear out an art room to make space for a classroom, and took the mural home with him. He said it is unclear whether his father knew it was art or just a tarp.
"Dad brought it home and threw it up in top of the barn," Breckenridge said. "It was tucked back there with some milk cans and and numerous things tucked away in a corner."
Breckenridge said after his father died, his brother discovered the tarp while knocking down a cement wall in the barn. Breckenridge said his nieces later used the tarp as a long-jumping pit.
Breckenridge then transferred the tarp to his barn, and tried to throw it away multiple times. In 2014, he had planned to finally dispose of it — but was unable to pick it up due to a neck sprain.
The tarp sat outside for four months. After a section of the mural caught his eye, Breckenridge unrolled it, revealing the massive painting.
Breckenridge said he contacted Skagit County Fair staff, believing the agricultural-themed painting was fair-related.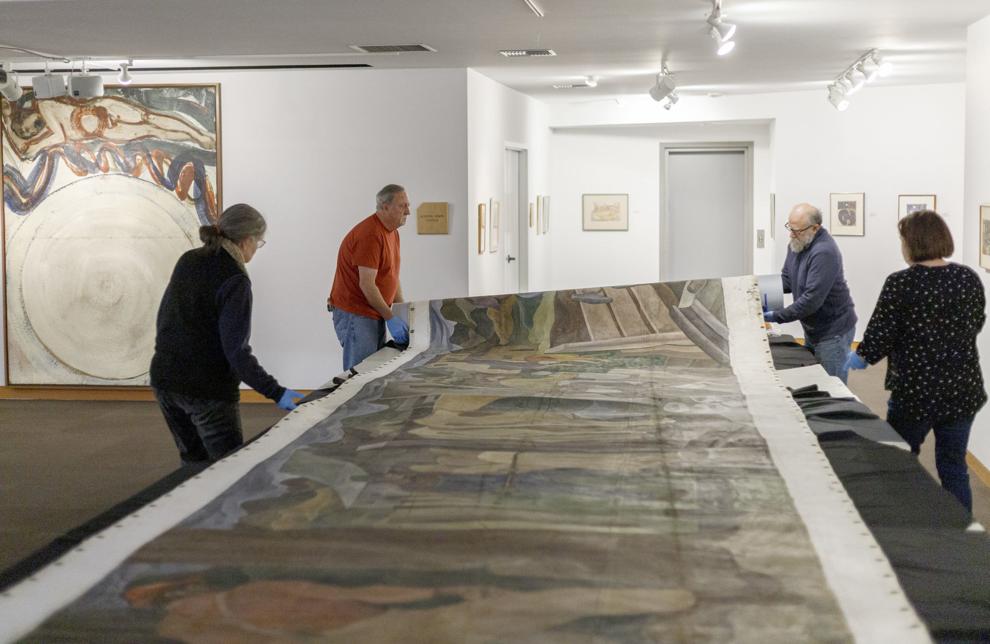 When Skagit County Parks and Recreation Director Brian Adams saw it, he believed the mural was public art created through the Works Progress Administration (WPA), part of the New Deal. He said he also recognized the painting as belonging to the Northwest School art movement, established in Skagit County in the 1930s and '40s.
After he was sent a photograph of the mural — which had been displayed at the county fair in August 2014 — John Braseth, founder of Woodside/Braseth Gallery in Seattle and Cumming's longtime friend, identified the signature as Cumming's.
Braseth said Cumming, who died at 93 in 2010, had told him about the painting, but Cumming assumed, like most murals from the WPA era, that it had been lost or destroyed.
When the story got out about the mural being found, Braseth said collectors throughout the country made offers to buy it. He said he estimates the painting is worth about $500,000.
Bret Lunsford, director of the Anacortes Museum, then discovered that Cumming — 24 years old in 1941 — painted the mural under contract for the National Youth Administration, also part of the New Deal, for Burlington High School's new farm shop, which was dedicated Nov. 7, 1941.
After being found by Breckenridge in 2014, the mural was given to MoNA to preserve and restore — always with the intent to display it in Skagit County.
"It's kind of amazing that (the mural has) survived the journey it's survived," Breckenridge said. "And it's nice to know that it's in Skagit County and people of Skagit County can enjoy it and whoever else wants to loan it from the museum."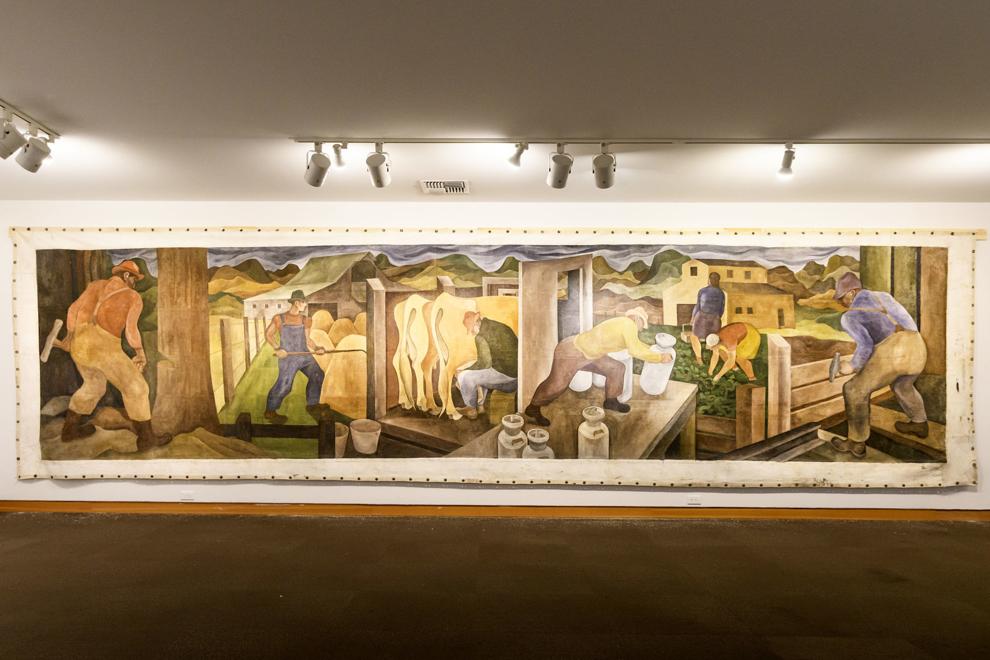 Art conservator Bruce Miller of Seattle, who restored the mural, said the painting was relatively simple to restore.
"Being on the floor of a barn for 50 years, it was really dirty," he said. "And it was unique in that Cumming painted on a tarp. Usually paintings are stretched on a frame and rigid, and this was just folded up ... Because it was folded, there were damages."
Miller said he cleaned the mural's front and back, and retouched areas where paint was missing. Still, the mural had most of its original paint, he said.
Miller said the biggest challenge was the painting's size — 28 feet long — which meant he had to unroll it one section at a time to work on it.
He said he worked on the restoration on and off for about a year.
"It's very satisfying, especially something like this — a lot of people would have just chucked it," Miller said.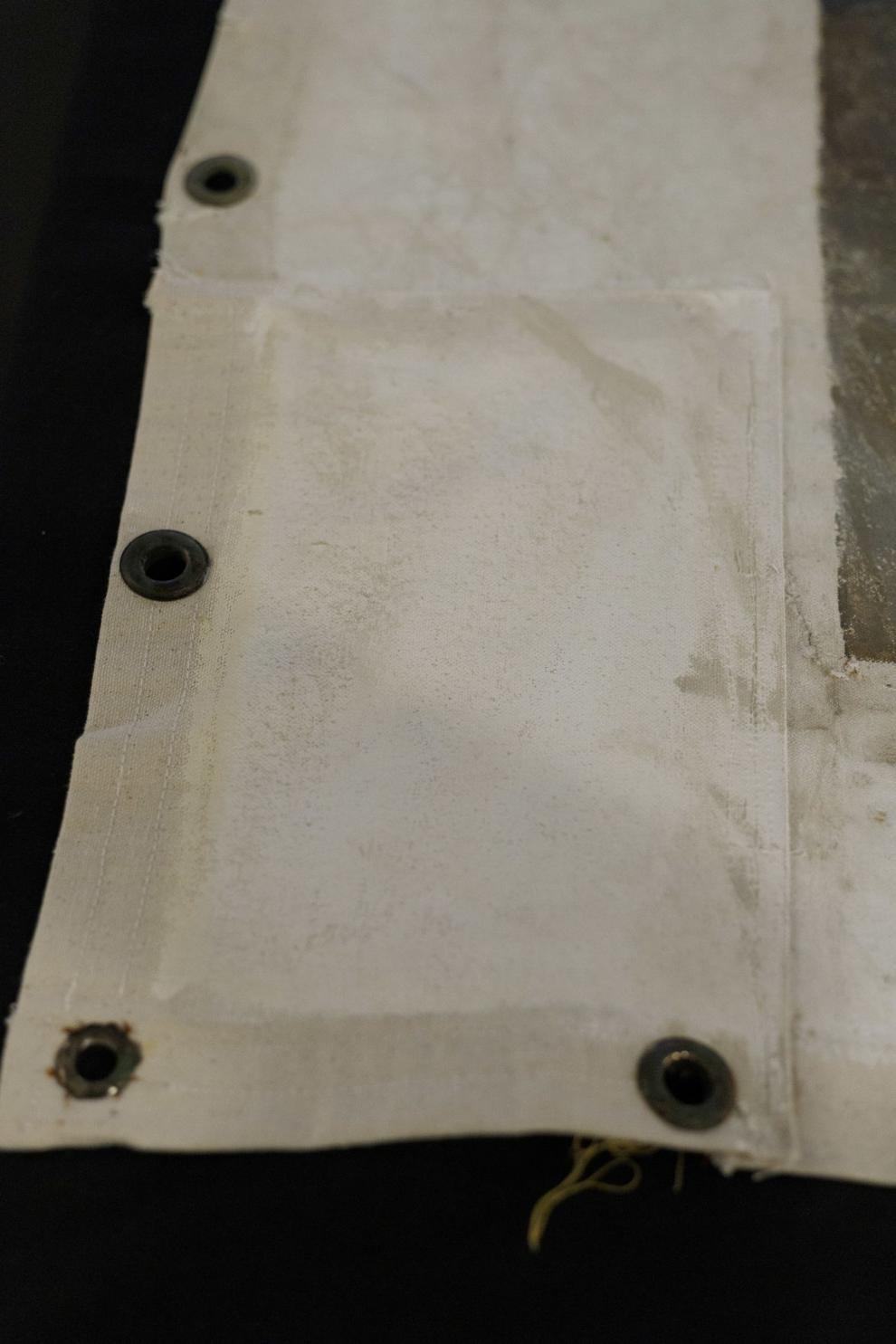 MoNA Executive Director Joanna Sikes said the restoration was completely funded by donations raised by a museum committee.
Bruce Bradburn, one of seven on the Cumming mural committee, said fundraisers were held at the Woodside/Braseth Gallery in Seattle and in Skagit County. Bradburn said he was motivated to raise the money because he knew Cumming in the 1950s, and because of the mural's connection to the Skagit Valley.
Braseth said seeing the mural restored is one of the best feelings he's experienced in his years in the art business. He said Cumming would have been pleased, too.
"Having something this old be preserved and put back into history is wonderful, it's a great feeling," Braseth said. "Especially because Skagit (County) was so rich with artists and all the influences of nature. It's been a place where artists were really incredibly at home."
He said it's likely Kenneth Callahan — considered a founder of the Northwest School of art — recommended the young Cumming for the National Youth Administration project.
Braseth said the mural's agricultural themes would have been familiar to Cumming, who was born in Montana, grew up on a farm in Tukwila, and later owned a farm and ranch.
"There was very much a very Western art bent to Bill Cumming," he said. "When he signed that mural, he (signed it) 'Will' Cumming. He loved Will Rogers."
On Thursday morning, a team of volunteers began installing the mural at MoNA. The team unrolled the mural, determined where it would go on the wall, and built a wooden frame on which to put hooks to hold the mural by its grommets.
"It's magical, amazing and such an honor," said volunteer Lucy Van Zanden, an artist from La Conner. "Having this opportunity is really special."
Installation was completed Friday.
To accommodate the mural, Sikes said the museum added one foot to a wall in the upstairs gallery by narrowing a doorway.
"It's a very important part of (MoNA's) collection that's returning," Sikes said. "A lot of works in the collection have a strong relationship to the valley, and Cumming and this mural have a rich history."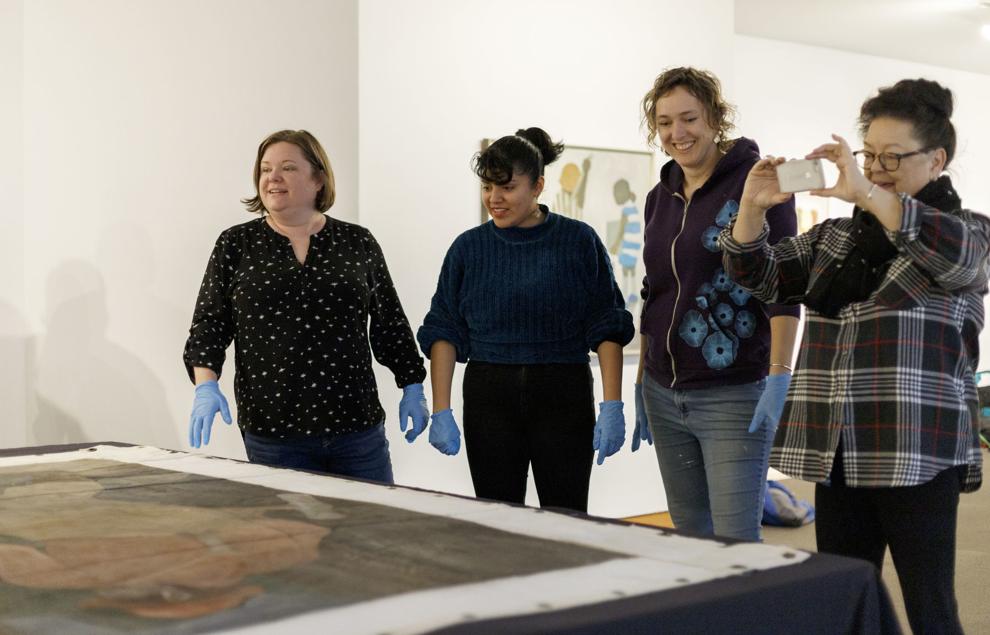 Some already have ideas on where to display the mural after the MoNA exhibit closes. Adams said he is eyeing Angst Hall at Skagit Valley College.
He said the Breckenridge family deserves a lot of credit for bringing forward the lost mural.
Since finding the mural, Breckenridge said he has learned a lot about Cumming and the painting. He said his theory is that when the mural was hung at the high school in 1941, people didn't appreciate it as art.
"It was a different kind of art than what people thought of art at the time," he said. "What I like is (the mural's) dairy farm, strawberry (picking), logging — I know families in every one of the depicted scenarios."