MT. BAKER SKI AREA — One morning in mid-February, eighth-graders from Concrete caught snowflakes on their tongues and took a few falls as they learned how to walk with snowshoes strapped to their feet.
"I am so pumped!" 14-year-old Phoenix Young said — not about a typical snow day, but a day spent at Snow School with 27 of his peers.
Snow School is one of several youth programs offered by the nonprofit North Cascades Institute, which works to expose youths, adults and families to the outdoors of this mountain-to-sea region.
The Snow School program brings middle school students to the Mt. Baker Ski Area nestled between Mount Baker and Mount Shuksan to the north of Concrete.
"It's a great opportunity," eighth-grade science teacher Sacha Buller said. "A lot of these kids have never been snowshoeing before and have never been up here before."
At the ski area, teens are immersed in the snowy mountain landscape they've likely seen in the distance from their hometowns — such as the pointy peak of Mount Shuksan and the rounded dome of Mount Baker — and learn about the environmental sciences.
The program is expected to serve about 700 students this winter, including from all middle school students from the Burlington-Edison School District. This year marks the first time the Concrete School District has participated in the program.
"I was pretty excited when I heard they were coming up," said volunteer Snow School instructor Muriel Troka, an alumna of Concrete schools. "I didn't get to do this when I was in middle school."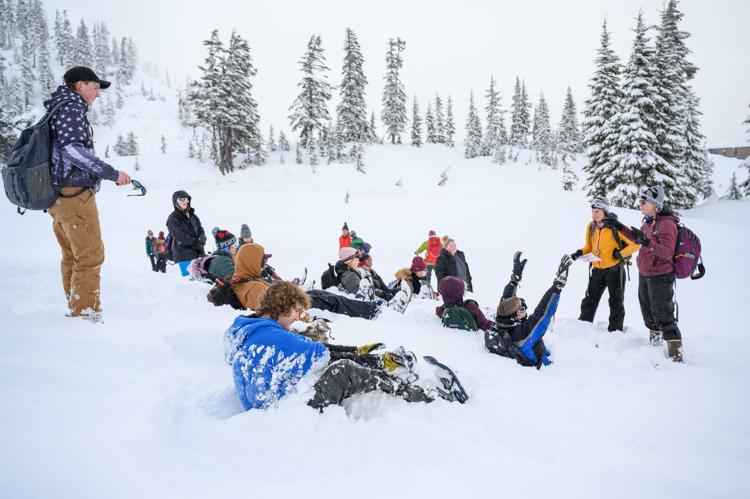 During high school, Troka did participate in the North Cascades Institute's Youth Leadership Adventures program. She said that experience changed her life, inspiring her to pursue a career that would allow her to spend time outdoors.
She said showing Concrete students a new view of their backyard at Snow School could inspire some of them to also pursue careers in the environmental sciences and protect the region they call home.
"A lot of people in Concrete don't spend a lot of time up in the mountains even though they're so close. It's a great experience to get into a different climate … and exposed to science," Troka said.
Buller said the excitement of the students on the bus ride to the ski area was impossible to miss.
"On the way up Mount Baker Highway, first they noticed snow on the ground, then that the trees were covered in snow. They started singing Christmas carols," Buller said with a laugh.
While Concrete residents see some snow at home, it doesn't compare to the white expanse at the ski area, which is about 4,000 feet higher in elevation than Concrete, according to U.S. Geological Survey data.
Fourteen-year-old Kelly Savage was surprised to learn the snow at the ski area was deeper than she, or even the Snow School instructors, are tall.
"I didn't know we had that much snow here," she said when an about eight-foot pole disappeared completely during a depth test.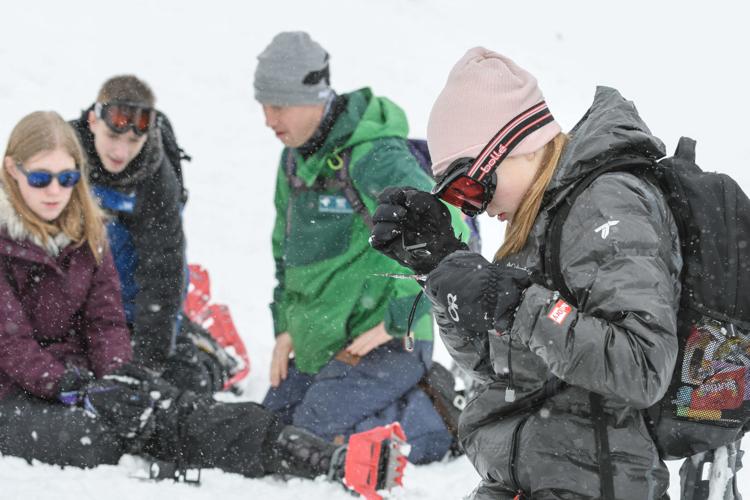 Savage also quickly realized the connection between the snow in the mountains and the rivers that converge near her hometown.
"All of the freshwater comes from the mountains," she said.
Some of the water locked up in the snow finds its way into the Baker River when it melts in the spring and summer. The river meets with the Skagit River just south of Concrete.
"Think about where we are and how all of this water will meet up with you sooner or later down in Concrete," instructor Mabel Miller said as falling flakes stuck to the group's jackets and hats.
Taylor Millar, another instructor, told the students there are several glaciers on Mount Baker and other peaks of the North Cascades. Meltwater from one of them, the Coleman Glacier, passes through their hometown.
"It (meltwater) flows all the way from Coleman Glacier down through Concrete, into the Skagit River and eventually into the ocean," Millar said.
North Cascades Institute Marketing and Communications Manager Christian Martin said the nonprofit's goal is for Concrete students and others from throughout the Skagit and Nooksack watersheds to continue participating in Snow School each winter.
"It's a priority to get those kids up here; it's their backyard," he said.
Throughout the daylong program, students helped with field work to examine the density of snowpack and how much water it contained, whether there was a potential for avalanche hazards, and whether snow algae more commonly seen during summer is also present in the top layer of fresh winter snow.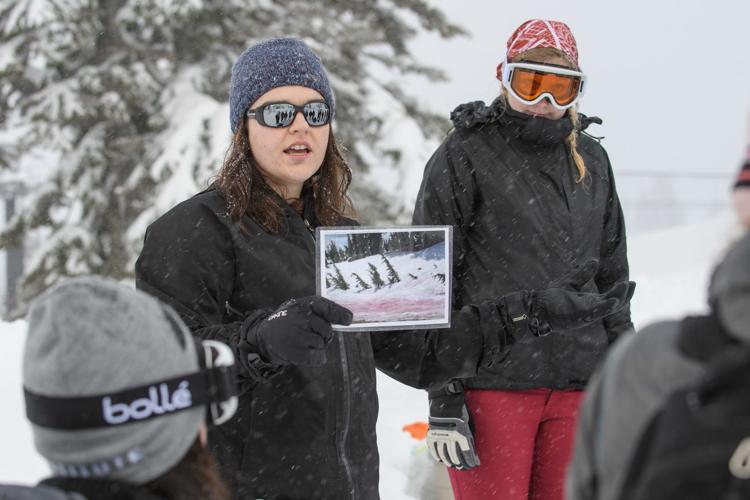 Martin said those kinds of activities can inspire youths to work toward certain career or lifestyle goals. 
"Maybe one or two of these kids are like 'Yeah, I want to work in the mountains and do research; I didn't know that was a job you could do,'" he said. "We're showing young people that science isn't just being in a lab or behind a computer — you can be out here."
The North Cascades Institute helps make programs such as Snow School happen by fundraising as well as organizing the curriculum and instructors.
Rachael Grasso, Snow School program lead, said this year the program cost about $80 per student. Thanks to donations and grants secured by the institute, the cost charged for Concrete students was $10 apiece.
"One of the things I really like about this program is the ability just to get into this mountain environment, for just $10, without having to commit to skiing or anything … and to see its connection to their lives," she said. "They are so close to Mount Baker in Concrete; As the crow flies it's right there."