When it comes to marine life, the types most often seen and widely known for their tastiness — salmon, most of all — garner the majority of attention.
But along with fish, shellfish and headline-worthy whales, there is a massive variety of wildlife beneath the surface of the Salish Sea.
Marine researchers and hobby divers are among the few who get to witness parts of the menagerie, and thanks to the rise of digital photography, underwater camera gear and social media, the public is gaining opportunities to see more of the water world's wonder, too.
Recent shares include an uncommon candy stripe shrimp photographed off the Anacortes shoreline and a dead giant Pacific octopus that washed ashore on the mudflats of Padilla Bay.
"It's just crazy to think that this animal actually lives out there somewhere," Madison McKay of the Padilla Bay National Estuarine Research Reserve said of the octopus, found March 22 at Bay View State Park.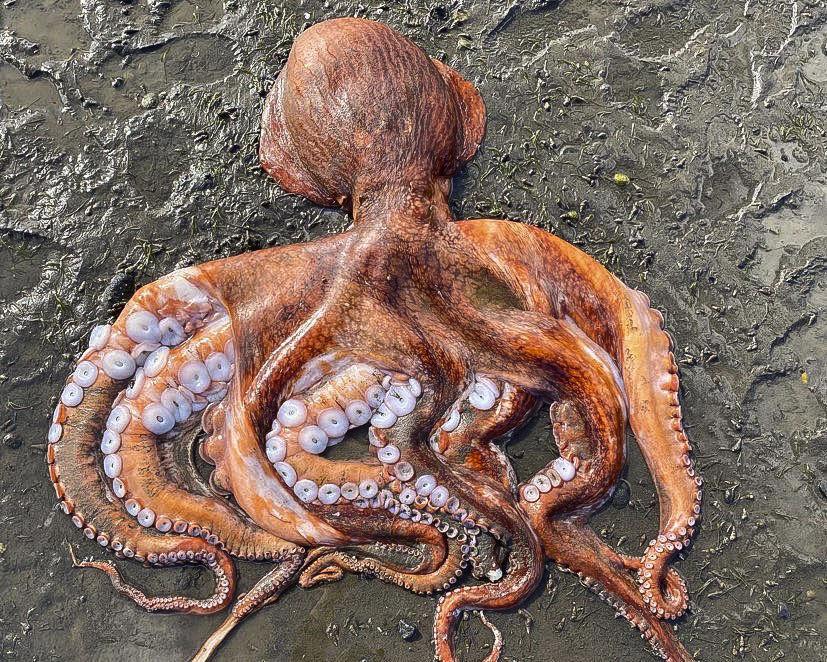 Sightings of giant Pacific octopuses — dead or alive — are rare. Divers describe them as elusive, and longtime Padilla Bay reserve staff said the last time one washed up locally was in 2002.
"It was really cool for me," McKay said of the chance to see the recently washed-up animal, which she photographed and shared on the reserve's Instagram account. "I was just speechless. ... It was a lot bigger than I was expecting."
She said arm to arm, the specimen was likely 8 feet or more. Its head stretched out in a massive blob possibly more than 3 feet tall.
The candy stripe shrimp, meanwhile, is a much smaller member of the marine ecosystem. The translucent creature gets its name from thin stripes of bright yellow, red and blue. It's a special find for the diving community.
"I always find them so fascinating to see. They live in the Anacortes area, the San Juan Islands and up on Vancouver Island," diver Jessica Alexanderson of Bellevue said.
The candy stripe shrimp she photographed, in December at about 55 feet deep near Anacortes, was about an inch long.
"Before I was a diver I had no idea what was down there," Alexanderson said of the striped shrimp and other species that live in local waters. "It's so colorful and amazing with all the creatures. ... It's kind of like a treasure hunt."
Other special sightings since she joined the regional dive community in 2014 include seeing pea-sized squid, watching shrimp do backflips and witnessing a new generation of giant Pacific octopuses hatch from their eggs.
"They are like the size of a grain of rice," Alexanderson said. "They are just tiny and you see their little legs moving as they swim out."
She tries to capture what she sees on camera and share it with others across her social media pages.
"Basically every dive is a photo dive now; I'm always trying to get a better photo or find a new creature that I haven't seen before," Alexanderson said.
Her photo of the candy stripe shrimp was recently included in a state report called Eyes Over Puget Sound. The report, compiled about once a month by the state Department of Ecology, was started in April 2011 to document data and observations relevant to water quality and the broader health of the marine ecosystem.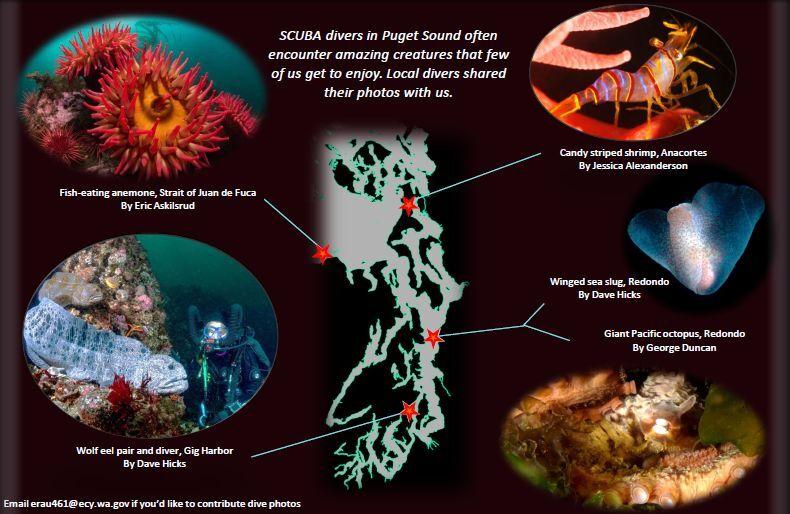 Department of Ecology Marine Waters Field Scientist Elisa Rauschl recently launched an effort to include diver-submitted images in the reports.
"I'm really excited to showcase the amazing and vibrant life," she said in a post on a diver's forum.
Rauschl's goal is to show what a treasure the Salish Sea is, and how important it is to protect it.
The first round of photos, including species of shark, jellyfish and fish, was published in the January edition of Eyes Over Puget Sound. The candy stripe shrimp was in the March edition.
In a nod to the candy stripe shrimp that can be found at an Anacortes dive site, Alexanderson calls that destination "Candyland." That site, a Whidbey Island dive site and Deception Pass in between draw Alexanderson and other divers from throughout the region.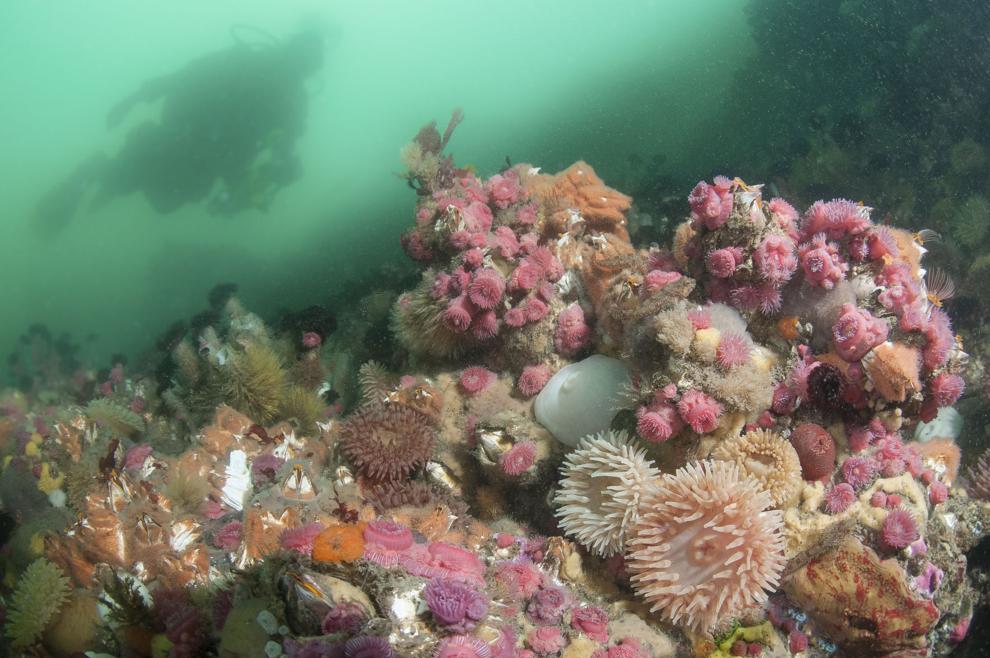 "One of our favorite places to dive is under the Deception Pass Bridge," Alexanderson said of the location that requires "very advanced" diving skills. "There is an unbelievable amount of life because of all the currents that come through there. ... It is probably the most beautiful dive on all of the West Coast."
She spent some time diving at Deception Pass this month, and recounted a scene where she was immersed in oranges and pinks.