The invasion of the European green crab in local waters continues.
In Samish Bay, what began as the discovery of a few of the crabs in Taylor Shellfish Farm's aquaculture beds in January 2019 has this summer grown into a full-fledged trapping effort. As of Thursday, 88 non-native crabs had been pulled from the water.
"These are all signs that this could be a new situation that we want to keep a pretty close eye on and intervene if possible," Washington Sea Grant Crab Team Program Lead Emily Grason said.
The green crab has been found along the West Coast for decades, and made its debut in the Salish Sea in 2016. In September 2016, the first was found in Skagit County: a lone green crab in the mud of Padilla Bay.
Through 2018, intensive monitoring led by the Crab Team, state Department of Fish & Wildlife and Padilla Bay National Estuarine Research Reserve turned up a few green crabs in Skagit waters. Six were found in Padilla Bay and one empty shell called a molt was found in Fidalgo Bay.
Now there have been dozens found in Samish Bay and one was again found in Padilla Bay — discoveries that have sparked concern among local businesses and scientists.
"The reason we're very concerned about the European green crabs is because in some of the other places they've invaded and reached high densities, they've destroyed large areas of salt marsh and eelgrass meadows, largely through their burrowing," said the Padilla Bay National Estuarine Research Reserve's Roger Fuller, who found the single invasive crab in Padilla Bay last week during regular monitoring of the reserve's wildlife.
"And they have sometimes also devastated native species including shellfish and crabs."
They threaten aquaculture, too, particularly clams.
"One of my real concerns is that they will eat clams, which I grow on my farm," said Bill Dewey, spokesperson for Taylor Shellfish Farms and owner of Chuckanut Shellfish.
The discovery of green crabs in Samish Bay in January 2019 was not only a first for the bay, but also a first for capturing a green crab during the winter, and for capturing a female preparing to disperse her eggs.
"Each female can produce hundreds of thousands of eggs per brood, and multiple broods per year, so capturing this female before she released her eggs certainly reduced the number of larvae that could spread to other local habitats," states a post on the Crab Team website.
Staff at Taylor Shellfish Farms discovered the crabs while retrieving oysters from the bay during evening low tides.
"In winter we don't have people actively trapping for crabs most times because the tides aren't conducive and the crabs are less likely to come into the traps ... because they are less likely to be foraging," Grason said. "(Shellfish) growers and bed managers who work out there in the middle of the night at low tide are more likely to see green crab during the winter."
After three green crabs were found on three different days that January, six months passed with no more being found.
"It's still strange. It still leaves me scratching my head," Dewey said. "In the same week on the same low tide series we found three of them in three very different parts of the bay."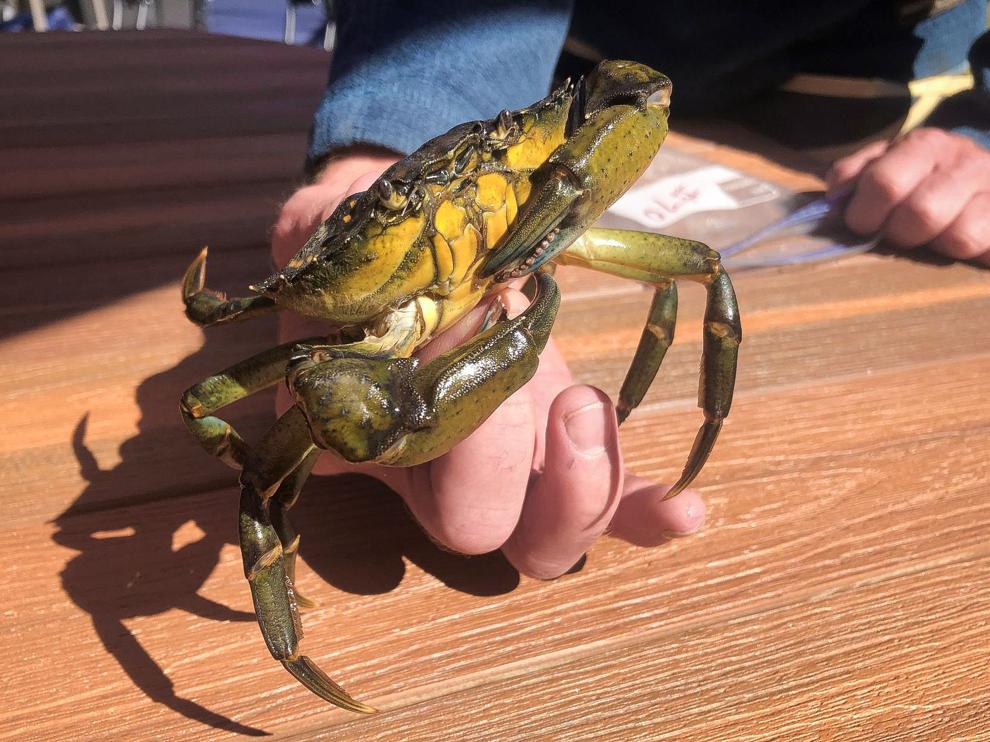 In the roughly 20 months since the green crabs were first round in Samish Bay, shellfish farm staff have witnessed just how durable and dexterous green crabs are compared to native crab species.
"Now that I've started handling them I can really see it's a supreme invader," Dewey said.
"They are fast. When you go to grab them they really run. They're also climbers. My son put one in an oyster basket and in seconds it had scaled the basket and jumped out, which I don't think any of our local crabs would do," he said. "And they are incredibly durable. We left some in a cooler with a gel ice pack and towel and seven days later they were still as vibrant as when we caught them ... None of our local crabs are that hardy."
The green crabs are now being found regularly in traps set in Samish Bay.
"In May and June of this year, trapping actually really detected a shift. That's when the numbers of green crab they were capturing in traps increased pretty quickly," Grason said. "That coincides with what seems to be the season when green crabs are most catchable."
Because the COVID-19 pandemic has kept volunteers from aiding trapping efforts, Dewey and his son Andy Dewey, who works for Taylor Shellfish Farms, are doing much of the work.
"(They) have been doing this trapping as they can and really informing the early snapshot of what's happening in the bay," Grason said.
Efforts to expand trapping in the bay continue, with a particular emphasis on shoreline areas that are more conducive as habitat than the deeper intertidal areas where shellfish are grown.
"The shellfish beds are like the second place we would actually look ... The first place we would look is at the shorelines," Grason said. "The fact that we were finding so many in what we would call the secondary location for green crab was telling us we needed to look in other locations as well."
In the years since green crabs have cropped up in the Salish Sea, Grason and one staffer with Fish & Wildlife have been the only ones dedicated full-time to keeping watch. That changed this year, with the addition of two staff members to the Crab Team and five staff from Fish & Wildlife.
"We made the case to the state that more resources were needed for dedicated control trapping, expanded early detection trapping," Grason said. "We wanted more proactive attention."
In Samish and Padilla bays, the monitoring partners are able to leverage the expertise of Padilla Bay National Estuarine Research Reserve staff, local shellfish farmworkers and, usually, volunteers from the Skagit Marine Resources Committee.
This summer, Fish & Wildlife has found three green crabs in traps set in Chuckanut Bay to the north of Samish. The Padilla Bay reserve has found two green crabs in the marshy Alice Bay on the south end of Samish Bay.
And trapping continues throughout the region.
"We're trying to get a more complete picture of what's going on," Grason said.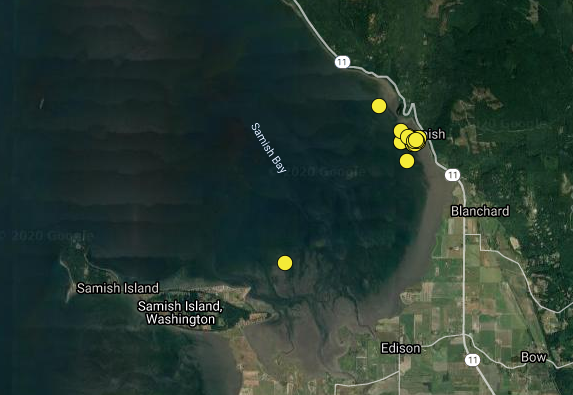 Each crab taken from the Salish Sea offers a piece of new information, and is kept for genetic analysis and other scientific testing.
"All of the green crabs that have been caught along inland Washington shorelines are in a freezer at the University of Washington. Our freezer is getting pretty full right now," Grason said. "All of these crabs are really valuable biological specimens and we're trying to learn as much as possible from them."
While retrieving traps Thursday in Samish Bay, Bill and Andy Dewey caught one more green crab to add to that frozen collection: No. 70 retrieved through their personal trapping effort.
"Wow, that's a big one," Andy Dewey said after his father pulled the trap onto their boat.
While it was the only green crab caught that day, some days the pair have captured as many as 10.
"If they get to big numbers, that could be pretty devastating," Andy Dewey said.
So far shellfish growers in Samish Bay haven't seen evidence that green crabs are damaging their crops — a major issue for East Coast shellfish growers who have long battled the invasive crab.
Local shellfish growers are watching a trapping effort at Dungeness Spit in Clallam County, which is offering a glimmer of hope that green crabs can be controlled, at least somewhat, in Washington waters.
Grason said intensive removal trapping has been underway at Dungeness Spit since 2017, and this year there is a sharp drop in the number being caught.
The data shows a decrease from about 23 green crabs caught per 1,000 traps in 2019, to about two crabs caught per 1,000 traps so far this year.
"That sort of gave me some encouragement," Bill Dewey said.
On the East Coast, the green crab is responsible for about $22 million in fisheries damage per year, according to the National Center for Environmental Economics.
That's why the Crab Team and Fish & Wildlife began trapping in the Salish Sea several years ago, and why shellfish growers are glad to have a head start warding off the crabs now that they're in Samish Bay.
"We know we've got them and if we're catching them early there's maybe an opportunity to control them before they get out of hand and harm our shellfish bed resources," Bill Dewey said. "It's scary enough to where you want to put some energy into trying to control them."