On forested land near Hamilton from which smoke was rising Thursday, chain saws buzzed, axes swung and a helicopter dumped water from above.
Dozens of state Department of Natural Resources employees were conducting an annual training for fighting wildfires that since 2019 has involved igniting fires in order to practice squelching them.
Predicting the intensity of wildfire season proves a challenge every year, but this year, weather and the COVID-19 pandemic have added fresh layers of uncertainty. 
Spring brought a dry stint followed by an onslaught of rain, sending mixed signals about the likelihood for major fires this summer. The emergence of the new coronavirus that causes the respiratory disease COVID-19 meant firefighters had to rethink how to work without infecting each other. 
"Fire season isn't going away. We can't just work from home or take the summer off," said Thursday's incident commander, Jason McMillen said.
Natural Resources has adopted policies and procedures to help protect firefighters from COVID-19. 
Firefighters are screened upon reporting to work, from those on the hand crews wielding heavy tools to those leading the incident command.
"They took my temperature, asked me the questions," McMillen said of the no-exceptions rules.
Questions include whether firefighters have experienced a cough, sore throat or fever in recent weeks, whether they have been exposed to anyone with COVID-19 and whether they have traveled. Their temperatures are also taken with no-touch thermometers.
Extra care is taken in the field to avoid sharing tools, to move individuals and groups in as many separate vehicles as possible, and to sanitize vehicle interiors and equipment at the end of each shift.
While there's generally enough space to maintain 6 feet or more between them in the outdoors, firefighters are also equipped with facemasks for work that requires being in close proximity.
"As incident commander, it does make it more difficult to make sure everyone else is adhering to those procedures," McMillen said.
Extra risk with big fires
Regional wild-land district manager David Way said riding in vehicles together poses the greatest potential for exposure to the virus between colleagues. Later, overnight camps at major burns will pose new problems.
"The biggest concern we have right now are bigger fire incidents that take days or longer to contain and require fire camps," Way said. 
The local firefighting team has some of its crew prepared each year to travel to Eastern Washington, as needed, and to assist neighboring states.
"I'm most concerned with our people traveling out of the area," McMillen said. 
Natural Resources spokesperson Benjamin Hale said camps are a "Petri dish" for viruses in any given year. 
Regional wild-land fire training coordinator Steve Biggs said firefighters have seen a pattern where, about the seventh day of a firefighting job, someone usually begins to cough. 
"We call it the 'camp crud,'" he said of the common emergence of a cough or cold. "Now it's going to be like, 'OK, is that the normal camp crud, or is that COVID?'"
Dispatched crews will have to have added procedures in place for anyone who comes down with a cough or cold-like symptoms while at a camp this year, Way said. The potential for firefighters to be pulled from camp and put into quarantine creates concern over having enough hands on deck.
In an effort to limit that possibility, Natural Resources has decided to house firefighters in hotels and feed them at restaurants when possible for out-of-area fires.
That should improve cleanliness and reduce cross-exposure between units.
Already, collaboration between agencies has been made challenging by COVID-19 and the ramp-up of fire season throughout the western U.S.
While fire season has been off to a slow, soggy start in Western Washington this spring, it is heating up in other western states, including Arizona and Alaska.
For the Natural Resources team stationed in the northwest region — including Skagit, Whatcom, San Juan, Snohomish and Island counties — that meant training alone this year, without their usual U.S. Forest Service counterparts.
"They are already being called out on assignments," Way said of area Forest Service crews now working in Alaska and Arizona. 
Because of COVID-19, interagency training that usually brings together federal, state and local supporting firefighting agencies were also canceled. Instead, some courses were given online. 
"It's a void this year," Biggs said. "The best way to learn is hands-on." 
In-person training is also an opportunity to network, build camaraderie and get a feel for how a team functions on the ground. 
"So things like this are really important," Way said while standing in view of the flames, smoke and swinging axes in action near Hamilton. "We're really relying on these types of opportunities to get our firefighters prepared this year." 
With the sun blazing from the clearest skies seen in days and temperatures climbing from the 60s into the 70s, Natural Resources leadership directed about 30 staff foresters, biologists and recreation planners through the steps needed to douse the fires started Thursday. 
"They're an ad-hoc hand crew that comes together when we need them, so this training in the spring is really critical to get them out here swinging some tools and testing their organization," Way said. 
While smoke curled from several slash piles left by a recent timber sale within the Harry Osborne State Forest, some firefighters dug trail-like fire lines around the burn piles to stop the fires from spreading. Others set up a pump and hose system in order to get water where it was needed.
As they worked on the ground, a Natural Resources crew stationed with a helicopter in Big Lake practiced collecting water from the nearby Skagit River, then dumping hundreds of gallons onto the fire.
Natural Resources isn't the only agency to locally host a wildfire training for its members. Skagit County Fire District 11, also called the Mount Erie Fire District, hosts a training program, which it offers to local, state and federal firefighters in need of certification and field practice. 
It's the only training of its kind led by a local department in the state's northwest region. 
"We send our people to it when we have late hires or someone that needs to be trained," Riggs of Natural Resources said. "It's a great program to have in our backyard." 
Riggs and Hale said it's important for firefighters like those stationed at the Mount Erie district to have some training in how to address wildfire because they are the first to arrive on the scene. 
"Then they notify us if it's a wildfire and large enough that they can't put it out easily or in a place they can't access it easily," Riggs said.  

How rampant wildfires may be this summer is unclear. The long-term National Weather Service forecast calls for hot, dry conditions and the National Interagency Fire Center forecast calls for a normal fire season west of the North Cascades. But spring here has brought mixed signals. 
Firefighters in northwest Washington were concerned when several wildfires in early spring burned more than 200 acres in the five-county region. 
"In April we had numerous fires locally here in northwest Washington and more acres burned than we usually would see," Way said. 
That followed a dry spell before vegetation had had an opportunity to "green up" and become more resistant to fire. 
The largest of the April fires this spring occurred between Stanwood and Arlington just south of Skagit County and in Whatcom County to the north. There were also fires that burned 3 acres or less near Rockport, Lake McMurray and Darrington that month. 
"In Skagit County, we had a number of small starts," Way said. 
Then the rain came, dampening May and the first half of June.
While that has kept fires at bay for several weeks, though, it has also allowed extra potential fuels to grow in the form of long, green grasses and other vegetation on the forest floor. As they dry out, they become kindling that could help fires spread.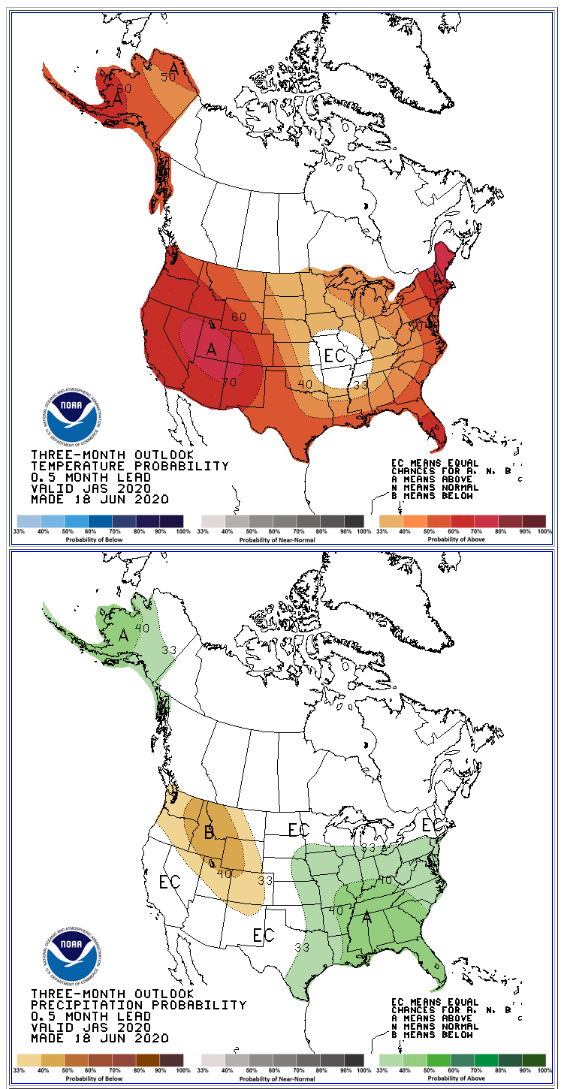 With summer in the region forecast to be hotter and drier than normal, risks grow.
"We're gearing up for a pretty intense wildfire season regardless of all the rain," Hale said. 
Way said for firefighters, the weather during the next few weeks may indicate how combustible the summer will be. McMillen said Natural Resources leadership is watching the weather, but thankful for the rainy break given so far in light of the pandemic. 
"Mother Nature is helping us with COVID right now, honestly," McMillen said. "We're not seeing extreme conditions like we did in (the spring of) 2015, 2016 and 2018. It has been a wetter and slower start to fire season." 
That has bought firefighters time to prepare for the new health protocols. 
"We can get some things figured out before it gets hot and dry," McMillen said, looking around to check that his firefighters were maintaining 6-foot distancing while training. "We can address those things now to help us be more successful this summer."