As the COVID-19 pandemic began and people retreated inside their homes, many stocked up and began to cook and bake more, leading to a flour shortage at grocery stores. 
In search of baking ingredients, many turned to Skagit County's two flour mills — Cairnspring Mills and Fairhaven Mill. Both say the surge in sales in early spring brought a newfound appreciation for local flours made from Skagit County grains. 
"(Customers) are primarily like 'wow, my bread just tastes better, everything tastes better, flour with favor,'" said Kevin Morse, CEO and co-founder of Cairnspring Mills.
Cairnspring Mills, which opened in 2016 at the Port of Skagit, focuses on making flours that are more flavorful and nutritious than the white flours made at large-scale industrial mills.
Prior to the pandemic, the business had primarily been a wholesale supplier for restaurants and bakeries. When eating establishments shut down in March, the mill lost 25% of its business, Morse said.
The business responded by starting direct retail sales, offering pickup of 50-pound bags of flour on Fridays. Morse said on its best day, the mill sold about 18,000 pounds of flour.
Since then, the mill has gotten its products into grocery stores throughout the Puget Sound region, and is offering smaller 2.2 pound bags. In October, it launched an online store.
"It's sad it took a pandemic for people to realize how good smaller, craft products are and that they are here in their own backyard," Morse said.
He said the shift to retail will likely make the company more profitable, as margins in retail are better than in wholesale. The mill has boosted it staff from six to nine and plans to hire several more.
Fairhaven Mill, a 46-year old mill located north of Burlington, has also seen increased sales, both at grocery stores and at the mill's small on-site store. The mill's products include organic grains and flours and gluten-free flours. 
"I think (the pandemic) opened people's eyes that they could buy local flour," said Andrew Miller, CEO of Fairhaven Mill.
He said the pandemic has also highlighted the resiliency of local production and supply chains. With the help of partners such as the Puget Sound Food Hub Cooperative, a local distributor, the local flour mills were able to quickly pivot and meet demand, he said.
"We are absolutely flexible enough to meet regional and local demand," Miller said. "The silos are full of grain. No one was going to go hungry eating Fairhaven flour. That is encouraging."
Miller said the new interest in local flours supports Skagit County farmers, many of whom have worked grains into their business models and crop rotation cycles.
Both Cairnspring Mills and Fairhaven Mill contract with local growers to grow specialty grains developed by the Washington State University Bread Lab for flavor, nutrition and high yield.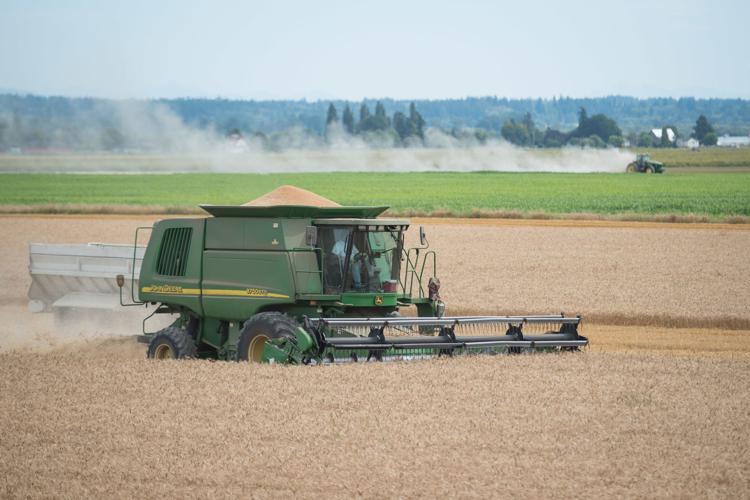 One Skagit County farm, Hughes Farms, grew a hard red spring wheat, a high-protein wheat developed by the Bread Lab, for Fairhaven Mill this year.
Michael Hughes, partner at Hughes Farms, said wheat has deep roots that replenish the soil with water and nutrients, and that planting wheat also helps control weeds.
Hughes said selling directly to a local flour mill is more profitable than selling on the commodity market because it eliminates the middleman.
"We are able to keep more value in the valley, and provide residents and neighbors with locally-grown food the hasn't traveled all over the world," he said.
Morse said the COVID-19 pandemic has brought national attention to Skagit Valley agriculture and the area's flour mills.
"Not only has the mill received recognition, people are discovering Skagit Valley because of the unique gem it is, from the quality and diversity of farming to the diversity of products," he said.