Although the record-setting, triple-digit temperatures of the deadly June heat wave have subsided, concern is growing over what high temperatures this summer will do to rivers and streams.
During the heat wave, water temperatures spiked to unusual temperatures throughout the watershed, and snowpack at high elevations melted rapidly.
Some local streams remain above normal temperatures, and with snowpack diminished and the summer expected to remain warmer and drier than normal, water temperatures are expected to continue to increase.
One reason for concern is the impact hot water can have on salmon.
While doing routine water sampling Tuesday in the lower Skagit River watershed, Skagit County Water Quality Analyst Kevin Jackman said he's concerned about the water temperatures he's seeing and worries what August may bring.
While about 61 degrees is the generally accepted limit for water temperatures in order to support optimal salmon health, Jackman is already seeing temperatures in the high 60s and even into the 70s in local creeks and sloughs.
"It's (64.4) degrees, and it's in the shade, and it's been a cool week," he said while sampling a slough on Fir Island. "Nothing has a chance of staying under (61) degrees this summer."
Temperatures above 61 degrees can affect fish health, including through their food and oxygen availability, according to a state law outlining target water temperatures.
Among the area streams already well over target temperatures are those with shade and fast-moving water.
Jackman said the hot sun baking down on surrounding, unshaded land plays a role. As ground temperatures rise, so does the temperature of groundwater, which makes its way into streams as water levels drop.
At the Nookachamps Creek headwaters east of Mount Vernon, Jackman recorded a temperature Tuesday of 76 degrees.
"And it's only July," he said.
Tuesday's numbers were lower than Jackman recorded immediately after the late June heat wave, but they were higher than normal for July and indicate the remainder of summer will likely bring dangerously high temperatures for fish.
"It's nice that they've cooled down some, but as the flows get lower and lower and there's not much rain, they will be more susceptible to getting hotter and hotter," he said.
In response to the heat wave and the forecast for a hot, dry summer, the state Department of Fish and Wildlife is asking the public to report any impacts on fish they may observe.
"It's still early in the summer, but we're already concerned about the negative impacts that our recent hot weather could have on the state's waters and its vulnerable fish populations," Kirt Hughes of the state's Fish Management Division said in a news release.
Fish and Wildlife staff could not be reached for comment on the current health of Skagit River fish and the outlook for the rest of the summer.
The agency has an online tool for the public to report seeing dead fish.
"If you see what appears to be an unusual number of dead fish ... we want to know about it, and the reporting tool is an easy way to share your information with us," Hughes said in the release.
While no such impacts had been reported yet in Skagit County, record water temperatures were seen during the heat wave.
Jackman said it was shocking to see on June 29 the highest temperatures ever recorded through the stream monitoring program, which began in 2003.
According to state Department of Ecology data, Hansen, Friday and Nookachamps creeks reached higher average daily temperatures than usual for late June and early July.
Friday Creek, north of Burlington, reached the highest at 75.4 degrees during the peak of the heat wave on June 28. Nookachamps Creek reached 73.2 degrees on June 28 and 29. Both creeks remained above 70 degrees several days.
For Hansen Creek near Sedro-Woolley, the peak temperature during the recent heat wave was 65.1 degrees.
According to U.S. Geological Survey data, water in the Skagit River near Mount Vernon also climbed to a high of 59.4 degrees on July 6. Temperatures that high aren't typically seen until late July.
Unusual spikes in water temperature were even seen in the upper Skagit River.
At the USGS monitoring site near Newhalem, temperatures during the heat wave were about four degrees higher than during the same time period in 2020, from the normal high of near 50 degrees to about 54 degrees.
Near Mount Vernon on Tuesday, Jackman found the Skagit River to be about 58 degrees. That's despite an onslaught of cold snowmelt in response to the heat wave that rapidly increased river flow.
SNOWPACK: FROM 100 TO NONE
During the heat wave, North Cascades snowpack went from normal levels to nearly zero within days.
State Drought Coordinator Jeff Marti said some places went from several feet of snow to less than an inch within 24 hours. That changed snowpack maps from healthy-looking greens and blues to "just a sea of red," indicating no snow was left at monitoring stations, he said.
While a shocking change, Scott Pattee, who monitors area snowpack for the Natural Resources Conservation Service's Washington Snow Survey Office, said the loss of snowpack during the heat wave wasn't significantly earlier than normal.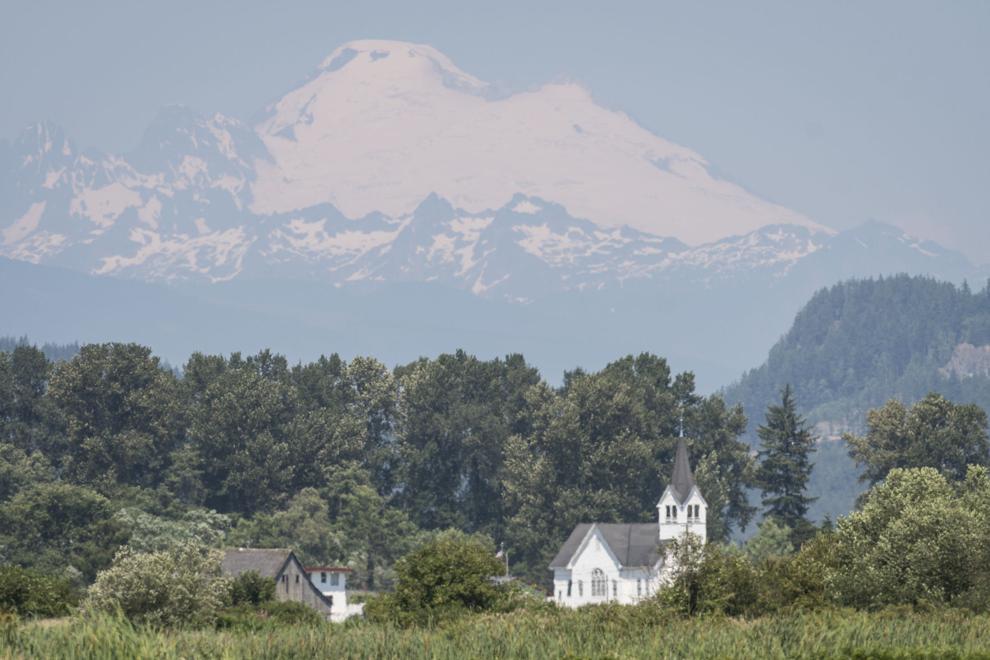 Until Wednesday, when the state Department of Ecology issued an emergency drought declaration, water supply experts said they weren't concerned about the Skagit River watershed.
Here, several dams operated by Seattle City Light regulate river flow, which can help ensure water is available during the summer months.
Seattle City Light Assistant General Manager Mike Haynes said despite the rapid snowmelt, the Skagit River Hydroelectric Project dams have been able to operate normally.
He said Ross Lake is in compliance with water storage requirements under the Federal Energy Regulatory Commission license for the dams.
"We create room in Ross Reservoir, our upper reservoir, in anticipation of how much snow we expect to melt," Haynes said of the utility's annual preparations.
The burst of snowmelt prompted by the heat wave diminished snowpack that fills Ross Lake about two weeks earlier than Seattle City Light considers typical. Otherwise, conditions within the hydroelectric project are normal.
"Based on water and operations, we're looking at a pretty normal year from here until what we get to the shoulder season when the rains start in October," Haynes said.