Invasive New Zealand mudsnails first found in Skagit County a year ago are now confirmed to be in three separate waterways where they could pose a risk to fish and infrastructure.
The tiny mudsnails were first found in Big Indian Slough south of Bay View in September 2018, then in August in Carpenter Creek south of Mount Vernon and in Joe Leary Slough north of Bay View in September.
"These sites are all pretty distant from each other. It's possible, indeed likely, that the snails are elsewhere in our county and we just haven't come across them yet," Skagit County Pollution Identification and Correction Coordinator Karen DuBose said. "We have no idea how they got to these locations."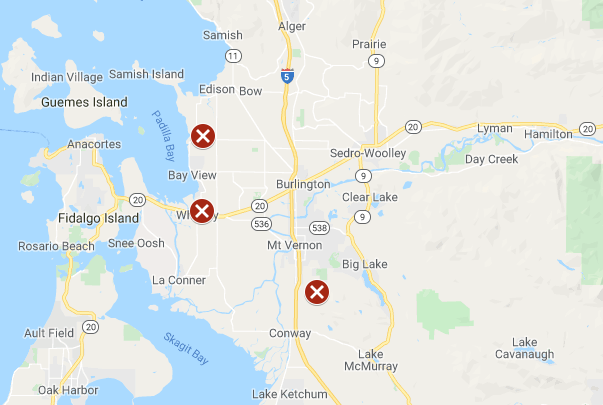 That's why it's essential people know what to look for, she added.
The snails — as small as Abraham Lincoln's ear on a penny — were noticed at each site by groups monitoring water quality.
Now, some Skagit County staff can spot them easily in the water.
With his feet planted on the grassy bank of Big Indian Slough on Oct. 11, Skagit County environmental resources technician Kevin Jackman could see snails clinging to grasses submerged just below the surface of the water.
"They tend to be concentrated along the bank and in grasses like that," he said.
After a water sampling tool was dipped then pulled from the water, several snails emerged — black dots stuck to the metal bar and on strands of grass tangled on the tool.
"This is a really good example of how they cling to things and why washing equipment and boots used in contaminated areas is so important," DuBose said.
County water quality officials are encouraging extra precautions to prevent spreading the mudsnails that can harm natural habitats and damage infrastructure by clogging pipes as they rapidly reproduce.
"We strongly encourage anyone who works, fishes, or otherwise recreates in ditches, streams, or other waterways in Skagit County take special care to decontaminate their gear before leaving the site, whether or not they see evidence of mudsnails," Skagit County Natural Resources Division Manager Michael See said in a news release. "Preventing their spread is paramount."
As New Zealand mudsnails invade a habitat, they can crowd out other critters, such as mayflies, that are an important food source for fish including salmon.
While fish can eat New Zealand mudsnails, the snails are able to seal themselves inside their shells and pass through the fish unharmed.
"Fish that eat them think their stomachs are full, but they're starving — and spreading them," DuBose said.
The snails can also survive in a variety of temperatures, as seen in Olympia's Capitol Lake where a portion of the invasive snail population has survived winter draw downs of the lake that are intended to expose them to freezing temperatures.
"Freezing does not eliminate mudsnails from Capitol Lake. It is a control strategy for reducing the population," the state Department of Enterprise Services wrote in a statement about the effort in December 2016. "Once mudsnails are established in an aquatic environment, it is impossible to eradicate them without harming native species."
Jesse Schultz of the state Department of Fish & Wildlife's aquatic invasive species unit said the same in a news release.
"There are chemical treatments that can kill New Zealand mudsnails, but none are appropriate to use in open water systems," he said.
That's why officials are focused on preventing the spread of mudsnails by those boating, fishing, working or doing other activities in or near contaminated waters.
Skagit County is asking that basic decontamination be done after all water-based activities in local waters regardless of a confirmed presence of New Zealand mudsnails, according to the release. Basic decontamination includes scrubbing and rinsing gear to remove any debris while still at the site.