ANACORTES — With headlamps glowing and rubber boots crunching across the beach, a group of four volunteers led by the state Department of Fish & Wildlife's Mariko Langness ventured in the darkness Monday night toward the Guemes Channel shoreline at N Avenue Park.
"Let's see what we've got," Langness said as they set out.
The group was retrieving a cage holding 100 native bay mussels that had been in the water since the last week of October. The cage was one of dozens put out in the fall in an ongoing effort to learn more about water contamination along the state's marine shorelines.
"There's literally no way this could get done without them (volunteers)," said Langness, a wildlife biologist and lead of the state's Mussel Watch program. "We have 89 sites and like four or five nights to do this at low tide."
Low tides this time of the year come at night, which is why groups such as the one that gathered Monday night at the end of Anacortes' N Avenue must be willing to venture into the dark. It's also the best time of the year to use mussels to soak up contamination.
"Late fall into winter is when we're most likely to have heavy stormwater outflow," Langness said.
It is well known that stormwater — the rainwater that flows from hard surfaces including rooftops and sidewalks, parking lots and roads — carries chemicals and metals into streams and eventually Puget Sound and the greater Salish Sea.
The Mussel Watch program seeks to document where there are hot spots for certain contaminants and whether efforts to reduce them work over time.
The cages of mussels placed in October and retrieved this week mark the third round of the Mussel Watch program that includes federal, state and local partners.
Four monitoring sites are in Skagit County — at N Avenue Park on the north end of Fidalgo Island, Tugboat Park on southwest Fidalgo Island, on the Swinomish Indian Tribal Community reservation across from Hope Island, and at Weaverling Spit in Fidalgo Bay.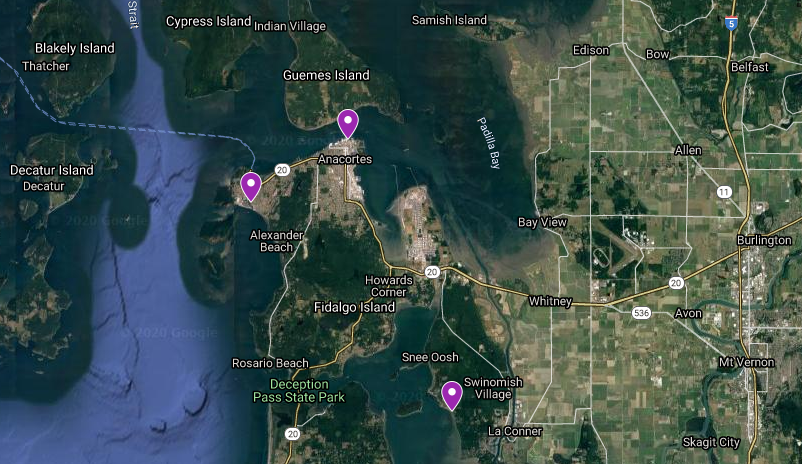 The state Department of Natural Resources leads the effort at the Weaverling Spit site with volunteers from the Fidalgo Bay Citizen Science Stewardship Committee. That committee helps with research pertinent to the Fidalgo Bay Aquatic Reserve, which is one of eight such reserves in the state.
"We're interested in tracking any contaminants that might be in the aquatic reserves," Natural Resources Aquatic Reserves Program Manager Roberta "Birdie" Davenport said of the value of the Mussel Watch program. "We can see if there are any hot spots now, or if it does look clean we can monitor it for changes."
Mussels are used for the monitoring because they are native to the region and they are filter feeders that as they comb food from the water they also lock up contaminants in their tissue.
The mussels come from Penn Cove Shellfish's Coupeville farm.
Langness said using farm-grown mussels helps ensure reliable data from the monitoring effort.
"We have a set exposure," she said. "We have clean mussels at the start and we can say 'After three months, they were exposed to this many chemicals.'"
Using farm-grown mussels was a change Fish & Wildlife made when it began piloting the Mussel Watch program in 2009 after a long-running National Oceanic and Atmospheric Administration program was discontinued.
From the 1980s to the early 2000s, NOAA monitored contamination in shellfish along the nation's coasts and the Great Lakes by retrieving wild mussels or oysters depending on the region.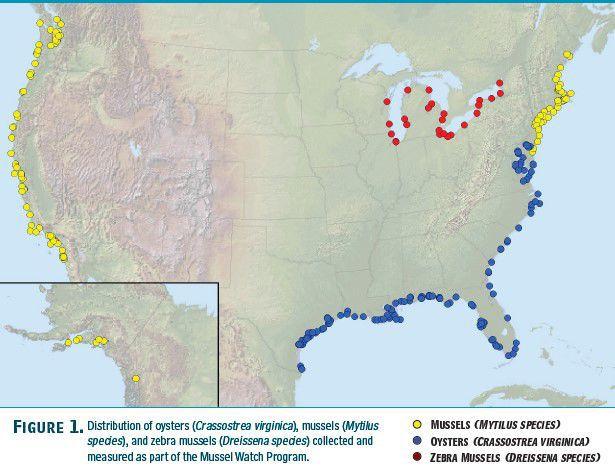 While the data over that time was collected differently, it highlighted which regions had the highest levels of contaminants.
One of those contaminants was polycyclic aromatic hydrocarbons (PAH), which come from a variety of sources including the incomplete combustion of organic materials, such as the burning of wood, coal and petroleum products such as in automobile exhaust.
In the Puget Sound region, those contaminants were found in significant amounts.
"The Puget Sound has PAH levels up there with areas on the Gulf Coast, like in Texas, and on the East Coast, like in the New York area," Langness said of findings published in 2008 before NOAA eliminated the program.
Fish & Wildlife and its partners are now conducting monitoring every other year to build a data set that will help them better understand why certain types of contamination are found in higher concentrations in certain areas.
The first year of monitoring — done fall-to-winter in 2015-16 — showed that marine waters along urban areas with more development and industry have higher concentrations of contamination.
"Areas that are highly urbanized tend to have higher contaminants, especially PAHs," Langness said. "They are higher in concentration, especially in Elliott Bay, Commencement Bay, even this area in Anacortes."
Elliott Bay hugs central Seattle and Commencement Bay hugs Tacoma — cities four to seven times the size of Anacortes and with about 13 to 43 times as many people, according to 2018 estimates from the U.S. Census Bureau.
"This area (around Anacortes) in particular has high PAHs, and that could have something to do with the level of industry around," Langness said.
The latest round of mussels, removed from cages and put on ice this week for delivery to Fish & Wildlife's research lab in Olympia, will provide another year of insight into what chemicals and metals are lurking in area waters.
"I'm so excited to see the results, what they tell us about contaminants here," volunteer Abby Weaver, an AmeriCorps staff member at the Skagit Land Trust, said as the mussels were loaded into a vehicle.