MOUNT VERNON — A new group, the Skagit Plastic Reduction and Recycling Coalition, is calling on the community to reduce the amount of plastic sent to landfills and winding up in oceans.
Two leaders of the group — Betty Carteret of Friends of Skagit Beaches and Callie Martin of the Skagit County Solid Waste Division — brought their mission before the Skagit County Board of Commissioners on Monday, coinciding with Earth Day.
As consumers in Skagit County and around the world discard items such as plastic water bottles, disposable utensils and food packaging, more of those materials wind up in the world's oceans, posing risks to marine life.
The National Oceanic and Atmospheric Administration estimates that in an area of the North Pacific, a garbage patch largely consisting of plastics covers about 617,000 square miles.
That's an area about 8.5 times the size of the state of Washington.
Martin said the bottom line for the group is to see less plastic used in Skagit County.
"What we're finding is often when we're doing beach cleanups here in Skagit County ... if you start digging around in the sand and under seaweed and stuff, you will find tons and tons of little bits of plastic," she said.
Carteret said NOAA estimates 8 million tons of plastic winds up in marine water every year. It's estimated that by 2050, there will be more plastic in the oceans than fish.
That happens, in part, because about one-fifth of disposable plastics used are recyclable.
The Skagit Plastic Reduction and Recycling Coalition formed in mid-2018 to share information about this growing problem with the Skagit County community, as well as encourage residents to make small changes in their daily lives that can help reduce the problem.
"I think it's something worth paying attention to and calling for action on in our county," Carteret said.
The group includes members from the nonprofit Friends of Skagit Beaches and volunteers, primarily from the Salish Sea Stewards program run by the Skagit Marine Resources Committee. The project is also supported by the Northwest Straits Foundation, state Department of Ecology and Anacortes Soroptimist.
Martin said the Skagit County Solid Waste Division recommends community members limit the use of disposable plastics such as bags, bottles, straws and food packaging.
"We need to find reusable options wherever we can," she said. "There is something we can do."
The group is highlighting four "simple swaps" it believes Skagit County residents can use to make a difference: reusable water bottles, coffee mugs, silverware and shopping bags.
Curbside pick-up in Skagit County collected by Waste Management can accept bottles, jugs, jars and tubs. Skagit County transfer stations accept only bottles and jugs.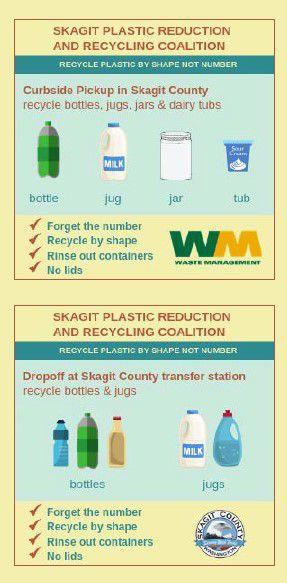 Martin said all of those items need to be cleaned and have the lids removed in order to be accepted.
Carteret said the group is gearing up to operate information booths at summer events.
The group has had a volunteer-run information booth at the Skagit Valley Food Co-op on Fridays through April to share this information and offer reusable bags to those who sign a pledge to reduce their use of disposable plastic items.
The booth will be at the co-op from 2 to 4 p.m. Friday.