When the next big earthquake hits the region, tsunami waves are expected to follow.
Emergency managers released Friday new "tsunami evacuation walk times" maps they hope will direct residents in tsunami inundation zones to safety.
The maps include gathering places, which are marked with an "A" for assembly sites, and arrows showing the best route to get to each. The maps also have color-coded sections of Anacortes and the Samish Flats to indicate how long it could take to safely walk to assembly sites.
The maps assume earthquake victims will have to seek high ground on foot due to damaged roads that will make it impossible to drive.
In Skagit County, the maps show areas in Anacortes will be inundated first, about 1.5 hours after an earthquake. It will take about 2.5 hours for tsunami waves to reach the Samish Flats.
While it will take a tsunami longer to reach the Samish Flats, those in the agricultural area southwest of where Samish Island Road and Bay View-Edison Road meet have the longest walking time to an assembly site, at about 70 minutes.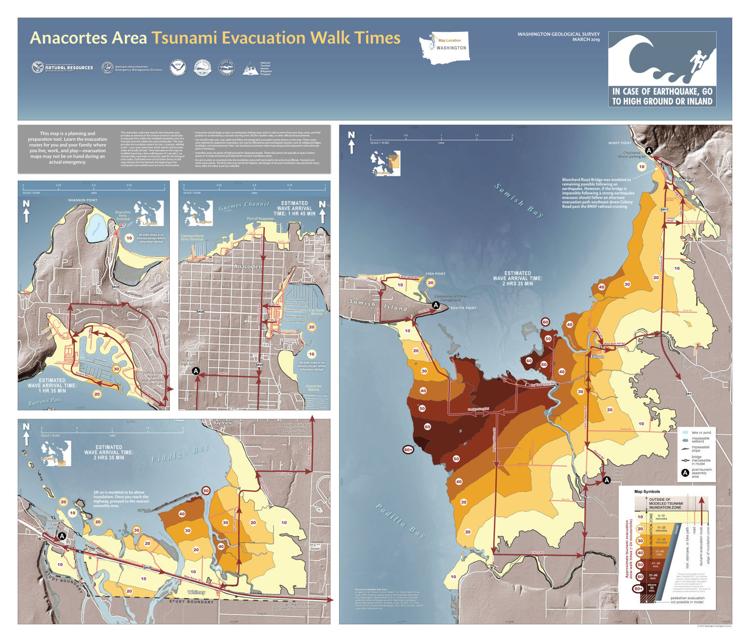 The assembly sites for the Samish Flats area are the Community of Christ campground on the east tip of Samish Island, the Edison Lutheran Church and the Chuckanut Manor parking lot.
In the Anacortes area, the high school, Swinomish Casino & Lodge, and the Anacortes Airport are designated assembly sites.
Additional assembly sites for Skagit County are designated at Skagit Regional Airport and Bay View Civic Hall.
Skagit County Department of Emergency Management Director Doug ten Hoopen said assembly sites are locations where people can meet with loved ones and get access to drinking water, blankets and medication. They are not shelters.
With the new evacuation maps now in hand, ten Hoopen said his department is working with the Anacortes and Skagit County public works departments to determine where to place the tsunami evacuation route signs. Signs will be posted in English and Spanish.
The Department of Emergency Management is also preparing to install three sirens as a tsunami warning system. The sirens will be placed at the Edison Fire Station, Anacortes Wastewater Treatment Plant and near Skyline Marina in Anacortes.
Two of the sirens, each of which can be heard over an estimated 1-mile radius depending on winds, are being put in Anacortes due to the dense population that would be impacted.
"That whole Skyline area is in the inundation zone," ten Hoopen said, adding that there are fewer, more spread out residents in the Samish Flats area and they will have more time to evacuate before a tsunami arrives.
The new maps build off maps released last summer, which showed potential inundation in the event of a tsunami related to a Cascadia subduction zone earthquake.
Those initial maps were aimed at highlighting the risk of tsunamis.
"People that live, work and play along the coast of Washington are at risk of tsunamis," Corina Forson, chief hazard geologist for the state Department of Natural Resources, said in a video about the new evacuation maps.
Natural Resources announced the publication of the evacuation maps April 5. They complement the inundation zones maps, breaking down where people in those zones should go and how long it might take to reach safe ground.
In the event that earthquake destruction has made it difficult to follow the suggested routes, Natural Resources tsunami scientist Daniel Eungard said evacuees should focus on getting to any "high and dry ground."
The estimated walking times depicted on the evacuation maps are based on the average adult's slow walk pace of 2.5 miles per hour.
The Department of Natural Resources is still mapping tsunami inundation zones and evacuation plans for other areas, ten Hoopen said, including the La Conner area.