At this time of year, the Samish watershed is typically under heightened scrutiny as the state conducts a special spring pollution evaluation.
But in the latest nod to improvements made in cleaning the watershed and as a step toward continuing that trend, the state Department of Health recently decided to end the March through June evaluations and instead do less intense, annual evaluations like it does for other watersheds with shellfish beds.
"What this does, it gives us an opportunity to look at the individual river rises, the individual confirmed closures ... and the opportunity to ask the question: Why did this river rise have such a high bacterial load?" said Scott Berbells, shellfish growing areas manager with the Department of Health.
He said the change will allow the state agency to home in on specific incidents of pollution and spend time looking for and fixing the sources throughout the year.
The pollution at issue in the watershed — which includes the Samish River, its tributaries and Samish Bay — is bacterial pollution associated with sewage and manure.
That pollution largely comes from failing septic systems and mismanaged livestock manure that gets funneled down the river and into the bay.
Significant pollution in the bay has often been related to high river flows, such as after storms with heavy rain. In the past, the majority of those rain-induced pollution events came during the spring. 
Berbells said that has changed significantly.
While 65 percent of pollution-related shellfish harvest closures in 2011 occurred March through June, 28 percent occurred during the same months in 2018.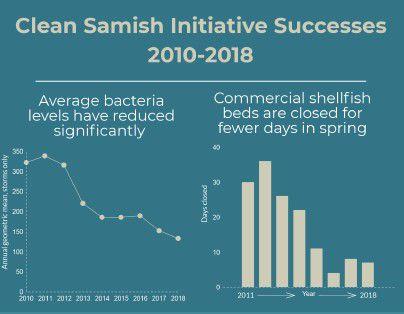 Though the watershed has never passed a spring evaluation and the bay doesn't yet qualify for a shellfish harvest upgrade that would reduce closures, there has been enough improvement in recent years that a special spring evaluation is no longer required. 
That means for now, Samish Bay — where companies including Taylor Shellfish Farms and Blau Oyster Co. operate — remain "conditionally approved." 
For the Samish, being conditionally approved means when the river reaches a certain flow, shellfish harvesting is closed as a precaution. If water samples show bacteria levels are below the state's threshold for safe shellfish harvest, the beds are reopened.
An upgrade to "approved" would mean shellfish harvest closures would only happen when bacteria is present. 
With the spring evaluations no longer in effect, the Samish will next be considered for an upgrade in January 2020 based on a review of river rises and pollution events throughout 2019. 
Skagit County Pollution Identification and Correction Coordinator Karen DuBose said the county agrees with the state's decision and will continue its own effort to find and fix sources of pollution. 
In recent years, the county has introduced a variety of new methods to locate problem areas, including using dye tests to determine whether septic system are functioning properly and using a specially trained dog to identify human sewage through parts of the watershed.
The county will continue to use those types of tactics, though now with an emphasis on understanding pollution events during the fall.
"We haven't seen the improvement in fall that we've seen in spring, and in fact it appears to have gotten just a little bit worse," DuBose said.
Berbells said in 2018, 28 percent of pollution events occurred in the four months from March through June and 32 percent in October and November.
However, he said that doesn't discount the overall progress made throughout the watershed.
"We've made some improvements throughout the year ... but that March through June period is showing more improvements," he said.