While 2020 might be remembered as the year of COVID-19, it also marked another grim milestone in Skagit County: the most drug overdose deaths in at least the past several years.
At least 40 people in Skagit County died of accidental drug overdoses in 2020, up from 18 in 2019, said Skagit County Coroner Hayley Thompson.
The number for 2020 may be higher as the county awaits test results on other potential victims.
"We shouldn't be seeing these numbers rise as they are," Thompson said. "It's so sad. Most of these people have had support systems, and families that care about them. This can affect anybody."
Increases in drug use and accidental overdose deaths are not limited to Skagit County. According to The Seattle Times, fatal drug overdoses throughout the state increased by more than 30% from 2019 to 2020, and gave the state its most overdose deaths in a decade.
In 2019, Thompson said, overdose deaths were on a downward trend in the county.
"Something in our community was working," she said.
While it is too early to determine how the pandemic — and resulting lockdowns, quarantining and reliance on telehealth — may have played a role in the increase in overdose deaths, it is a possible contributor, Thompson said.
Of the 40 people who are confirmed to have died of overdose, at least 26 died while using drugs alone, she said.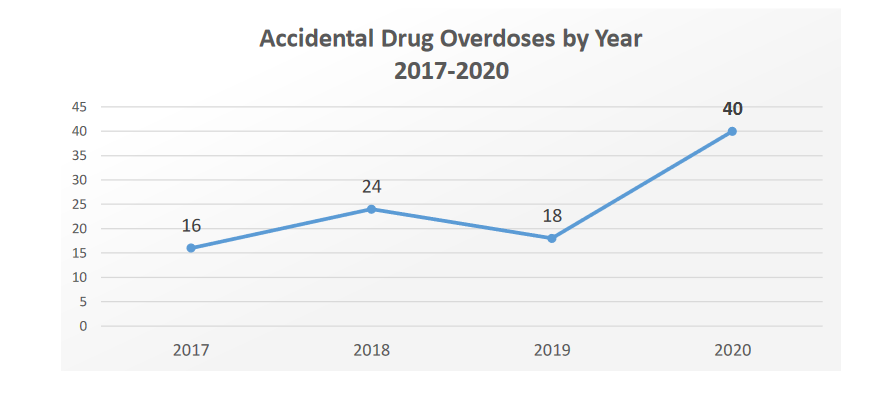 "You're a lot more likely to die from a drug overdose if you're alone because no one's there to rescue you," Thompson said.
In the past year, there has been a change in the drug supply coming into Skagit County.
While methamphetamine use remains high, an increasing danger is coming in the form of fentanyl, a synthetic opioid the Centers for Disease Control and Prevention says is 50 times more potent than heroin and 100 times more potent than morphine.
Of the 40 confirmed accidental overdose deaths, 12 were caused solely by methamphetamine, Thompson said. And 10 deaths involved a mixture of methamphetamine and other drugs such as heroin or fentanyl.
"In the illicit market, fentanyl is extremely easy to overdose on," said Skagit County Sheriff's Office Chief Criminal Deputy Tobin Meyer, who leads the county's drug task force. "Two or three, four grains of sand worth of fentanyl is fatal to a human adult."
Since its emergence in Skagit County, fentanyl has been found mostly in counterfeit Percocet pills.
According to Meyer, recent data from the U.S. Drug Enforcement Agency shows that more than one in four counterfeit pills contains a lethal dose of fentanyl.
"This stuff is scary," said Swinomish Police Chief Earl Cowan. "(The manufacturers) they're mixing it, they're not controlling it."
The tribe has seen a recent increase in the amount of fentanyl coming into its community, Cowan said in a community post.
As the supply of fentanyl increases and its price drops, it is more frequently being mixed with other drugs, sometimes without the user knowing, Meyer said.
In fact, most of the illicit drugs now coming into Skagit County likely contain some fentanyl, Meyer said.
"(People) don't even know what they're being exposed to," Cowan said. "That's scary. That's really, really scary to us."
Especially in a small community such as the Swinomish Tribal Community, the impacts of fentanyl can have far reaching effects, Cowan said.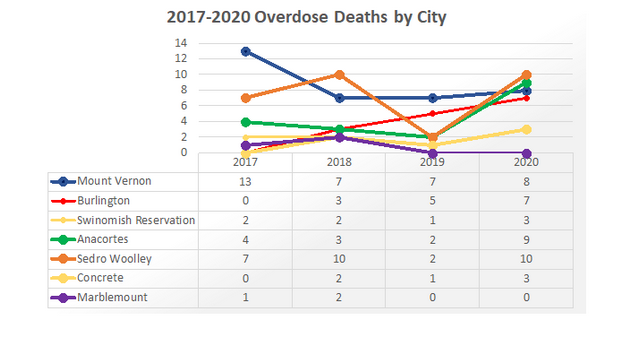 "(The dealers) really are using our people for their own profit," Cowan said. "They're just taking advantage of them."
Already in 2021, at least four overdose deaths countywide are suspected to involve fentanyl, Thompson said.
Nonfatal overdoses rose in 2020 as well, said McKinzie Gales with Skagit County Public Health.
Not including methamphetamine, 153 experienced opioid-related drug overdoses in 2020, Gales said. Already this year, that number has reached 26 confirmed cases, with half being related to fentanyl, she said.
The use of opioids is widespread, Gales said.
"One in three people knows someone who uses opioids," she said.
For some, their overdose was the result of just one exposure to illicit drugs, not a pattern of use, she said.
"It happens to people who aren't even technically in that addiction phase," Gales said. "It can happen just one time. What we do know is that if someone overdoses once, they're more at high risk of overdosing again."
Like Thompson, Gales said it is too early to know the full impacts the pandemic has had on the rise in overdoses, but that the increased stressors caused by the pandemic are likely to have had some influence.
In an effort to combat the dangerous drugs flowing into the community, the county's drug task force has been beefed up, tripling in size since 2018.
Instead of seeking to punish those using and selling small amounts of illicit drugs, the task force and other law enforcement are focusing on higher-level dealers.
"We're not out there for the users," Cowan said. "The users need help, they don't need jail. What our goal is, is to get the people who are preying on the people who are suffering from the addictions."
In order to do that, Cowan said law enforcement has to rely on members of their communities to look out for each other and provide information.
"People have to help us help them," he said.
Solving the larger problem will take more than law enforcement, officials say.
"As a community, we need to work more on saying, 'This is bad stuff. It's not something you should be trying,'" Thompson said.
The county is working to provide residents with information and resources to help protect themselves — or their loved ones — from experiencing an overdose, Gales said.
Those efforts include providing the potentially lifesaving naloxone and fentanyl test strips at no cost. Those can be picked up at county Public Health, 700 S. Second St., Room 301, Mount Vernon, or at a mobile needle exchange.
The county's efforts also include the posting of information about spotting the signs of use and abuse of drugs, about prevention and about treatment resources on the website skagitrising.org.
"We've done a lot of work in the community to address the opioid problem," Meyer said. "I think there's a lot of good work going on. But I think we can take it a step further. I think, at the individual level, if we see someone struggling with an addiction, we can be more proactive there to connect with that support service."