In the produce section of the grocery store, purple sprouting broccoli is likely to catch your attention.
The vegetable — only available in later winter and spring — has provided consumers with a burst of color for their salads and an exciting alternative to regular broccoli.
It is also a valuable source of late winter and early spring income for some Pacific Northwest farmers, including Francisco Cabrera.
Cabrera grows 1 acre of purple sprouting broccoli on the 10 acres he farms at Viva Farms, the small-farm incubator west of Burlington.
In two seasons of growing the crop, sales have been good, Cabrera said through an interpreter. So good he doubled the acreage this season.
"It's sustainable because everything sells," he said.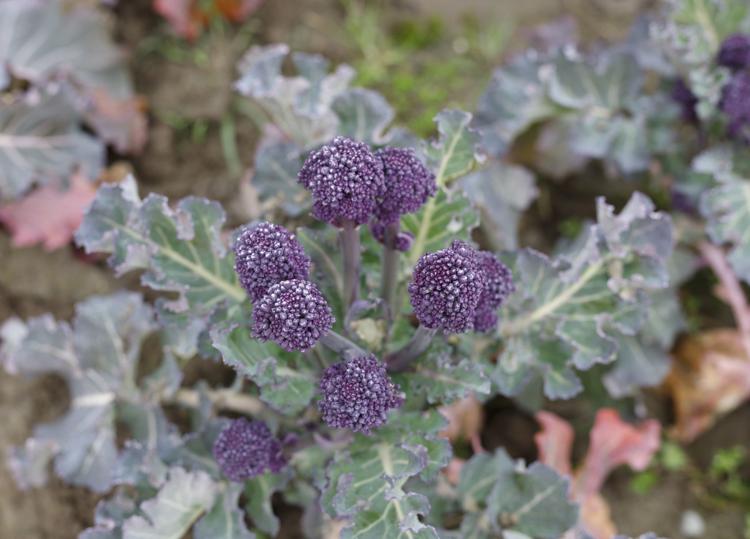 Cabrera said his other crops, including strawberries and many kinds of vegetables, are not ready for harvest until late spring and summer. 
"(Purple sprouting broccoli) gives us extra money in the winter to support us," he said.
Cabrera sells the product through a contract between Viva Farms and Organically Grown Company, a Portland-based wholesale distributor.
He grows three varieties of purple sprouting broccoli, which were specifically developed for Pacific Northwest growers.
The Organic Seed Alliance initiated the project in 2009 with funding from the Port Townsend Food Co-op to expand winter crops for farmers, said Micaela Colley, program director for Organic Seed Alliance, a Port Townsend-based nonprofit.
"Purple Sprouting Broccoli is an older European winter crop that used to be more prevalent in England in particular," Colley said in an email. "Organic Seed Alliance helped revive this crop in response to farmers and chef's desire for more local produce in the winter time as it is harvested March-April in the Pacific Northwest."
She said purple sprouting broccoli is different than other broccoli in that it is planted in the summer, grows through the winter and is harvested in late winter. She said the broccoli gets it color from genetics, and the cold weather brings out an antioxidant anthocyanin, which is also found in other purple-colored foods.
"Farmers can't plant other broccolis and achieve the same thing," Colley said.
Mike Neubeck, director of purchasing for Organically Grown Company, said the Portland-based wholesale distributor sells purple sprouting broccoli to grocery stores and restaurants around the Pacific Northwest and San Francisco Bay Area. 
"Purple sprouting broccoli increases in popularity and recognition each year," he said in an email.
When cooked, purple sprouting broccoli turns a deep green, and is mild and sweet with tender stems, according to Organic Seed Alliance. 
Cabrera said he experiments each year with new seeds and different ways of growing crops.
"Some farmers are really established and know which crops are profitable for them and can be stable," he said. "For me, I'm still experimenting and finding different crops until I find the balance that makes me a profit." 
He said after he leaves Viva Farms, he would like to have his own farm, of at least 20 acres, in Skagit County.