A new online resource aims to connect consumers to local agriculture through an interactive map.
The map shows residents of Skagit and Whatcom counties where nearby farms are located and what they offer. 
Launched last month, the "Eat Local First Food Atlas" is a tool created by nonprofit Sustainable Connections. 
Through the map, users can search farms by product or features such as U-pick options or whether they accept Supplemental Nutrition Assistance Program (SNAP) benefits. 
For example, a Skagit County resident hoping to find where to buy local dairy and eggs can select that category on the map to see several in-county options.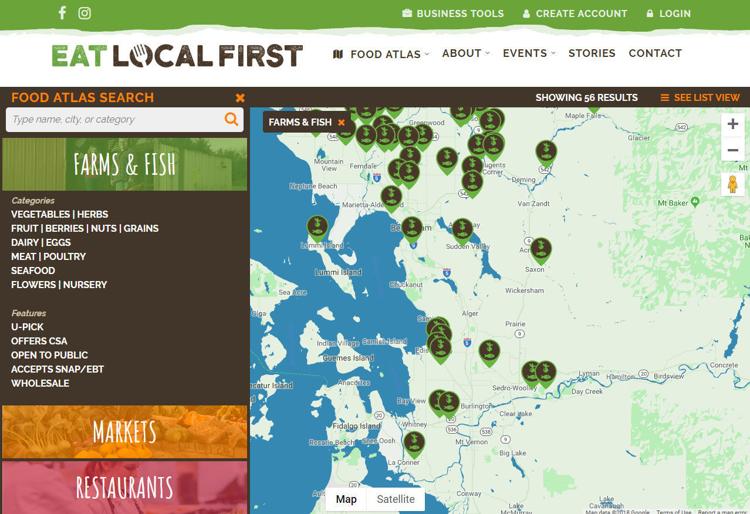 "People are looking for small farms," Sedro-Woolley farmer Matt Steinman said. "They want to meet the farmer. (The map) enables that to really happen." 
Steinman said the map allows customers looking for sustainable food to find his farm based on its practices. By looking at the map, a customer can see his chickens are pasture raised and that he uses regenerative soil techniques in his produce garden. 
"There's an incredible interest growing in sustainable agriculture, especially in big cities," he said. "Even more so than organic."
Being listed on the map also brings credibility to his practices, Steinman said. Sustainable Connections marks farms with "sustainability indicators" such as energy efficiency. 
Steinman said he believes the interactive, mobile-friendly map will appeal to younger generations. 
"It uses a medium they're really comfortable with," he said.
Amy Frye of Boldly Grown Farms said she's been surprised by how many customers find her farm online. 
The map will be a great tool to help her farm stand out for its winter produce boxes, Frye said. 
The map is intended to do more than connect consumers to local farms, said Sustainable Connections Food and Farming Director Sara Southerland.
Chefs, farmers markets, food banks, community gardens, commercial kitchens, training opportunities and more are included on the map. 
Using the map, a community member could find a restaurant that sources food locally or a business could find a marketing service. 
"It's about finding everything in one place," Southerland said.
Jessica Gigot of Harmony Fields in Bow said she hopes the map encourages consumers to visit the farm. 
"This is an easy way for producers to make their products visible in the region and attract new customers and welcome locals and visitors alike to on-farm opportunities and sales," she said.
Sustainable Connections started expanding into Skagit County from Whatcom County this year, Southerland said, so there are fewer Skagit County organizations on the map. 
"It's our goal to add as much in Skagit as we can over the next few years," she said. 
It is free for organizations to get listed on the map, but there are some criteria for those hoping to do so. 
Gigot said she plans to use the map to reach out to more chefs and sell more products.
"This is a great tool for us and we love the 'eat local first' mission and ongoing support of Sustainable Connections," she said. "This atlas represents the vibrant food community in our region."