After 20 years of dairy farming in Skagit County, Ralph de Vries retired and started a garden on his west Mount Vernon farm. In search of a new vegetable to grow, he went to a Seattle produce market for a suggestion.
Ray de Vries said his father, who died in 1993, took the suggestion and planted 1 acre. The crop grew so well the first season that his father was only able to fit four leeks in a 10-pound box, de Vries said.
The next time, the customer asked for smaller leeks.
"That was the start of Ralph's Greenhouse," de Vries said.
In 1988, when Ray de Vries started farming with his dad, they planted 3 acres of leeks, a milder cousin of the onion.
"As people recognized that there were leeks available, the market slowly grew," de Vries said.
Today, the 250-acre organic farm — which Ray runs with wife Becky de Vries — grows about 60 to 80 acres of leeks.
If you see leeks in the grocery store, they're likely from Ralph's Greenhouse.
The farm is the only commercial grower of leeks in Skagit County, and a primary grower of the vegetable in the Puget Sound region.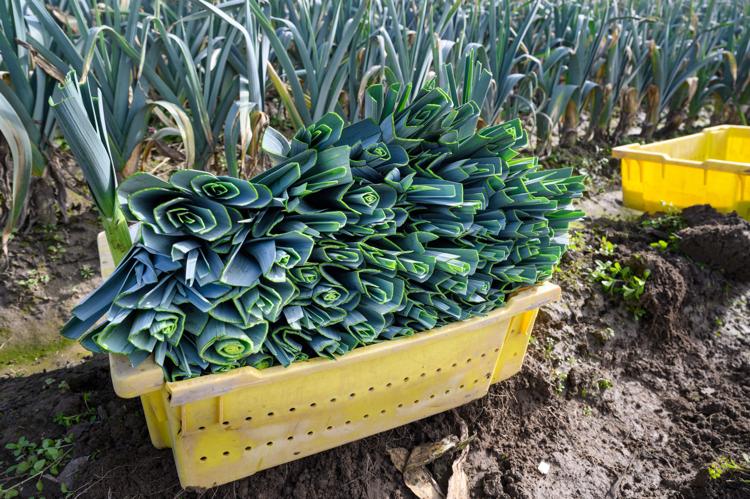 What can you make with leeks?
"Breakfast, lunch and dinner," de Vries said.
For breakfast — omelettes. For lunch — soups and salads. For dinner — steamed leeks with butter and Parmesan, stir fry and as a topping on pizzas.
The de Vries family immigrated to the United States from Friesland, Netherlands, in 1958 when Ray de Dvries was 5, and his father milked cows on a dairy farm in East Los Angeles. After two years, Ralph de Vries moved his family to Skagit County to start his own dairy farm.
"As kids, we were very glad to move," de Vries said. "It was just the wrong climate for people from a marine climate. The weather here in Skagit County is absolutely similar (to Netherlands.) Fir Island — that's exactly Friesland, (Netherlands)."
The maritime climate is ideal for cool-weather crops such as leeks, carrots, beets, parsnips, chard and kale — all grown at Ralph's Greenhouse.
De Vries said when his dad started growing leeks, few farms were doing it.
"They're a lot of work, they grow slow, but they'll over-winter," he said.
He said leeks take six to nine months to grow, and the farm harvests the crop 10 months of the year.
"There was a time in the 90s when we (supplied) a significant portion of the leek supply across the United States," de Vries said. "Simply because we have an ideal climate. We don't grow oranges or olives well, but leeks (grow well)."
De Vries said the farm's market area today is concentrated in the Western United States and Canada, and some product is sold on the East Coast.
'Organic works really well'
De Vries said when his father emigrated from the Netherlands, he brought his farming practices with him.
"We always farmed organic in Holland — that was called farming," he said.
Ralph's Greenhouse became certified organic in 1988, the same year the state Department of Agriculture started its organic program, according to the farm's website.
De Vries said for fertilizer, the farm uses manure, compost, and certified organic fertilizers. It also applies an insect-killing soap — certified for use in organic gardening — to deal with pests.
He said chemical pesticides can harm beneficial microbes in the soil.
"You've killed whatever bug you're trying to kill, but you've also killed all the beneficial bugs, and now you have to re-establish the beneficial bugs to make the whole system grow again," de Vries said.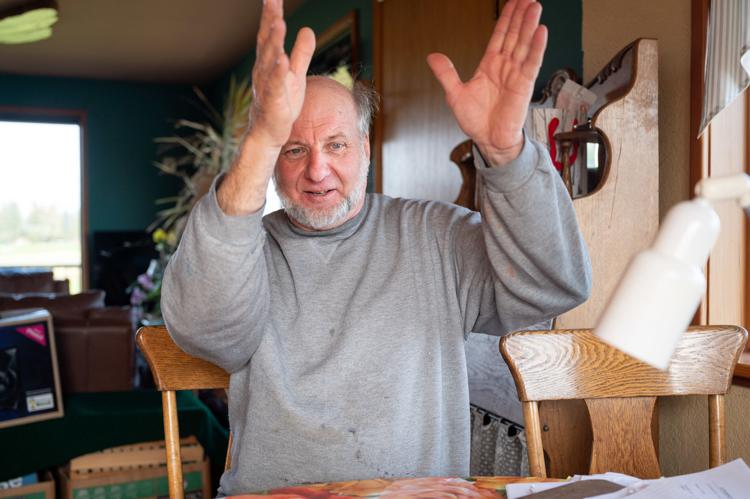 He said another benefit of organic farming is that the farm doesn't have to worry about workers being exposed to chemicals.
"Organic farming works really well," de Vries said. "You have healthy soil producing healthy crops, and a healthier farm for people to work on. It's a win-win."
The farm grows cover crops — such as grass and wheat to improve soil quality but not for harvest — to add organic nutrients back into the soil.
"A fallow (field) means you're letting your soil have a vacation to recoup and rejuvenate itself for next year's crop," de Vries said.
Cover crops also help hold nutrients that would otherwise be washed away by rain. 
"People need to know where their food comes from and how it is grown," de Vries said. "There are so few farmers left that it's kind of an oddity. People need to make the connection that you are what you eat. They need to know their farmers."