The slender green leaves of eelgrass that sway in the waters of Padilla, Samish and Skagit bays are widely recognized as key habitat for species including salmon, crab and great blue herons. 
Eelgrass meadows are also starting to be seen as sources of "blue carbon" — carbon found in plants and sediment in coastal habitats that if released as carbon dioxide could contribute to climate change.
An effort is underway to document how much blue carbon coastal habitats, including those along Skagit County's shoreline, are capable of holding. 
Understanding what's there and how fast it can accumulate is the first step toward encouraging preservation and restoration of coastal habitats to help limit the world's greenhouse gas emissions, according to scientists, government agencies and restoration advocates. 
"We're trying to reduce our greenhouse gas emissions generally across the world ... and how we manage forests, grasslands is an important part of our climate change mitigation strategy," Blue Carbon Initiative co-chair Steve Crooks said. "How we manage our coastal wetlands is also an important part of the equation."
The initiative is a group of scientists and policymakers from throughout the world who are evaluating the role of coastal areas in mitigating climate change. Its members include local scientists from the Padilla Bay National Estuarine Research Reserve and Western Washington University.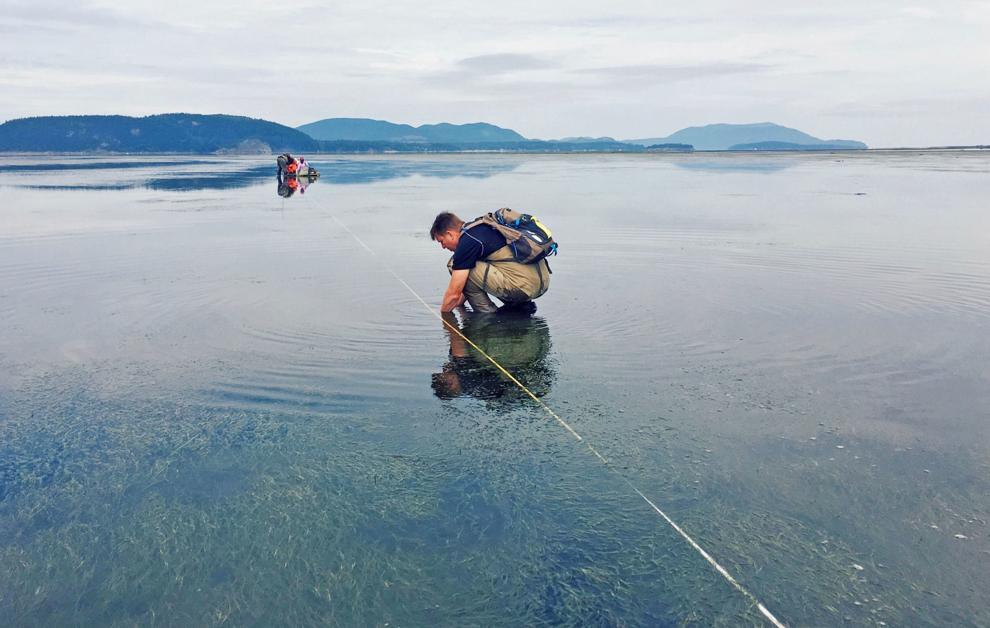 Two recent studies by researchers at Western Washington University evaluated the carbon content in eelgrass meadows in Skagit County.
One published in November in the research journal Northwest Science focused specifically on a portion of Padilla Bay, which is the site of the largest eelgrass meadow in the Salish Sea. That study was authored by Western Washington University research associate Katrina Poppe and professor John Rybczyk.
The other, a master's thesis completed by student Mira Lutz in August, examined Padilla, Samish and Skagit bays.
Both studies concluded that even healthy eelgrass meadows such as those found in Skagit County are less effective at holding carbon than other coastal habitats, such as salt marshes and those where tropical mangroves are found. 
Yet protecting what is held there could play an important role in limiting climate change, according to the researchers. 
Lutz's thesis estimates the local eelgrass meadows she evaluated hold the equivalent of about 1 million metric tons of carbon dioxide within the top 1.5 feet of sediment.
That's an amount similar to emissions from about 235,000 passenger cars a year, according to U.S. Environmental Protection Agency data.
The work being done by Lutz and others is leading to the belief that maintaining and adding to coastal habitats is important in the fight against climate change.
"In the race to lessen the damage of climate change, the nation's estuaries are a powerful ally," the National Oceanic and Atmospheric Administration's Office for Coastal Management wrote in a summary of blue carbon research including that done in Padilla Bay.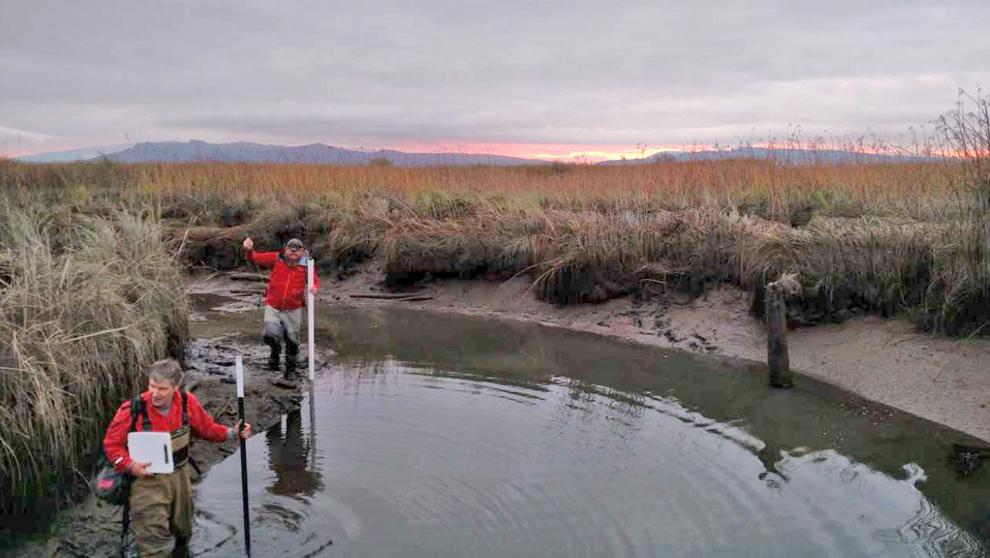 Coastal environments, including the eelgrass meadows in Padilla Bay and the salt marshes in the Skagit River delta, hold onto material that otherwise — through the decomposition process — would become carbon dioxide released into the atmosphere. 
"That was carbon dioxide at one time," Jude Apple, research coordinator at the Padilla Bay reserve, said while holding a piece of driftwood and describing how carbon dioxide becomes plant material through the process of photosynthesis. "It's remarkable really, that this wood was once air, and it will at some point become air again." 
It has long been understood that trees and other vegetation are composed of carbon in a solid form, and when burned or allowed to decompose, that carbon is released into the atmosphere as carbon dioxide. 
Over the past decade or so, scientists began noting that coastal areas rich with shrubs, sea grasses and beach sediment such as the mudflats of Padilla Bay can hold more carbon per acre than forests. 
"Acre for acre, coastal marshes, mangroves, and seagrass beds can absorb up to 50 times as much carbon as tropical rainforests," according to NOAA's Office for Coastal Management.
Coastal habitats are particularly good at holding onto carbon because plant material quickly gets buried in damp sediment where it can't easily break down or decompose. 
"That black, sticky mud — that's why marshes are so good at storing carbon," Apple said of the Padilla Bay mudflats.
Crooks said that project, in which Rybczyk and Poppe were involved, was the nation's first look at how much carbon is held in an entire estuary — where freshwater from a river meets saltwater — and how much carbon could be captured by restoring about 11,700 acres there that were previously drained and developed.
Restoring the entire area where the Snohomish River meets Puget Sound could capture about 9 million tons of carbon dioxide over 100 years, according to the resulting study that was published in 2014. That's the equivalent in greenhouse gas emissions of removing 1.7 million cars from the road for a year.
Rybczyk and Poppe's more recent analysis of the ability of Padilla Bay's eelgrass meadows to capture carbon was built on that earlier study and work by other researchers including Crooks.
Poppe said she was excited to help bring the study of blue carbon to the university and the region.
"It's a trendy subject and at the time there was no regional data in this area, so we thought it would be valuable to start exploring," she said.
Poppe worked closely with Lutz as well as formed connections with those studying blue carbon at the University of Washington and Simon Fraser University in British Columbia.
"There was like a cohort of graduate students that all did similar work at the same time," she said.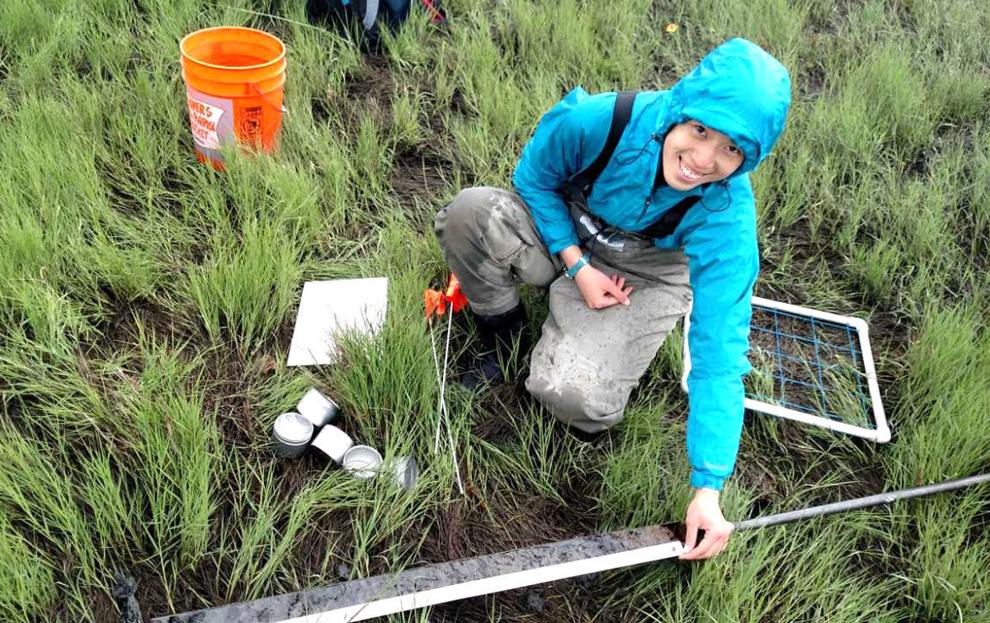 Until recently, most blue carbon research focused on tropical areas, with data from eelgrass meadows and other coastal habitats in the Salish Sea being scarce, according to Lutz's study, which was overseen by Apple and Rybczyk. 
"Results from this study are some of the first to report carbon sequestration rates across a variety of eelgrass ecosystems in the Salish Sea," Lutz said in her study of Padilla, Samish and Skagit bays.
Work to understand blue carbon in the Salish Sea and along the West Coast continues.
Rybczyk and Poppe are working to finish a study of blue carbon in the Stillaguamish River estuary near Stanwood. 
Meanwhile, two efforts involving the Padilla Bay reserve are also underway, according to the National Estuarine Research Reserve System Science Collaborative.
Apple said he is the research and technical lead for both.
A one-year project that was launched in September will evaluate blue carbon in three proposed restoration projects in the estuaries of the Skagit, Snohomish and Coos rivers, according to a project fact sheet. 
A three-year project that began in 2016 and is expected to be completed in October has a broader scope.
Apple said for that project, sediment samples are being analyzed from 33 sites in Washington, Oregon and northern California.
Of the nine sites in Washington, six are in Skagit County — two in Padilla Bay and four in the Skagit River estuary.
Apple said a scientist from Oregon State University who visited Skagit County to help with local blue carbon sampling was impressed with the salt marshes in the Skagit River delta.
"Our Skagit marshes are highly productive and we should be proud of them," he said.
Similar research is being done throughout the world including in Alaska, on the East Coast and Gulf Coast, and in Canada and Mexico, according to various project documents.
Crooks, who is based in San Francisco and is co-owner of the research consulting firm Silverstrum Climate Associates, said he has been involved in work for U.S. organizations, the World Bank and the Intergovernmental Panel on Climate Change to better understand how coastal areas can limit the impacts of climate change. 
He most recently had a study published Nov. 19 in the research journal Nature Climate Change about wetlands being included in the U.S. Greenhouse Gas Inventory for the first time in 2017.
Globally, researchers estimate the destruction of coastal wetlands, primarily for waterfront or industrial developments, releases 450 million tons of carbon dioxide each year. Crooks said that's equivalent to a year's worth of emissions in California or France. 
While stopping that destruction is primarily a concern in areas outside the United States, restoring previously developed areas is a priority here, particularly in the Pacific Northwest where salmon are concerned.
"The Pacific Northwest is already restoring these habitats for fisheries ... Can we do something about greenhouse gases at the same time?" Crooks said.
Work by Apple, Rybczyk, Poppe, Lutz and others will help guide continued blue carbon work in the region, particularly when it comes to how Skagit County's coastal areas can be used to help limit climate change. 
"We are interested in: If we have this information about greenhouse gases and carbon stocks, how can we start to intertwine this with land management strategies and restoration strategies?" Crooks said.