Skagit County added 1,000 jobs in March, its strongest month of jobs growth since June, according to a state employment report released Tuesday.
Anneliese Vance-Sherman, a regional labor economist for the state Employment Security Department (ESD), said spring typically brings an uptick in hiring, but countywide and statewide numbers show much more robust growth this year.
"We are opening up and sending kids back to school and we are able to get back into the workplace," she said.
COVID-19 vaccinations are also playing a role.
"As people are getting vaccinated, we're seeing the job market grow as people's confidence increases and perceived safety improves," Vance-Sherman said.
She said many are accustomed to living with the COVID-19 pandemic and have adopted new behaviors, such as mask-wearing.
"We have new habits and are navigating the world a little bit differently now than we were a year ago," she said.
Meanwhile, the county's unemployment rate fell to 7% in March, nearly reaching pre-COVID-19 levels, according to figures released Tuesday by the ESD.
County adds jobs, some industries may lag
Before the pandemic, the county had 51,700 payroll jobs across nonfarm industries in March 2020, according to ESD's employment data.
Following job losses last spring, the number of jobs fell to 45,100, a nearly 13% decline.
In her Northwest Washington jobs report for March, Vance-Sherman wrote most industries experienced COVID-19-related jobs losses over the past year.
She said while there was an "impressive" bounce back last summer, job growth plateaued in the fall and winter.
With indoor dining restrictions relaxed and schools bringing back more students to classrooms, the leisure and hospitality and government sectors saw the strongest growth in March, Vance-Sherman wrote in her report.
In March, the county's leisure and hospitality sector added 300 jobs and the government sector 300 jobs. The mining, logging and construction sector added 200 jobs.
Skagit County had 48,700 payroll jobs in March, still about 3,000 fewer than it had pre-pandemic.
Jobs recovery is uneven, depending on the industry.
Skagit County's manufacturing sector has been holding steady at 6,100 jobs since November, and had almost recovered to pre-pandemic levels last summer, according to ESD data.
John Sternlicht, CEO of the Economic Development Alliance of Skagit County (EDASC), said many manufacturers were able to adapt to pandemic safety requirements and some have grown.
Other industries have fared worse.
(The pandemic) has disproportionately affected folks in the service industry — retail, food and beverage," Sternlicht said.
The county's leisure and hospitality sector — which includes bars, restaurants, hotels and entertainment venues — reached a low of 3,600 jobs last April, according to ESD's employment data.
In March, the sector had climbed back up to 4,100 jobs, but has a long way to go to reach the 5,300 jobs it had during peak spring tourism season in April 2019.
Vance-Sherman said she expects there will be a lag in recovery of the leisure and hospitality sector. She said that is because businesses in that industry were hit hard and most directly by government mandates, and because the public considers them places of higher risk for COVID-19 exposure.
"There has been a substantial recovery when we go from April of last year to today, but clearly there is still a lot of jobs that need to fill that gap," she said.
Unemployment rate falls, while labor force shrinks
The county's unemployment rate dropped to 7% in March, nearly to the pre-pandemic level of 6.2% in March 2020, according to nonseasonally adjusted numbers released Tuesday by the ESD.
Statewide, the unemployment rate in March was 6.1%, according to nonseasonally adjusted figures.
The county's unemployment rate reached a high of about 19% last April following a cascade of job losses caused by the pandemic.
Sternlicht said while the county's falling unemployment rate shows signs of a return to normal, there are other factors to consider.
"A lot of people are not able to return to work because of health or child care concerns," he said.
Female workers may face additional challenges in returning to work, Sternlicht said.
"Unlike the Great Recession of 2008 which disproportionately affected male workers, especially those with limited skills, (the pandemic) has disproportionately impacted female workers, especially those with children," Sternlicht said.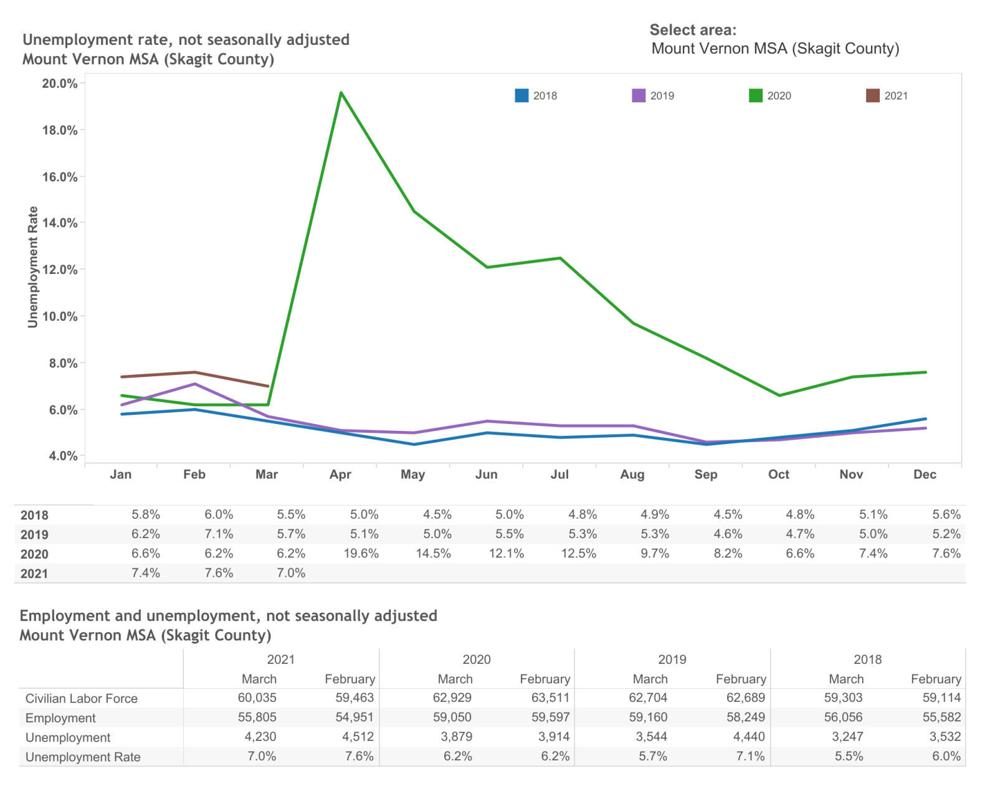 Vance-Sherman said challenges with online schooling, child care, and health concerns may have led some to leave the labor force.
Over the year, the county has lost about 2,900 members of its labor force, a decrease of about 5%, according to ESD figures. The labor force includes the employed and the unemployed searching for work.
As people do return to work, EDASC is looking for new ways to connect people with employment opportunities. Sternlicht said prior to the pandemic a big challenge for many companies was a shortage of skilled workers.
Tamsin Bell, EDASC's economic development manager, said EDASC is working to launch a job fair with at least 50 employers in partnership with four counties, and continues to work with local schools and colleges to train the future workforce.
In the next month, EDASC plans to launch a job board on its website that will be a one-stop shop for jobs postings in Skagit County.