Heat rarely seen in Northwest Washington and typically reserved for the summer months of July and August is headed to the area in the next several days. 
Temperatures are forecast to peak Monday, reaching into the 90s in some places, according to the National Weather Service's Seattle office.
As of Friday, the highs forecast for Monday afternoon are 86 degrees in the Mount Vernon area and 91 in the Concrete area. The overnight lows Monday to Tuesday are forecast to be about 60 to 65 degrees. 
Temperatures will heat up Sunday and remain warm Tuesday, according to the weather service. Monday, flagged as "very hot," may rival record days. 
The coming temperatures pose a "Moderate Heat Risk," according to a weather service briefing, and means people and pets should not be left in vehicles. 
"These temperatures may pose a moderate risk for those who are sensitive to heat, especially those without effective cooling or adequate hydration," the briefing states. 
That includes the elderly, children and those with certain medical conditions, particularly those living without access to air conditioning, as well as the homeless.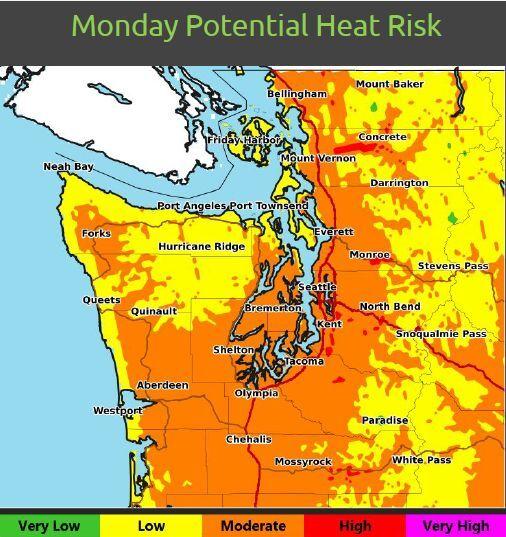 Seattle office meteorologist Mary Butwin said the record high temperature in June for Bellingham was 93 degrees on June 9, 1955. For Everett, it was 91 degrees on June 30 that same year. 
The average high temperatures logged during June in Northwest Washington are in the mid-60s, Butwin said.
High-temperature days in June are rare. Butwin said according to records that have been kept since 1948 for Everett and 1949 for Bellingham, days in June reaching above 85 degrees have occurred just 10 times in Everett and 20 times in Bellingham. 
Those high temperatures are more common in July and August. Both cities last reached 90 degrees or higher on Aug. 16, 2020. Butwin said Bellingham reached 90 degrees that day, and Everett reached 100. 
Already this year, about 92% of the state is experiencing various levels of drought, from abnormally dry to extreme drought conditions, according to the U.S. Drought Monitor.
In May, the state Department of Ecology issued a drought advisory for most of the state, excluding all of Skagit, eight surrounding counties and parts of two additional counties clustered around Puget Sound. 
Water supplies in snowpack-rich Western Washington remain in good shape, according to Ecology. 
According to the Drought Monitor, the western half of Skagit County is considered abnormally dry for this time of year. Conditions became abnormally dry locally in mid-April.