The state Department of Ecology is refocusing on a water quality problem in the Skagit River watershed that's gotten little attention over the past decade.
The problem has to do with high water temperatures during the summer in some tributaries to the river in the lower watershed, from Hansen Creek in the Sedro-Woolley area to Fisher Creek south of Mount Vernon.
Sections of those and six other tributaries to the lower Skagit River were listed in 1998 under the federal Clean Water Act as having impaired water quality due to the high temperatures — an issue of particular concern for the region's salmon, which need cold water.
A July 2008 report from Ecology set the goal of planting trees along the banks of the eight creeks as well as a ninth in the area by 2020 in order to bring water temperatures to acceptable levels by 2080.
"That is not going to be completed unless there is about to be a massive tree planting," Ecology water quality program specialist Scott Bohling said Nov. 20 while briefing Skagit Watershed Council members on the issue and the agency's next steps.
That's because by 2009 momentum toward the goal was lost. Ecology didn't get funding to pay for an employee dedicated to fulfilling the plan, and local attention was diverted to bacterial pollution concerns affecting shellfish farms in the Samish River watershed.
With progress having been made to clean up the Samish and the now-unattainable 2020 deadline fast approaching, Ecology has recommitted to addressing the temperature problem in the nine creeks in the lower Skagit River watershed.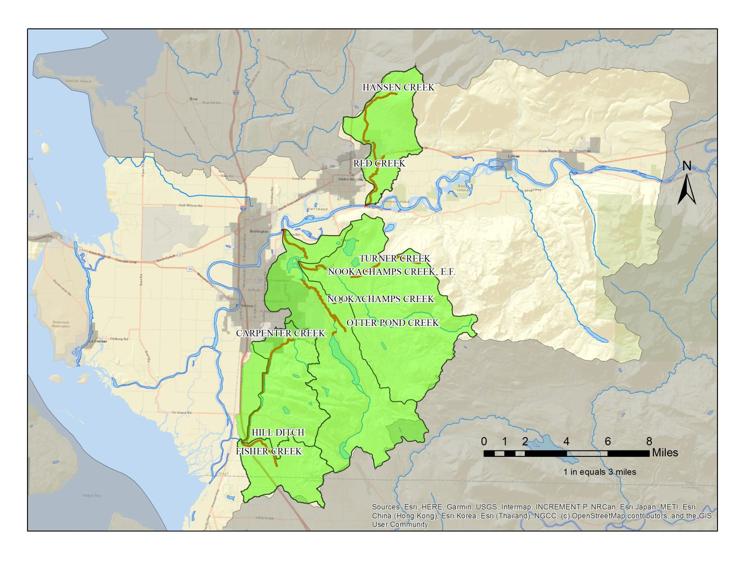 TOO HOT FOR FISH
The creeks of concern — Hansen, Red, Turner, Nookachamps, East Fork Nookachamps, Lake, Otter Pond, Carpenter and Fisher — are part of the migration corridor between the upper reaches of the Skagit River watershed and the saltwater where salmon and steelhead spend part of their lives. The creeks are also considered core summer habitat.
The water in those creeks is considered too hot when it reaches about 60 degrees, according to state and county documents.
In creeks used by Skagit River steelhead during spawning season — from about mid-February to mid-June — that threshold is lowered further, to about 55 degrees.
Skagit County data shows four of the creeks consistently exceed the 60-degree mark during the summer, according to an annual county water quality report. Those are Nookachamps, East Fork Nookachamps, Hansen and Lake creeks.
The Nookachamps reached the highest temperature recorded in the past five years, at about 77 degrees in 2014. That temperature can be fatal to salmon, according to Ecology.
Fisher Creek has reached between 56 and 60 degrees each of the past five years.
Swinomish Environmental Policy Director Amy Trainer said it's past time to cool the water.
"Salmon need cold, clean water to spawn and to feed and to have enough oxygen," she said.
Puget Sound Partnership Leadership Council Chair Jay Manning told the Skagit Valley Herald in June that the high temperatures need to be addressed because of the Skagit River's importance to the region's salmon and the importance of chinook salmon to endangered Southern Resident orca whales.
On March 13, the leadership council passed a resolution asking Ecology to form a plan and take action to reduce water temperatures.
The council is encouraging tree planting and other measures that could help cool waters.
"What you want are big trees on the banks of the river to provide shade, and that takes time to grow a big tree," Manning said. "This isn't going to happen overnight, but there are some things we can do while we wait."
A potential option discussed Nov. 20 by the Skagit Watershed Council is to create cold water refuges for fish by cordoning off cooler segments of creeks to prevent the cooler water from mixing with warmer water.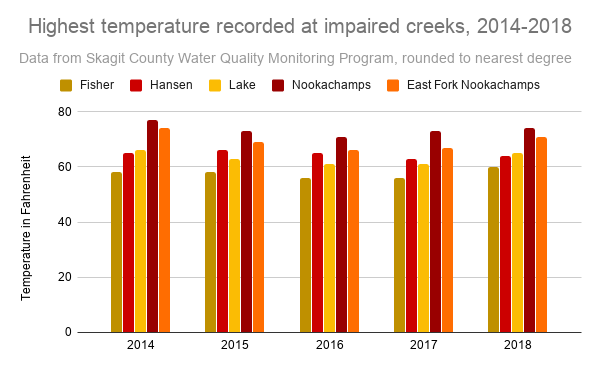 RENEWED ATTENTION
Bohling said relaunching this effort began in response to correspondence from the Swinomish Indian Tribal Community that sounded the alarm on the 2020 and 2080 goals not being met.
"The simple fact is that Ecology's voluntary approach to address temperature ... for the past decade has failed," a June 26, 2018, letter from Swinomish Chairman Brian Cladoosby states. "We therefore request that the state use its regulatory authority to address this dire situation now before more harm comes to wild salmon stocks."
Trainer said it's not the first time the tribe has taken a stand on water temperatures, which affect salmon that the region's treaty tribes have the right to harvest. The Swinomish, along with other treaty tribes in the region, initiated the original effort, too.
"Swinomish is saying: 'You guys really need to get this done,'" Trainer said of letters sent in 2018 and 2019 that prompted Ecology's renewed effort. "Our fish are already way too hot ... Our salmon are in crisis, and climate change is bearing down and only going to make things worse."
Ecology has relied on voluntary restoration work through large projects led by nonprofits and tribal groups, and small projects by private landowners with support from Skagit County and the Skagit Conservation District.
Ecology is now coordinating discussions with groups in Skagit County — including county government, and conservation and agricultural representatives — about how to speed up the progress.
Bohling said Ecology and local leaders still hope restoration can be achieved on a voluntary basis. But Ecology is researching steps it could take to enforce water temperature regulations if that doesn't happen.
Trainer said the tribe is asking Ecology and other state and county-level organizations to prioritize funding for planting trees along the affected creeks, and for landowners to be given a deadline for enrolling in programs that use that funding.
"We've had laws that have just gone without accountability for two decades," she said.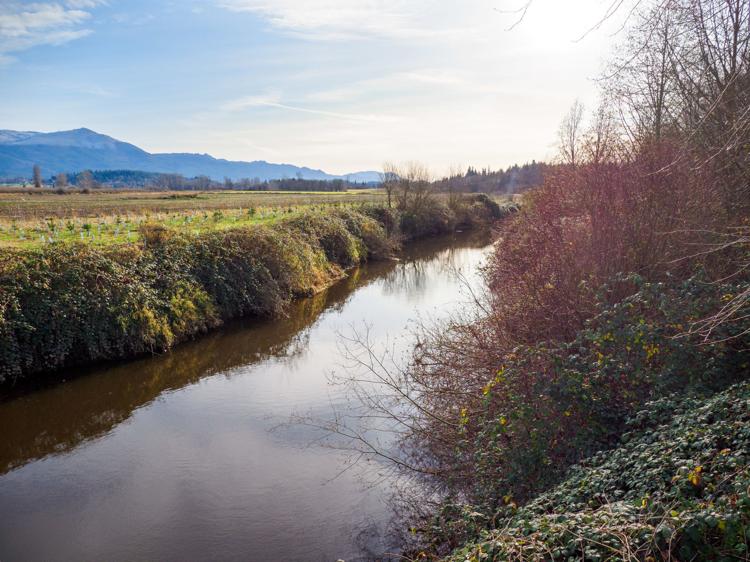 MORE WORK NEEDED
Ecology is working to compile data about water temperatures in Hansen, Nookachamps, Fisher creeks and other affected tributaries, and to make it accessible through web platforms, Bohling said.
Those online resources could also highlight progress made toward restoration.
"There have been some awesome and amazing restoration projects that have been done," Bohling said, highlighting work on Hansen Creek, where about $13 million has been or is being invested in restoration work including planting trees.
"In Hansen Creek there's been a lot of planting going on over the last 10 years or more ... and collectively we're making great progress," Skagit Watershed Council Executive Director Richard Brocksmith said. "But this is much bigger than Hansen Creek."
Of the eight other creeks requiring attention, East Fork Nookachamps and Fisher creeks have seen temperatures increase since 2004, according to Skagit County data. Also according to Skagit County, many other salmon-bearing streams in the county exceed water quality standards for temperature.
Trainer said while some progress has been made, particularly in Hansen Creek, it hasn't been enough.
"At the rate we're going, it would take another five to six decades just to get the trees planted," she said. "We don't have another 20 or more years."