SAMISH RIVER — Under gray skies and framed by hills adorned in fall foliage, a group spent Thursday unrolling rafts of vegetation much like one might unroll a new lawn.
The rafts, which were made of grasses native to area wetlands and stitched together with rope made of coconut fibers, were hauled through knee- to waist-deep water and put down with a splash in the upper Samish River watershed.
The goal of the work: To provide habitat for a rare frog species few know is found here, and fewer are working to document and restore.
"It's a very exciting and explosive discovery, and efforts are now to restore the Oregon spotted frog in the Samish," said Teal Waterstrat, Oregon spotted frog recovery coordinator for the U.S. Fish & Wildlife Service.
These new swaths of habitat are meant to give the imperiled frog more space to breed in wetlands connected to the headwaters of the Samish River.
A stretch of the Samish watershed from northern Skagit County — where this project is taking place — up into Whatcom County is one of few areas where the frogs are known to remain in what was once a vast habitat range from southern British Columbia to northern California.
The species has been listed as endangered by Washington state since 1997 and as threatened by the federal government since 2014.
State and federal wildlife agencies cite habitat loss from the draining and development of wetlands throughout the 1900s as the primary cause of the frog's decline.
Now it is threatened by climate change and the invasive plants that dominate many remaining wetlands.
"They are vulnerable to many different things," said Lisa Hallock, a state Department of Fish & Wildlife biologist who studies reptiles and amphibians.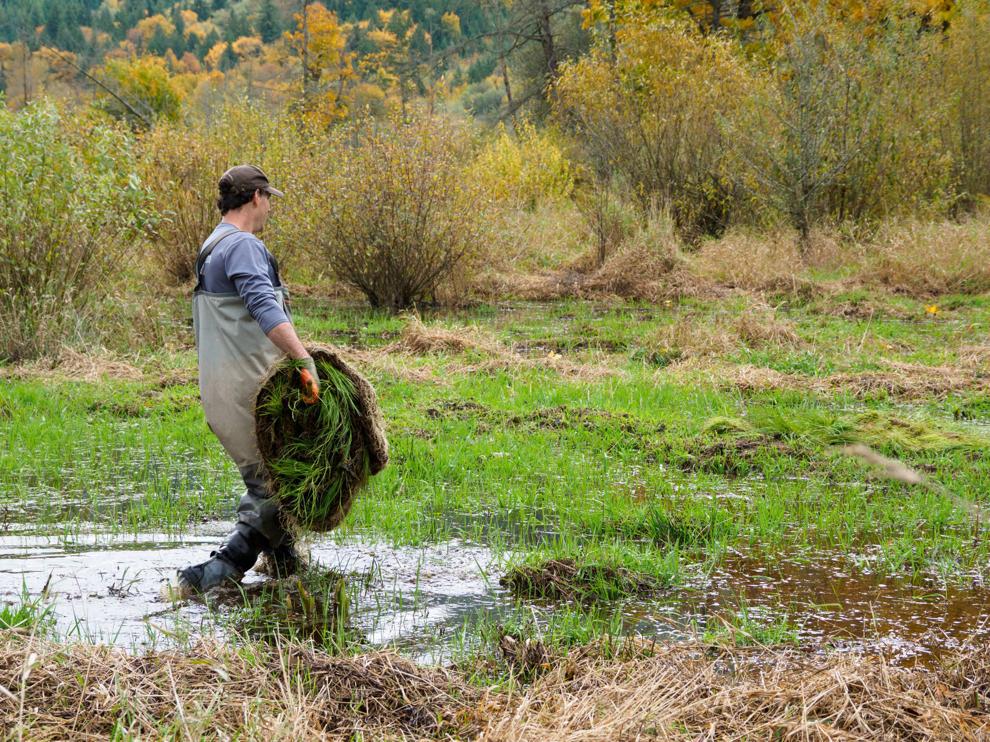 A section of the upper Samish watershed offers a glimmer of hope.
That the frog lives here came to light in 2011 during surveys for the species in remaining area wetlands.
"Whatcom, Skagit counties are new to the Oregon spotted frog," said Waterstrat. "They were just recently discovered in this part of the world, in the Samish."
Since 2011, federal, state, tribal, nonprofit and volunteer partners have been monitoring populations of the frog in Skagit and Whatcom county portions of the Samish watershed, and more recently have tried habitat improvement projects to give the species a boost.
The Oregon spotted frog is described by wildlife agencies as olive greenish-brown with irregular black speckles and often a brick red underbelly. The body of an adult frog ranges from 2 to 4 inches long.
The U.S. Fish & Wildlife Service estimates the species is now missing from at least 78% of its West Coast range.
It is believed to have once occupied areas throughout the Puget Sound and the Columbia River Basin, but is now only found in six watersheds in the state.
"In the Skagit Valley, the frogs used to be in Mount Vernon and Concrete and lower parts of the Skagit where the river has been diked and totally changed the habitat of those areas," said Stephen Nyman, who is studying the frogs in Whatcom County. "Now there are no known places (with Oregon spotted frogs) in the Skagit Valley itself."
Evidence that the frog lived along the Skagit River was found in museum specimens collected in the 1930s, according to the state's draft recovery plan for the species.
The most recent population estimate for the frog in Washington was about 7,400 in 2012, according to that plan. One-sixth of those were in the Samish watershed.
Population estimates are based each year on jelly-like blobs called egg masses, which each hold about 500 eggs that could become tadpoles.
Samish Indian Nation Natural Resources Director Todd Woodard said at the project site Thursday that about 100 egg masses have been documented during surveys the past three years. That's a resurgence following a decrease after the 2011 discovery of the frogs.
"They disappeared for a while, but they're starting to show back up," said Casey Palmer-McGee, of the Samish tribe's Natural Resources Department. "It's really exciting."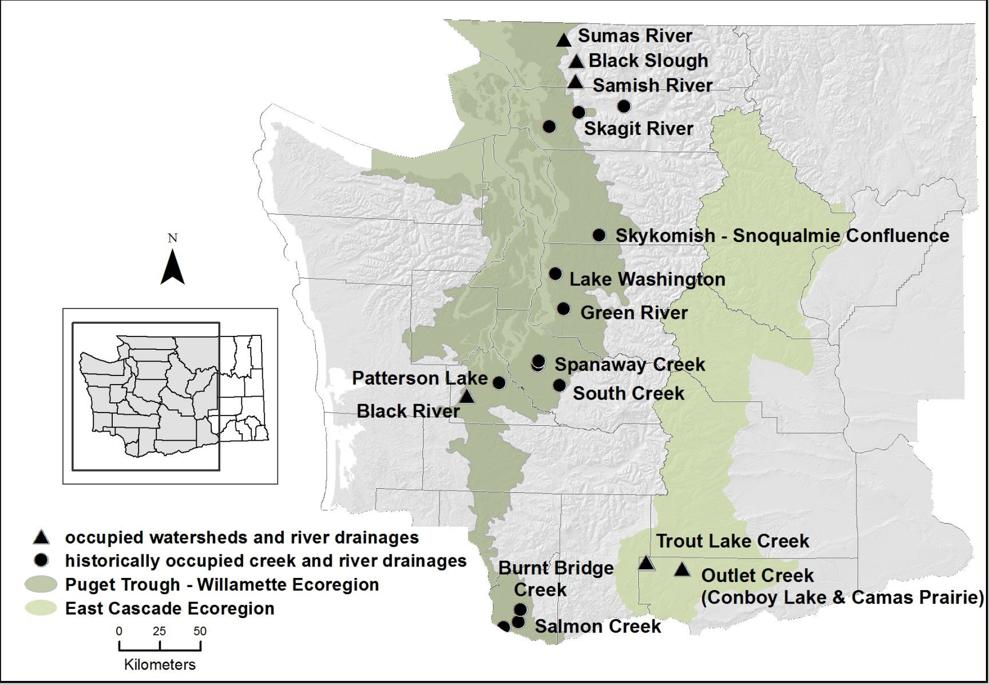 The project underway north of Sedro-Woolley is being led by the Samish tribe on property owned by a tribal member.
A challenge in documenting and aiding in the recovery of the frog is that most of its current and historic habitat is on private property.
Callie Moore of the state Department of Fish & Wildlife's La Conner office said the agency relies on property owners allowing access to their land if they find frogs living there.
With approval from the Samish tribal member, 50 100-pound rolls of vegetation were laid out to create habitat better suited to the frog than the surrounding areas that are overrun by invasive reed canary grass.
The Samish River headwaters is a key area to do this type of work, with a portion of it listed in 2016 by the U.S. Fish & Wildlife Service as critical habitat for the species.
Invasive reed canary grass is a main concern here.
"It's difficult for frogs to get through it — and frog biologists," Waterstrat said.
He showed that underneath patches of the invasive grass, clumps of the plant build up as the grass dies, creating a thick web of debris in the water.
"Beneath the reed canary grass you'll find dead reed canary grass, and under that you'll find more dead reed canary grass," he said while pulling chunks of it from the mud. "This just overruns wetlands."
That thick material can take up habitat that could be used by the frogs and other critters that swim. It also blocks the frogs from accessing adjacent open pools.
"They get a little lost in the jungle out there," Waterstrat said.
Able to grow about 6 feet tall, the invasive grass also casts shade over sunny spots the frogs need to lay their eggs, Hallock said.
The hope is that when the mats of native grasses are placed they will block the reed canary grass from regrowing.
The method has met with some success in Thurston County, Waterstrat said.
A similar project is also being done in Whatcom County, where the Whatcom Land Trust is allowing Whatcom County Amphibian Monitoring Project volunteers led by Nyman to study the species at the Samish River Preserve south of Acme.
Nyman's group planted native plants at that property in August and September, but not in pre-grown mats as were unrolled Thursday.
"What we're doing is similar, but we're not doing it on as large a scale or using the same techniques," Nyman said.
He said it's exciting to see other groups undertaking habitat projects downstream in Skagit County.
"It's great to see that they're doing that and I'm really anxious to see what kind of results they get," Nyman said.
They're all hoping it's not too late to save the species.
"We're excited about the work that's happening," Hallock said. "More partners is better when you're trying to recover a species."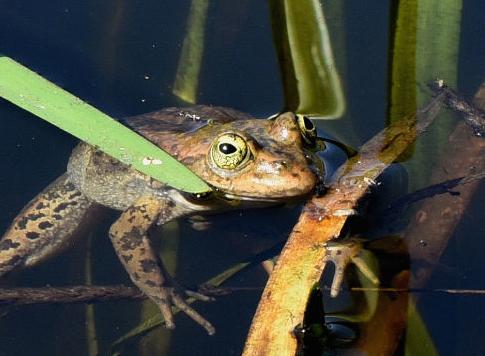 Nyman said even with good habitat, a fraction of the hundreds of eggs per egg mass actually live to become adult frogs.
Slight changes in water levels can threaten their survival and many other creatures view them as food.
"Great blue herons eat them, garter snakes ... They've got a perilous life," Nyman said.
According to wildlife agencies, everything from fish and other frogs to bald eagles and river otters will also eat the frog.
The species is vulnerable to climate change as well because it relies on access to various depths of water.
"Potential warmer and drier conditions could lead to alterations in or disappearance of shallow ponds and changes in vegetation, which could impact breeding and tadpole survival," a 2015 State Wildlife Action Plan states.
In the Samish River Preserve, Nyman's group observed in 2015 what may become the new norm in the watershed as the global climate warms. That year, low winter snowpack and hot summer months made for a marked difference in the amount of water on the property.
That had a big impact on frog survival, wiping out the year's young.
"Eggs hatched successfully, but tadpoles didn't make it because they need about four months of aquatic habitat ... If it dries out for even a day, they're doing to die," Nyman said.
Nyman said the monitoring group has seen fewer egg masses in subsequent years. The lowest count came in 2019, with about 140 egg masses compared to a high of about 360 in 2014.
Teal said a similar downward trend has been noted throughout the state since 2015.
"That's why this work is a really important opportunity for us," he said.
The site of the Skagit County restoration work is not immune to the impacts of climate change, but in recent years the area has shown more resilience during drought years than other parts of the upper Samish watershed.
"Even in the last three hottest, driest summers we've had, there has been standing water here," Woodard said.
For the Samish tribe, conserving the species is another step toward preserving its culture, as well as continuing to restore the Samish River ecosystem that is also important for species such as salmon and, further downstream, shellfish.
The state has also said restoring the species is important for the ecosystem.
"Oregon spotted frog populations are an important link in a complex food web," a Fish & Wildlife document states. "It is critical to engage in recovery efforts to save this important member of the Pacific Northwest's aquatic ecosystem."