PADILLA BAY — While most outdoor volunteer opportunities aren't an option this summer because of COVID-19, a program called iNaturalist offers a digital way to contribute to local data collection.
The nonprofit RE Sources for Sustainable Communities is encouraging residents of Skagit and Whatcom counties to use iNaturalist — available as an app for mobile phones and as a website for computers — to document wildlife and plants on area beaches this summer.
"The reason we're doing this is because we haven't been able to do a lot of surveys (with volunteers) this year," RE Sources Americorps Aquatic Reserves Monitoring & Stewardship Coordinator Heather Conkerton said while carefully choosing each muddy step into Padilla Bay at low tide.
She and Whatcom County Marine Resources Committee intern Kaylene Riehle made their way across the limp eelgrass meadow Tuesday morning in search of critters they could post as examples to the "Skagit Marine Shoreline Summer Observation Project" page on iNaturalist.
"We figure people are going to be at the beach anyway, so if we can get them to contribute to science and learning, that's great," Conkerton said.
RE Sources is leading the iNaturalist project in partnership with the state aquatic reserves — one of which is Fidalgo Bay — managed by the Department of Natural Resources, Americorps and the Washington Conservation Corps. Each organization is usually active with volunteer events during the summer.
"A lot of our activities are curbed," Conkerton said.
Intertidal monitoring — an examination of marine life left on the beach when the tide is out and/or of what is swimming in the shallows — was among the activities canceled this year.
"This project was just a way to get people actively engaged and out there and hopefully interested in intertidal monitoring as a volunteer in the future," Conkerton said.
As of Wednesday morning, seven members had joined the Skagit project and logged 22 observations, from a bald eagle at Samish Island to a Western tiger swallowtail in Anacortes.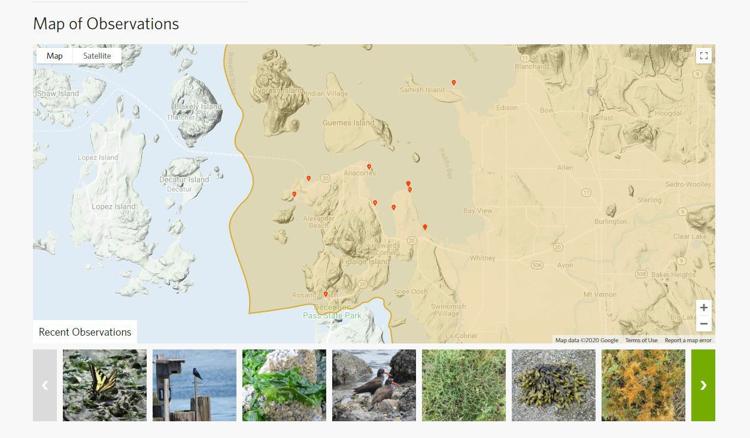 Anyone can join the project to upload photos and chime in on submissions from others, to help identify the species of plant or animal pictured.
RE Sources and the state aquatic reserves are seeking data from local, public beaches now into September.
Within the public beaches of the Padilla Bay National Estuarine Research Reserve and neighboring Bay View State Park, Conkerton and Riehle found an abundance of nonnative snails, native shore crabs, and the occasional tiny fish or wriggly marine worm.
While the two are well versed in crab identification — most of those found at Padilla Bay were hairy shore crabs — they were less confident in identifying the species of worms they photographed.
"Let's see what the iNaturalist world thinks of it," Riehle said of a photo she planned to upload.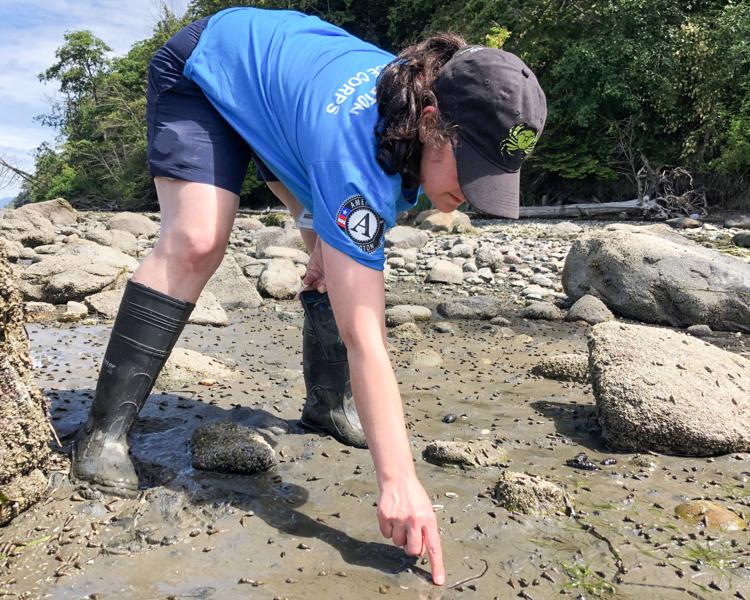 The iNaturalist platform is a joint initiative by the National Geographic Society and the California Academy of Sciences. According to the website, it connects millions of members of the public and the scientific community, and the data gathered can be used for research.
To see local marine life, it's best to plan beach visits during low tide. NOAA offers tide charts online.
To help identify marine life, RE Sources offers links to various field guides on its website.
The organization asks iNaturalist participants to be mindful of marine life while observing. That means watching where you step, picking up critters gently with wet hands, putting critters back where they were found, and replacing any rocks overturned during the search for wildlife.
"If you take it off and leave it, that's making all the critters free food for the birds. And if not eaten, they'll dry out and die," Riehle said of the importance of replacing rocks.