ANACORTES — From the Siberian tundra in Russia to islands in the Salish Sea, two indigenous communities have found they share a deep relationship with nature and a desire to preserve their traditions.
Although rooted in vastly different terrain thousands of miles apart, similarities between the groups were revealed through a cultural exchange the Samish Indian Nation began this year with the Nenets, an indigenous community from the Russian Arctic.
"There are a lot more similarities than differences, and the big differences are the environment you live in and the resources that you use," Samish tribal member Kelly Hall said. "But by and large, we often have the same obstacles."
Through a U.S.-Russia Peer-to-Peer Dialogue Program grant from the U.S. Embassy & Consulates in Russia, the Samish and Nenets were able to visit each other's traditional lands this year, sharing stories, songs, foods and details of their cultures.
Organizers said the goal of the exchange program is to give indigenous communities ideas for how to preserve their culture, protect their natural resources and develop economies to keep them afloat.
"My personal hope is that this grows into something very long-lasting and that we can try to join with other indigenous nations in the Arctic and elsewhere to raise a common voice about climate change and how it is impacting these cultures," said Samish Indian Nation Natural Resources Director Todd Woodard, who secured the grant on behalf of the Samish.
In addition to concerns about climate change, the Samish and Nenets found they also have similar ideas of hospitality, group labor methods, songs and stories, cultural celebrations and relationships with their traditional lands.
Three members of the Samish Indian Nation traveled to northern Russia this spring, spending early April primarily in the city of Naryan-Mar within the Nenets Autonomous Ortug region, which is northeast of Moscow and St. Petersburg.
Outside of the city, many Nenets live as nomads herding reindeer in the tundra. There, they live in teepee-like homes called chums (pronounced choo-ms).
Two Nenets born into reindeer herding families recently visited Anacortes to see how the Samish live.
"On the first day it was very interesting just to learn about Samish culture," Yulia Taleeva said through interpreter Mariana Markova. "It's very interesting to compare traditions."
While both the Samish and Nenets practice traditional hunting, fishing and foraging, and celebrate their cultures through song, dance and traditional garments, the Samish are much more immersed in modern culture than the Nenets, said Yan Turov, who accompanied the Nenets after organizing their trip.
"It's great to see that even in contemporary conditions, it (indigenous culture) is safe," Turov said of the Samish nation's efforts to preserve and practice its traditions in the midst of cities, roads and other developments.
A MISSION TO PRESERVE
What the Samish have preserved, however, has not come easy.
The tribe had to fight for federal recognition as a sovereign nation, which it achieved in 1996, Samish tribal member Toby McLeod said.
The Samish continue to fight in many ways to preserve and restore their culture, particularly their native language of Straits Salish, or Xws7ámeshqen.
"There was a period of time when our religion and traditional practices were outlawed," McLeod said.
The tribe's native language was also forbidden, he said, as children including McLeod's grandfather were taken to English-speaking boarding schools.
The Nenets have endured similar assimilation efforts, during which their children were separated from their native language and culture.
Petr Ledkov's father died when he was 6, and his family left the reindeer herding community. He spent 10 years of his life in a boarding school.
"He would live in the boarding school, kind of similar to American Indians ... He would not speak his language; he would not practice his culture," Markova said.
While several thousand Nenets still speak their language compared to as few as two Samish remaining fluent in Straits Salish, both groups are concerned about maintaining those languages.
"Because of the changes that have happened in the 20th century, they're trying to hang onto their culture and their language, and that's a big part of what we're trying to do all the time, is remember and recover music and language and stories and activities and so on," Samish Indian Nation member Janet Castilleja said.
From preserving languages to protecting traditional natural resources in a warming world, the Samish and Nenets face similar challenges.
"The big concern to preserve culture is definitely a common denomination (sic) for both," Markova said on behalf of Taleeva. "They think that maybe they can find some new ways of spreading and preserving their culture so that it doesn't go away."
TRADITIONS AT RISK
The Nenets have for centuries herded reindeer, but that may soon come to an end.
"There is such concern," Taleeva said, because young people are leaving the tundra, and insects and wildlife that threaten the reindeer are moving into the region as it warms.
Turov said the largely frozen terrain of the Nenets is also changing.
"We get a lot of snow, but with climate change there is less and less, and the permafrost is also changing," he said.
A study published in 2011 by researchers from the Institute of Ecological Problems of the North at the Russian Academy of Sciences concluded that at that time, the Nenets were already seeing the impacts of climate change, but were not interested in leaving the tundra because of the connection the land and reindeer had to their cultural identity.
Castilleja, Hall and McLeod of the Samish got to see the Nenets' connection to the reindeer up close during their visit in April.
"One thing comes through very clearly: reindeer herders love what they do and they are convinced that they will be the last generations of herders who live as they do," Castilleja wrote on a blog about her experience in Russia.
The reindeer herding culture is also threatened by the search for oil.
According to GRID-Arendal, an organization that works with the United Nations Environment Programme, reindeer pasture used by the Nenets was destroyed during oil prospecting between the 1960s and 1980s, and threats from oil drilling remain today.
"There are a lot of concerns about the environment … The tundra is really kind of a delicate ecosystem," Castilleja said.
For the Samish, a lack of treaty rights to fish has affected the tribe.
"We lost our right to fish, and that is analogous to the loss of the reindeer," Castilleja said.
Because the tradition of fishing for salmon and digging for shellfish is important to tribal members, many purchase state recreational licenses in order to do so, McLeod said. But the survival of Pacific salmon and shellfish is an ongoing concern. Uncertainties remain about how climate change, ocean acidification and water pollution will affect the Salish Sea marine food web long term.
"It's going to be really hard to have a first salmon ceremony if there are no salmon," Woodard said.
Jon Waterhouse of the Indigenous Peoples Program at Oregon Health and Sciences University, said as the global climate warms, indigenous groups throughout the world are at risk of losing natural resources.
"Indigenous people everywhere are on the front lines of climate change ... from the Nenets to the Samish," he said while joining the visiting Nenets on a recent tour of part of Cypress Island.
A WORLD APART
On a Cypress Island beach, Taleeva talked of reindeer herders having to ward off gadflies, wolves and bears to protect their animals — challenges becoming worse due to warmer temperatures and wildfires.
Ledkov said that during the monthlong summer in the Nenets' homeland, the weather is not unlike in the Anacortes area in July, but with more insects.
"We have incredible numbers of mosquitoes, gadflies, insects that kill the pleasure of being outside," Ledkov said.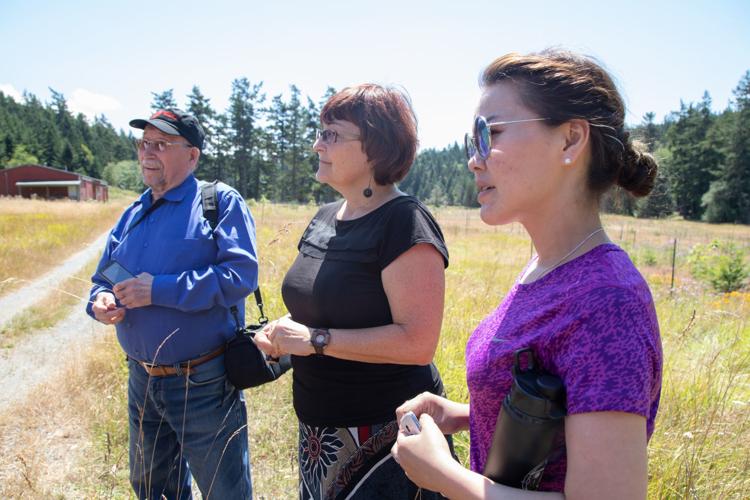 Most of the year, during the nine-month winter, there's snow. It's cold and harsh with temperatures that can reach 53 degrees below zero.
It can take days for Nenets to make a journey through the frozen terrain from their nomadic homes in the tundra to the city.
Castilleja said the Nenets rely heavily on reindeer for food, shelter, clothing and other items.
While in Russia, she, Hall and McLeod were served meals heavy on reindeer meat, including some where the meat was raw.
While touring a Cypress Island wetland, Ledkov was surprised to learn the region is home to deer.
As the group walked along, Taleeva stopped now and then to sample blackberries.
Ledkov said the Nenets can harvest some berries and mushrooms, but only in August, the short warm season.
"Before that, it's all frozen meat," Markova said.
The Samish traditionally had access to more edible plants, such as camas, which is a flowering plant with a starchy root. While showing the Nenets Cypress Island, Woodard described how the Samish once harvested camas there and plan to open more space where the plant can again grow.
A FIRST STEP
Visiting each other's homelands was a first step in what many involved said they hope will be a long-term relationship to build ideas and work on international projects.
"The real gist of this is to introduce two cultures that have never been introduced before," said Waterhouse of the Indigenous Peoples Program.
Waterhouse, who helped facilitate the cultural exchange, said Ledkov's connection with RAIPON — Russian Association of Indigenous Peoples of the North — will help spread the word and get more indigenous communities involved.
"All that happens here is going to go out across Russia ... to all the indigenous cultures," Waterhouse said.
What the participating Samish and Nenets have found so far is that, not surprisingly, indigenous communities are rooted to the land, and the animals and plants that live there.
"Our connection to our place and their connection to their place felt very similar, and the language that is used to talk about our places," Hall said.
While in Russia, she said the Nenets showed the Samish a bay named for the fish caught by the indigenous people. Here, several islands are named for the resources that have been harvested by the Samish.
"I've learned that you can't separate the natural resources from the cultural identity of native or indigenous people ... That's a commonality between indigenous cultures, and it's really inspiring to see that in two peoples from half a globe apart," Woodard said.