MOUNT VERNON — New tsunami inundation maps released this week show how local areas are likely to be affected by the big waves that would follow a major earthquake along the West Coast.
Areas in Skagit County that would be impacted, according to the maps, are near Blanchard and Edison, northeast Samish Island, below the Duane Berentson Memorial Bridge over the Swinomish Channel, around the Anacortes Ferry Terminal and Skyline Marina, and areas of Guemes Island.
Inundation from waves would be deepest — an estimated 10-15 feet, according to the maps — around the two sites in Anacortes and in Blanchard south of Larrabee State Park.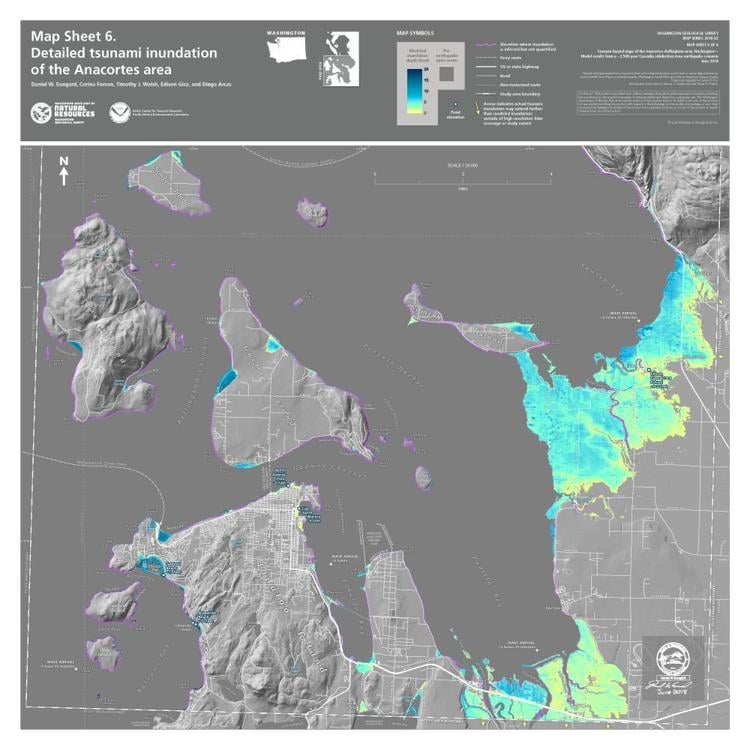 Those tsunami waves are predicted to follow a major earthquake such as a magnitude 9 along what's called the Cascadia Subduction Zone beneath the Pacific Ocean off the West Coast. A quake of that magnitude would cause severe destruction, economic impact and a large loss of life, according to the Pacific Northwest Seismic Network. 
The Cascadia zone has caused earthquakes and tsunamis several times before. Geologists believe the last time was Jan. 26, 1700. It's largely unpredictable when it will happen again.
"It could happen tomorrow or it could happen long after you and I are dead," Skagit County Department of Emergency Management Director Doug ten Hoopen said.
In case it happens sooner rather than later, it's the department's job to make sure Skagit County residents and officials have a plan, he said.
In collaboration with the Washington Geological Survey division of the state Department of Natural Resources, the county Department of Emergency Management is using the maps released this week to designate sites outside the inundation zones where residents should go in case of a tsunami.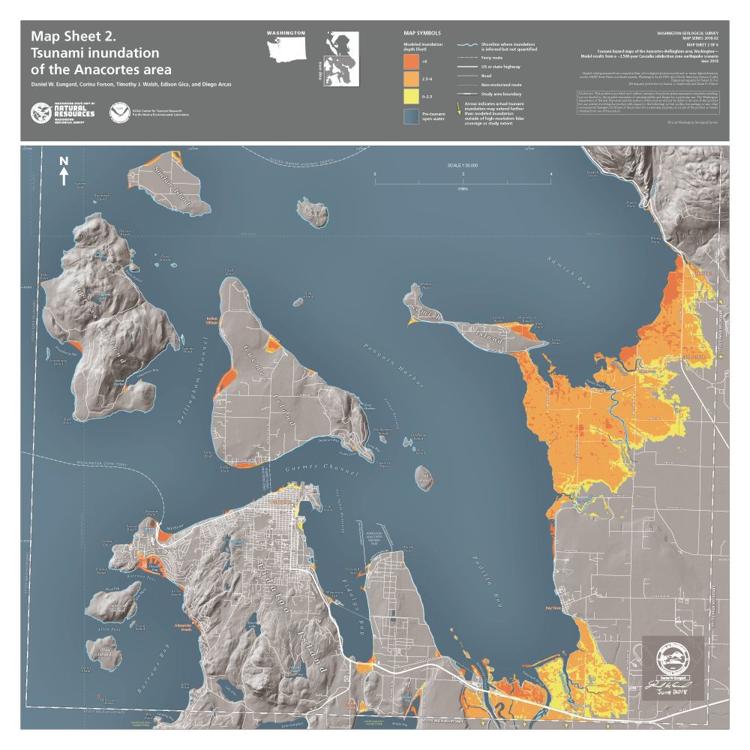 Those sites, called assembly areas, will be places such as parking lots or open fields where residents can meet up with emergency responders and plan what to do next if their homes are destroyed or uninhabitable following the earthquake and tsunami.
"Depending on how bad it is, they may have no home to go back to ... or it may be condemned from damage, even if it's still standing there," ten Hoopen said.
Natural Resources spokesman Joe Smilie said the maps showing assembly sites may be completed by the end of the year.
The county will eventually post those maps in public places and install evacuation route signs between at-risk residential areas and the designated assembly areas, ten Hoopen said.
So far, he said, it appears Skagit County residents should be able to reach safety in time.
"All modeling indicates there will be plenty of time to get to those areas as long as people heed the warnings when they come in," ten Hoopen said.
A study released with the new maps states that the shaking from a magnitude 9 earthquake could last for several minutes.
When it stops, water along the shorelines would slowly retreat, dropping an estimated 6.5 feet in Fidalgo Bay before tsunami waves would rush in about two hours later, according to the study.
That means residents would have two hours to dress appropriately, gather necessary items and reach the closest assembly site.
Because roads and bridges would likely be damaged in the earthquake, the state and county are mapping the distance to assembly areas based on the national average walking speed of about 24 minutes per mile, according to a draft map.
"There's plenty of time to get to higher ground; they just need to know where they're going and not wait," ten Hoopen said.
He said those in at-risk areas who can't walk should register with their local fire departments as someone who would need help evacuating.
Before heading for an assembly site, residents should make sure they have essentials including medications, their wallet and appropriate clothing for the walk and the weather.
Emergency responders recommend having an emergency kit ready to go with items such as a blanket, flashlight, food and water, radio, first aid kit and cash.
Between two and three hours after the earthquake, two large tsunami waves would strike the Fidalgo Bay area, according to the study. The first would be about 4 feet and the second about 7 feet, according to the study. Several smaller waves would continue hitting the shoreline for about eight hours.
Meanwhile, increased current speeds would pose risks to boats and docking facilities for several hours, particularly in narrow areas including Guemes Channel and Burrows Pass.
While Skagit County would see a tsunami level lower than would be seen along the state's open coast, it could still be powerful enough to be deadly, ten Hoopen said.
Those in at-risk areas unable to evacuate before the tsunami hits should get to the highest point possible, such as the top story or roof of a home or apartment building, ten Hoopen said.
Tsunamis can be deadly if people get caught out in the open in fast-moving water, or inside a building on ground level if the water exceeds 2.5 feet deep, according to the study.
The tsunami inundation maps released this week were created by the Washington Geological Survey using modeling developed by the National Oceanic and Atmospheric Administration's Pacific Marine Environmental Laboratory.
The model is not precise and is based on average high water levels, which do not take into account the potential differences during high tide and low tide or the potential for shoreline areas to have liquefied or sloughed into the water during the earthquake, Smilie of Natural Resources said.
Because the model doesn't necessarily show the full effect or worst-case scenario of the tsunami, the maps developed and those to come are simply for the purpose of planning emergency response and evacuations, according to Natural Resources.
"Earthquakes and tsunamis are very real threats that we must be proactive in preparing for," state Commissioner of Public Lands Hilary Franz said in a news release.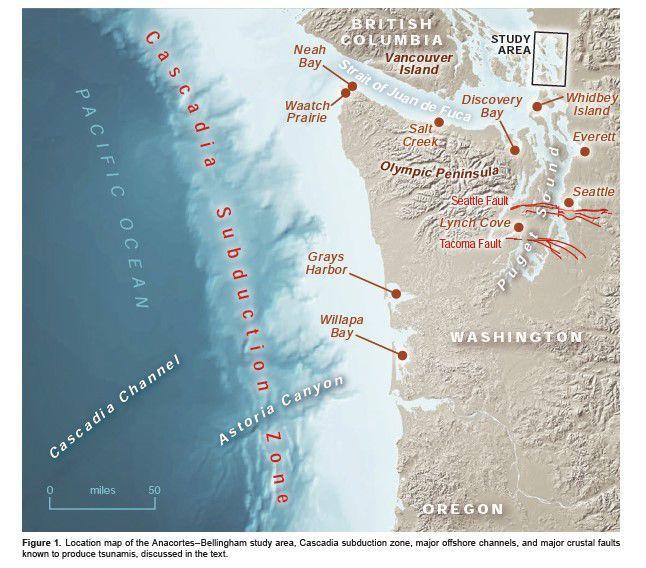 Geologists know that tsunamis connected with the Cascadia Subduction Zone, including the event in 1700, have inundated West Coast shorelines.
Evidence of those tsunamis has been found in the soil in 59 areas from northern California to southern Vancouver Island in British Columbia, according to the study. 
Some of those have been found along Washington state's inland shorelines, meaning areas east of the outer coast, including on west Whidbey Island, according to the study.